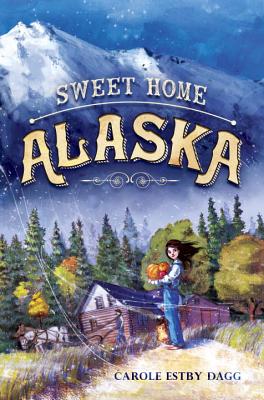 Sweet Home Alaska
Hardcover

* Individual store prices may vary.
Other Editions of This Title:
Digital Audiobook (2/1/2016)
Paperback (7/16/2019)
CD-Audio (2/2/2016)
Description
This exciting pioneering story, based on actual events, introduces readers to a fascinating chapter in American history, when FDR set up a New Deal colony in Alaska to give loans and land to families struggling during the Great Depression.
 
Terpsichore can't wait to follow in Laura Ingalls Wilder's footsteps . . . now she just has to convince her mom. It's 1934, and times are tough for their family. To make a fresh start, Terpsichore's father signs up for President Roosevelt's Palmer Colony project, uprooting them from Wisconsin to become pioneers in Alaska. Their new home is a bit of a shock—it's a town still under construction in the middle of the wilderness, where the residents live in tents and share a community outhouse. But Terpsichore's not about to let first impressions get in the way of this grand adventure. Tackling its many unique challenges with her can-do attitude, she starts making things happen to make Alaska seem more like home. Soon, she and her family are able to start settling in and enjoying their new surroundings—everyone except her mother, that is. So, in order to stay, Terpsichore hatches a plan to convince her that it's a wonderful—and civilized—place to live . . . a plan that's going to take all the love, energy, and Farmer Boy expertise Terpsichore can muster.
Praise For Sweet Home Alaska…
"If Laura Ingalls Wilder had lived in Alaska, she might have written this novel. . . . Heartwarming. . . . A wonderfully satisfying ending. . . . Doesn't romanticize the hardships these stalwarts faced. Dagg does a fine job evoking a realistic sense of time and place. . . . Trip's a beautifully realized heroine, and readers will be heartened by her and her friends' efforts to develop a sense of communal spirit in their new, pristine colony. . . . Cozy, charming, and old fashioned, but in a good way; fine for curling up and reading under the covers—in Alaska or elsewhere."—Kirkus Reviews

"With conscious homage to Wilder's Little House books, Dagg evokes the same pioneering spirit in a Depression-era setting, lavishing attention on details about the homesteaders' food and housing and indicating to readers how the technology available to Terpsichore's family differs from Laura Ingalls's time and from the modern era. Like Wilder, Dagg gives her story a gently episodic shape, moving lightly among school events and holidays, but the plot touches frequently enough on the book's overarching elements to keep the momentum humming."—The Horn Book

"Eleven-year-old Terpsichore Johnson is vivacious, inventive, resourceful, and determined to help her family thrive in their new Alaskan home. . . . Authentic references to the 1930s abound. . . . Fact and fiction and real and imagined personalities and events are seamlessly woven into this quaint, energetic, and engaging story. Short, lively chapters; dynamic characters; family struggles and unity; and well-blended Depression-era facts will capture and inform middle grade readers."—School Library Journal

"Dagg delivers another engrossing historical novel in a story exploring family bonds, the pioneer spirit, cooperation, and the meaning of home. . . . The story of the family's adjustment to frontier life is real and moving, and the obstacles are significant. . . . Dagg credibly shows Terpsichore's burgeoning maturity. . . . A memorable tale of physical and emotional survival."—Publishers Weekly

"Palmer's history serves as an intriguing backdrop for an episodic tale of a girl for whom the term 'plucky' was invented. . . . Terpsichore is a cozy fictional friend in the tradition of Anne Shirley or, yes, Laura Ingalls."—The Bulletin of the Center for Children's Books

"Join the adventure of wilderness, hardship, and struggle to leave life as you know it behind and start anew. . . . Provides a unique perspective. . . . This is a fascinating look at the struggles families encountered during the Great Depression and could provide many discussions that may lead to a deeper understanding of the time period and the growth of our country based on the decisions of the times."—School Library Connection


Nancy Paulsen Books, 9780399172038, 304pp.
Publication Date: February 2, 2016
About the Author
Carole Estby Dagg (www.caroleestbydagg.com) also wrote the middle-grade historical novel The Year We Were Famous. She was born in Kansas City, Missouri, and has lived in Washington, Idaho, and British Columbia. She has degrees in sociology, library science, and accounting. Her real-life adventures include tiptoeing through King Tut's tomb, sand boarding the dunes of western Australia, riding a camel among the Great Pyramids, paddling with Manta rays in Moorea, and smelling the penguins in the Falkland Islands. She is married with two children, two grandchildren, a husband, and a bossy cat who supervises her work. She splits her writing time between her study in Everett, Washington, and a converted woodshed on San Juan Island.