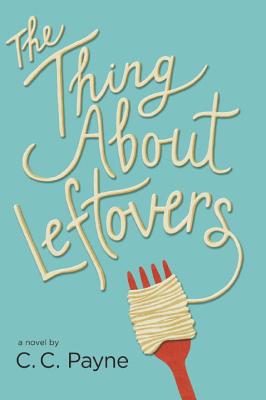 The Thing About Leftovers
Hardcover

* Individual store prices may vary.
Other Editions of This Title:
Paperback (7/4/2017)
Description
"This may capture the experience of children of divorce better than any book out there and deserves readership beyond a middle-grade audience. A winner!"–San Francisco City Book Review

C. C. Payne intertwines heartache with humor and hope in a novel about navigating divorce and blended families, following your passion, and celebrating who you are.
 
Fizzy is a good Southern girl who just wants to be perfect. And win the Southern Living cook-off. The being perfect part is hard though, since her parents' divorced and everything in her life has changed. Wary of her too-perfect stepmom and her mom's neat-freak, dismissive boyfriend, she's often angry or upset and feels like a guest in both homes. She tells herself to face facts: She's a "leftover" kid from a marriage that her parents want to forget. But she has to keep all of that to herself, because a good Southern girl never yells, or throws fits, or says anything that might hurt other people's feelings—instead she throws her shoulders back, says yes ma'am, and tries to do better. So Fizzy tries her best, but it's hard to stay quiet when her family keeps getting more complicated. Fortunately, the Southern Living cook-off gives her a welcome distraction, as do her new friends Miyoko and Zach, who have parent issues of their own.
 
With the poignancy and humor of Joan Bauer and Lynda Mullaly Hunt, this poignant story reminds readers that they have a right to a voice, that it is okay to say how you feel, and that some leftovers are absolutely delicious!
Praise For The Thing About Leftovers…
"Fizzy's first-person narration is by turns hilarious and poignant as she struggles to find her voice. . . . The subjects of divorce and middle school drama are well handled. Tween readers will appreciate this gentle read as they empathize with Fizzy's feelings of inadequacy and root for her success."—School Library Journal

"Payne provides plenty of realistic detail here about Fizzy's slowly evolving relationships with her parents, stepparents, and new friends. . . . Her growth feels authentic and her progress well-earned. Readers experiencing family challenges of their own will laugh and cry with Fizzy, rejoicing as she cooks up quite the satisfying new life for herself."—Kirkus Reviews

"The leftovers metaphor is cleverly worked throughout, as Fizzy relates her knowledge of cooking into an accessible way of thinking about her life, including how some things taste better the next day, while others find new life in new combinations. With some really solid emotional insights and an energetic, engaging style, this will enlighten middle-school readers trying to sort through the complexities of family situations they didn't ask for but need grace to deal with nonetheless."—The Bulletin of the Center for Children's Books

"Hauntingly accurate portrayal of a young girl's turmoil after her parents' divorce. . . . As they begin new families and new relationships, Fizzy feels frazzled, alone, and aching for the past. . . . Payne's characters give such interesting perspectives from 'leftover kids' that it may inspire some readers to reinspect their own relationships. The plot and characters are bluntly realistic, and Fizzy's story should resonate with those looking for their place in a newly blended family."—Booklist

"A fun read about a serious topic. Blended families are prevalent. . . . Learning to adjust to step-parents' idiosyncrasies can be daunting. . . . Children of blended families will relate to Fizzy's thoughts and emotions. A thought-provoking read for parents and children alike."—Voice of Youth Advocates
Nancy Paulsen Books, 9780399172045, 288pp.
Publication Date: July 19, 2016
About the Author
C. C. Payne (www.ccpayne.net) was born and raised in Kentucky by a family chock-full of superb storytellers. At the age of seven, she became a voracious reader. She says, "The house could've fallen down around my ears, and I would've just thought, Does this mean I have to put my book down?" She also wrote Something to Sing About, which was nominated for a Children's Crown Award and a Kentucky Bluegrass Award, and Lula Bell on Geekdom, Freakdom & the Challenges of Bad Hair.
or
Not Currently Available for Direct Purchase