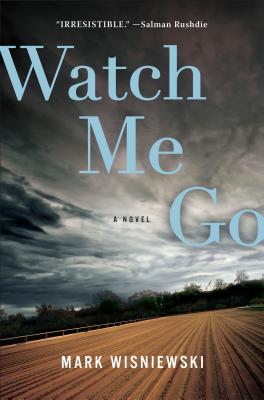 Watch Me Go (Hardcover)
G.P. Putnam's Sons, 9780399172120, 320pp.
Publication Date: January 22, 2015
* Individual store prices may vary.
Description
"A fabulous noir."—Daniel Woodrell

"Thoughtful, complex and compassionate."—Dan Chaon

"Mark Wisniewski is a damn good writer."—Ben Fountain

Winter's Bone meets The Wire in this edgy, soulful meditation on the meaning of love, the injustices of hate, and the power of hope.

Douglas "Deesh" Sharp has managed to stay out of trouble living in the Bronx, paying his rent by hauling junk for cash. But on the morning Deesh and two pals head upstate to dispose of a sealed oil drum whose contents smell and weigh enough to contain a human corpse, he becomes mixed up in a serious crime. When his plans for escape spiral terribly out of control, Deesh quickly finds himself a victim of betrayal—and the prime suspect in the murders of three white men. 
When Jan, a young jockey from the gritty underworld of the Finger Lakes racetrack breaks her silence about gambling and organized crime, Deesh learns how the story of her past might, against all odds, free him from a life behind bars.
Interweaving Deesh's and Jan's gripping narratives, Watch Me Go is a wonderfully insightful work that examines how we love, leave, lose, redeem, and strive for justice. At once compulsively readable, thought-provoking, and complex, it is a suspenseful, compassionate meditation on the power of love and the injustices of hate.  
About the Author
Mark Wisniewski's fiction has been published in The Best American Short Stories, The Southern Review, Antioch Review, and Virginia Quarterly Review. His stories have won a Pushcart Prize and a Tobias Wolff Award, and numerous fellowships in fiction. He lives with his wife on a lake in upstate New York.
Praise For Watch Me Go…
Praise for Watch Me Go:
"Mark Wisniewski's finely observed
Watch Me Go
… is a good story smartly told, whose characters learn that love and forgiveness are much better things to chase and catch than the empty promises of gold, good luck and false glory." —
The Wall Street Journal
"Like many great novels, Wisniewski's shows that compassionate love, as unpredictable as it can sometimes be, is the most fitting answer to human corruption and menace. A masterwork of technique, theme, and style,
Watch Me Go
will stay with readers long after they've put the book down."—
The Iowa Review
"Full of cinematic thrill, speed, and fate…a page-turning book…Wisniewski does an excellent job writing about the fury and hunger that arise out of marginality and lack of power, and that energy resonates throughout the book…It's rare to read a story with morals that doesn't feel like a morality tale. Read this book." —
Los Angeles Review of Books
"Wisniewski sifts the scum, unflinching. He shies neither from the battered dreams of a grandstander nor from the stench of a bush-league stable...it's Wisniewski's pervading compassion, his understanding of hardship, which places
Watch Me Go
on the topmost shelf of horse racing novels."—
The Kenyon Review
"Wisniewski artfully brings to life the hardscrabble and crooked lives surrounding the Finger Lakes horse racing track. He shows us how racial prejudice still runs rampant in American life and how justice is sometimes meted out in the most circumstantial of ways. But perhaps most important, he brings to light the countless ways that love—romantic and familial—is as complicated as it is essential…Wisniewski is a sure and smart writer, and his philosophy never gets in the way of his story, which is suspenseful and original and wholly unpredictable."—
Minneapolis Star Tribune
"[C]hannels the best of [Wisniewski's] profluent short fiction… 
Watch Me Go
 feels particularly apt to our national present, when police procedure is under constant scrutiny…Wisniewski's prose burns forward, but he knows when to slow the pace." —The Millions
"Outstanding…Wisniewski deftly alternates perspectives and narrative threads… just what fans of literate and nuanced daylight noir will relish." —
Publishers Weekl
y, starred review
"...wonderfully raw and gritty..." —
Booklist
"Pure, muscular storytelling … irresistible." —Salman Rushdie, #1
New York Times
–bestselling author
"Mark Wisniewski is a damn good writer." —Ben Fountain, New York Times–bestselling author of Billy Lynn's Long Halftime Walk
"With Watch Me Go, Mark Wisniewski has constructed a fabulous noir that touches on the third-rail of American life and the inside rail at the track. His voice is down-to-earth and sharp, delivering swift, salty pages concerning murder and jails, justice and damaged souls." —Daniel Woodrell, PEN award winner and Edgar nominated author of Winter's Bone
"A smart, richly observed noir thriller, located somewhere on the border between Richard Price and Daniel Woodrell. It's full of double-crosses and secrets, yes, but Watch Me Go is also thoughtful, complex and compassionate in its depiction of these visceral characters and their circumstances." —National Book Award Finalist Dan Chaon, author of Await Your Reply
"The structure of the novel allows for the kind of tension associated with a thriller, adding an element of mystery to a narrative that never has its conclusion in doubt, as well as giving each beat in the plot its own menacing little cliffhanger.... [Wisniewski's] storytelling owes more to the gothic Americana of Carson McCullers than the sharp, twisty unphilosophical page-turners of Donald E. Westlake.... Wisniewski capably provides two distinct, disparate narratives and plays them off one another to great effect, with the form and the intensity of storytelling.... Wisniewski looks at love, hope, and desperation through the lens of gambling: how a mistery world can make gamblers of us all and how we order and anticipate our losses to minimize pain." —Winnipeg Free Press

"Wisniewski has created an enthralling thriller centered around a pair of vulnerable individuals teetering on the brink of survival. This is an irresistible story told with smart prose and thoughtful narratives. It is at once a meditation on love, loss and the price of justice."—Shepherd Express (Milwaukee)

"A compelling and gritty work of literary noir." —Largehearted Boy

"A timely, gritty, poignant novel." —Heidi Pitlor, series editor of The Best American Short Stories and author of The Birthdays
"A gritty tale of mystery and desire, it breaks from the gate with power and grace and never falters. This book has legs." —Pulitzer Prize Finalist Lee Martin, author of The Bright Forever
Watch Me Go is urgent, wrenching, and—as the two entwined narratives pick up speed and consequence—riveting. The momentum carries us through to revelations about family and redemption . . . A deft and sure novel." —Rebecca Makkai, author of The Hundred-Year House and The Borrower
"A deeply-felt story of the way two people, a young Black man and a White woman, are damned equally by the choices they make as well as the circumstances forced upon them. The novel unfolds with the pace of a thriller, leading us through the world of gambling, horse-racing, and prisons both real and imagined, all told in voices that ring true from start to finish." —Ru Freeman, author of A Disobedient Girl and On Sal Mal Lane 
"Mark Wisniewski's gift for inhabiting his characters, body and soul, is more than impressive—it smacks of the dark arts, and Watch Me Go is scary good.  Seductively plotted, crazily well-written, and wholly gripping, this book at once gallops headlong and stops you in your tracks with a truths-per-page quotient that is off the charts—laser-fine insights into how we love, leave, gamble, lose, redeem, and strive once more for love.  Get a good grip on the reins, reader: Watch Me Go is one hell of a ride." —Tim Johnston, author of Descent and Irish Girl
"Watch Me Go is a nuanced, suspenseful work of a prodigious and stunning imagination. Mark Wisniewski has created a literary novel of suspense that displays on every page the author's bracing intelligence and humanity." —Christine Sneed, author of Little Known Facts and Portraits of a Few of the People I've Made Cry
"Watch Me Go's timeless weaving of narratives about love, luck, and loss is wonderfully suspenseful and insightful. Wisniewski has crafted a soulful thriller that kept me guessing until the final page." —Alethea Black, author of I Knew You'd Be Lovely
or
Not Currently Available for Direct Purchase