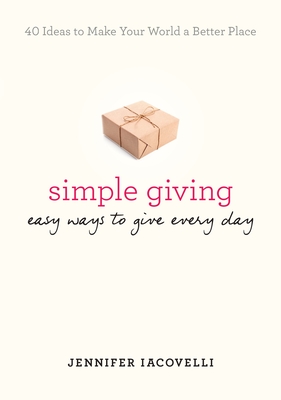 Simple Giving
Easy Ways to Give Every Day
Paperback

* Individual store prices may vary.
Other Editions of This Title:
Digital Audiobook (10/31/2015)
MP3 CD (11/1/2015)
Compact Disc (11/1/2015)
Description
You can make a difference on a daily basis, and it's not as difficult as you might think. Simple Giving includes more than 40 ideas to make the world a better place.
 
Most people think they have to donate a lot of time and money in order to make a difference. But there are simple ways to integrate giving into our personal and professional lives that don't involve either. In Simple Giving, Jennifer Iacovelli shows us how to make giving a part of our daily routines. It can involve something as simple as holding the door open for a stranger or paying someone else's toll, which will brighten that person's day. We can also think about ways to make sustainability and social good a part of our business models.

After working in the nonprofit sector and soliciting and coordinating donations for ten years, Iacovelli became frustrated with the disconnect between givers and receivers. Givers (or potential givers) didn't realize how much of an impact they could make, while recipients couldn't thank the organization enough. In Simple Giving, Iacovelli inspires us with the stories of how people ranging from moms to social entrepreneurs are giving back in creative ways. By being more mindful of how our actions impact others and taking steps toward positive change, we also live happier and more fulfilled lives.
Praise For Simple Giving: Easy Ways to Give Every Day…
"Simple Giving takes the whole concept of giving to another level entirely. It's refreshing, fun, and practical. And a most exhilarating new way to think about the impact of charity."
—Christiane Northrup, M.D., New York Times-bestselling author of Goddesses Never Age; Women's Bodies, Women's Wisdom; and The Wisdom of Menopause

"Every so often, a book comes along that makes you say, 'Yes!' Simple Giving does that. At some level, we all want to give. But how to do it effectively is often the challenge. Jennifer tells us that and much, much more. Simple Giving is a must-read (and a definite 'must act-upon.') A huge contribution to a much better world."
—Paul Dunn, cofounder and chairman of B1G1 (Buy 1 Give 1)

"Each of us has opportunities in our lives to give, and Simple Giving asks us to determine what we are passionate enough about to get into action and help benefit someone else. Jennifer Iacovelli demystifies the idea that giving is only for those with huge amounts of money and loads of time, and distills it into chapters that introduce us to everyday people who have created legacies by their simple giving. This book is chock full of resources and ideas to help us realize how each one of us can be an everyday philanthropist through daily giving opportunities."
—Linda Cohen, author of 1,000 Mitzvahs: How Small Acts of Kindness Can Heal, Inspire, and Change Your Life

"The beauty of Simple Giving is its practical content. Jennifer has found the balance between inspiring stories and accessible giving measures, that help to turn the chaos of today's philanthropy landscape into a roadmap for fulfilling end effective change-making. If you want to give effectively, read Simple Giving."
—Karl Hofmann, CEO, Population Services International

"This book is a must-have for everyone who wants to do good in the world. Filled with real-life examples and practical advice, Simple Giving is a resource-rich guide to changing the world and leading a more meaningful life."
—Jeannine Harvey, senior manager of strategic relationships at The ONE Campaign

"I first got hooked on Jennifer Iacovelli's 'Another Jennifer' blog several years ago, appreciating her simple and refreshing approach to writing about philanthropy and giving. Now, everything I love about the blog has come together in one place in Simple Giving. Jennifer shares that giving daily is a key to a lifetime of happiness. She provides accessible ideas that demystify philanthropy and help readers make giving a natural activity in their everyday routine. From acts of kindness to using purchasing power to do good in the world, Simple Giving is a wonderfully refreshing guide to leading a joy filled life."
—Alissa Hauser, executive director of The Pollination Project
TarcherPerigee, 9780399172458, 224pp.
Publication Date: October 27, 2015
About the Author
Jennifer Iacovelli is a writer, consultant, and public communications professional. She has worked in the nonprofit sector for ten years and started her blog, Another Jennifer, to explore the topic of philanthropy, raise awareness for specific causes, and share the stories of others who have incorporated giving into their everyday lives.

www.anotherjennifer.com
Twitter: @anotherjenb
or
Not Currently Available for Direct Purchase