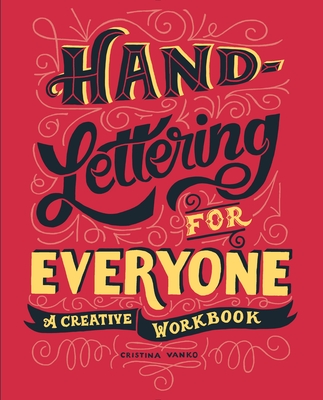 Hand-Lettering for Everyone
A Creative Workbook
Paperback

* Individual store prices may vary.
Description
In an increasingly digital and impersonal world, hand-lettering is more popular than ever. A way to personalize everything from book covers to T-shirts and restaurant menus, as well as a form of self-expression and cutting-edge design, writing by hand makes the written word immediate and intimate.

This beautiful and inviting book serves as an inspiring primer and an interactive workbook, covering:


   •  Typography basics, including history and trends
   •  Fearless self-expression through playfulness
   •  Embracing the creative process, including tips from top illustrators and the art of "sketchploration"
   •  Inspiration for adding personal touches to any kind of handlettered text

Creative prompts encourage readers to create their own serifs, create lettering from found objects, make a type self-portrait, collage with found type, recreate a favorite book cover with hand-lettering, play with shading and perspective, and more.

Featuring a lively (and hand-lettered) design and engaging exercises, the book will appeal to designers and illustrators as well as doodlers, hobbyists, and anyone who enjoys putting real pen to real paper.

And check out Cristina's newest hand-lettered book, Adult-ish!
TarcherPerigee, 9780399173011, 224pp.
Publication Date: October 6, 2015
About the Author
Cristina Vanko is a multidisciplinary designer and illustrator who loves creating lettering by hand. A 2011 graduate from Indiana University's Graphic Design program, she has been featured in Boing Boing, Design Taxi, Laughing Squid, Mashable, The Daily Mail, and elsewhere. Her latest hand-lettered book is Adult-ish.