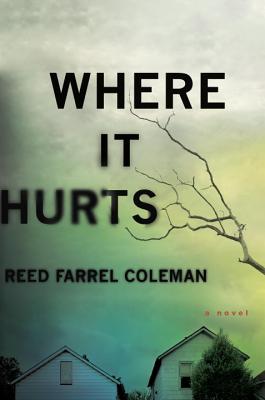 Where It Hurts (A Gus Murphy Novel #1) (Hardcover)
G.P. Putnam's Sons, 9780399173035, 368pp.
Publication Date: January 26, 2016
Other Editions of This Title:
Digital Audiobook (1/25/2016)
Paperback (1/3/2017)
Compact Disc (1/26/2016)
Compact Disc (1/26/2016)
Hardcover, Large Print (2/3/2016)
MP3 CD (1/26/2016)
* Individual store prices may vary.
Description
Nominated for the 2017 Edgar Award for Best Novel

From the critically acclaimed and award-winning author comes a gritty, atmospheric new series about the other side of Long Island, far from the wealth of the Hamptons, where real people live—and die. 
 
Gus Murphy thought he had the world all figured out. A retired Suffolk County cop, Gus had everything a man could want: a great marriage, two kids, a nice house, and the rest of his life ahead of him. But when tragedy strikes, his life is thrown into complete disarray. In the course of a single deadly moment, his family is blown apart and he is transformed from a man who believes he understands everything into a man who understands nothing.

Divorced and working as a courtesy van driver for the run-down hotel in which he has a room, Gus has settled into a mindless, soulless routine that barely keeps his grief at arm's length. But Gus's comfortable waking trance comes to an end when ex-con Tommy Delcamino asks him for help. Four months earlier, Tommy's son T.J.'s battered body was discovered in a wooded lot, yet the Suffolk County PD doesn't seem interested in pursuing the killers. In desperation, Tommy seeks out the only cop he ever trusted—Gus Murphy.

Gus reluctantly agrees to see what he can uncover. As he begins to sweep away the layers of dust that have collected over the case during the intervening months, Gus finds that Tommy was telling the truth. It seems that everyone involved with the late T.J Delcamino—from his best friend, to a gang enforcer, to a mafia capo, and even the police—has something to hide, and all are willing to go to extreme lengths to keep it hidden. It's a dangerous favor Gus has taken on as he claws his way back to take a place among the living, while searching through the sewers for a killer.
About the Author
Reed Farrel Coleman, author of the New York Times–bestselling Robert B. Parker's Blind Spot, has been called a "hard-boiled poet" by NPR's Maureen Corrigan and the "noir poet laureate" in The Huffington Post. He has published twenty-one novels, including nine books in the critically acclaimed Moe Prager series. He is a three-time recipient of the Shamus Award for Best Detective Novel of the Year, a winner of the Barry and Anthony awards, and is a three-time Edgar Award nominee. An adjunct instructor at Hofstra University and an instructor for MWA U, he lives with his family on Long Island.
Praise For Where It Hurts (A Gus Murphy Novel #1)…
Part of NPR's Guide to 2016 Great Reads
Named one of The Washington Post's Best Mystery Books and Thrillers of 2016
"There's the thrill that comes in discovering a terrific new mystery writer, and then there's the thrill that comes in discovering a terrific new — and different — mystery novel written by an already acknowledged master….Superb…another standout series….in Coleman's hands, all the standard elements seem as radiant and new as a freshly peroxided blonde….
Where It Hurts
 is one of those evocative mysteries that readers will remember as much for its charged sense of place as for any of its other considerable virtues."—
The Washington Post
"Coleman has long been one of the best crime novelists in the business…Where It Hurts is a superb detective novel in the Raymond Chandler tradition, featuring fine prose, a suspenseful yarn and a compelling main character who will leave readers hungering for the next installment."—Associated Press
"Coleman's busy book—set far from the Hamptons in "those ugly patches we Long Islanders like to pretend don't exist"—has plenty of robust regional flavor."—New York Times Book Review

"Coleman…is an excellent storyteller, and his colorful, punchy writing displays a delicious noir cynicism….But what local crime fiction fans will find most absorbing about Where It Hurts is its clear-eyed knowing portrait of the people and places that comprise Long Island's hidden underworld."—Newsday

"Coleman writes with…a rough beauty….Coleman is a genius….Fascinating reading and will richly entertain you."— Jackie K Cooper, Book Critic, The Huffington Post

"Coleman's poetic pulp fiction in Where It Hurts translates seamlessly to the here and now….It's proof that the hard-boiled detective genre is timeless. His version of Sam Spade merely carries a cellphone and has a therapist."—The Dallas Morning News

"Gus, who is absolutely one of genre veteran Coleman's best-drawn characters, brings the hard-boiled investigator's requisite battle scars to the table without the self-destructive bent we've been trained to expect. Instead, he meets his tragedy and its consequences with a considered straightforwardness, and his desire for justice reawakens in time with the investigation's quickening tempo, hopefully signaling the start of a series."—Booklist (starred)

"Stellar series kickoff . . . Coleman's moving portrayal of a man in deep, deep pain, a tightly constructed plot, and a gift for making Long Island seem like James Ellroy's L.A. add up to a winner." —Publishers Weekly (starred review)

"It's impossible to pull Gus, whose depressive streak is matched only by his bulldog determination, off the case. Tracking down three lowlifes…he quickly finds himself in a whirlpool of sex, drugs, murder, and warnings to walk away."—Kirkus

"Reed Farrel Coleman introduces a great new character, Gus Murphy, a street savvy ex-cop who operates beneath the glitter of the Gold Coast and the glitz of the Hamptons in a Long Island that few outsiders ever see. Where It Hurts is a gut punch of a novel, a murder mystery layered with grief, greed, and grit. Coleman is as good as Chandler, Hammett or Ed McBain." —Nelson DeMille 

"One of the greatest voices in contemporary crime fiction, and one of the best storytellers too. I loved this book. Nobody does it better."—Lee Child

"Gus Murphy is the new name in crime fiction. He is my kind of guy and Where It Hurts, Reed Farrel Coleman's spectacularly absorbing new novel, is my kind of story. You go into a story like this expecting/hoping for a solid character to ride with, a high-octane story in which you don't see the turns coming in the road ahead, and a truthful observation on life from a different angle. As usual, Coleman delivers. I can't wait for Murphy and Coleman to show up again."— Michael Connelly

"The author of the 'Moe Prager' series has created another engaging sleuth in the down-but-not-out Gus…The ancillary characters, both good and bad, are also a fascinating mix. Moe Prager fans will hail this new series, as will lovers of solid mysteries, especially those set on Long Island."—Library Journal (starred)
 
"Modern noir at its absolute best! Reading Where It Hurts is to bask in the joy of the heyday of private eye fiction—Chandler, Hammett, Cain and the whole crew. Everything's a delight, from the speedy and clever plot, to the firecracker snap of the dialog, to the heart-wrenching portrayal of the characters—good and bad. And Gus Murphy, what a protagonist! Coleman's truly delivered, and then some."—Jeffery Deaver
 
"Where It Hurts is a thrilling start to a new series by Reed Farrel Coleman - who writes some of the best crime fiction around.  Tough prose, taut plotting, and a great new protagonist named Gus Murphy.  Coleman's got a winner here."—Linda Fairstein


"Reed Farrel Coleman's Where It Hurts tells a riveting story about a Long Island that has nothing to do with the romantic vision of F. Scott Fitzgerald in this action packed tale of an amoral world. Coleman is a born storyteller who writes with great authority and gives as much bang for the buck as the best books in the genre."—Pat Conroy, author of South of Broad and Beach Music
 
"Where It Hurts ushers us into a vivid and rueful new world with a striking and haunted hero for whom we fall hard.  With his signature hard-bitten lyricism but with an urgency and darkness all its own, Reed Farrel Coleman has given us a riveting new series we'll want to live with for a very, very long time."—Megan Abbot, New York Times bestselling author of Dare Me and The Fever
 
"Where It Hurts is taut, smart, and engaging with a terrific sense of place.  Readers will never go wrong with Gus Murphy or his creator Reed Farrel Coleman."—C.J. Box, New York Times bestselling author of Endangered
or
Not Currently Available for Direct Purchase