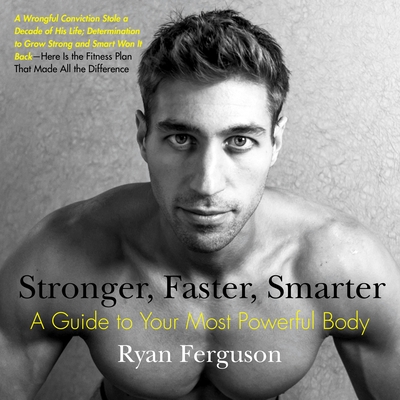 Stronger, Faster, Smarter (Paperback)
A Guide to Your Most Powerful Body
TarcherPerigee, 9780399173066, 208pp.
Publication Date: January 2, 2015
* Individual store prices may vary.
Description
After a decade behind bars for a murder he did not commit, Ryan Ferguson learned that physical strength and confidence are keys to survival – he now shares his strength secrets in Stronger, Faster, Smarter--the smartest, realest, and most doable fitness guide you'll ever read.
 
How many of us really understand that every moment counts, and that physical strength and confidence enable our mind and spirit to make the most of our lives?  Ryan Ferguson does.  He survived nearly a decade behind bars for a murder he did not commit. 

An innocent collegian imprisoned at nineteen, Ferguson's disbelief turned to resolve after his father told him: "Son, do whatever you can to get stronger, faster, and smarter.  This is now your number one priority."

In his darkest hour, even after countless appeals and disappointment, in a place that threatened physical violence, malnutrition, and offered almost no medical aid, Ferguson knew his physical health was paramount. 

In this startlingly elegant, authentic, and inspiring guide, Ferguson shares his simple, universally attainable recipe for health and power.
About the Author
Ryan Ferguson spent the last ten years in prison for a crime he did not commit. Now at age twenty-nine, Ferguson advocates for wrongly accused people and shares the fitness program that kept him alive and healthy. He has recently appeared on Dateline, Nightline, CBS This Morning, Today, and 48 Hours.
Praise For Stronger, Faster, Smarter: A Guide to Your Most Powerful Body…
"Many people begin a fitness regimen to help them cope with the stresses of life, but few are as stressed as Ferguson, who served ten years in a maximum-security prison for a murder he did not commit. With no equipment and nothing but a compelling need to have control over some part of his life, the author developed a simple program of diet and exercise that worked both mind and body…This is not a prison saga but an example of how, even with limited resources and food choices, physical and emotional health can be improved….Excellent and inspiring for anyone wishing to get in shape." –Library Journal