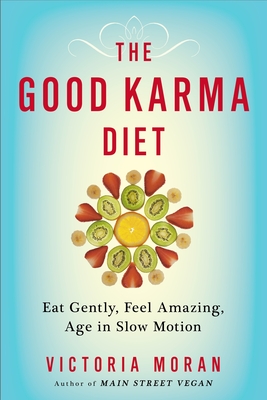 The Good Karma Diet
Eat Gently, Feel Amazing, Age in Slow Motion
Paperback

* Individual store prices may vary.
Description
Many popular diets call for avoiding some foods or eating others exclusively. But as The Good Karma Diet reveals, the secret to looking and feeling great is actually quite simple: Treat our planet and all its inhabitants well. In this revolutionary book, bestselling author Victoria Moran reveals that by doing what's best for all creatures and the planet, you align your eating with your ethics—a powerful health and wellness tool if there ever was one!
 
The Good Karma Diet shows readers how favoring foods that are karmically good for you will help you:
 
- Sustain energy
- Extend youthfulness
- Take off those stubborn extra pounds
- Reflect an enlightened outlook
 
This book also includes the inspiring stories of men and women across the country who have made this simple mealtime shift and reaped "good karma" in every aspect of their lives. Follow this wise diet and lifestyle program and you will find yourself waking up in a good mood more often and having a luminous look that bespeaks health and clean living.
Praise For The Good Karma Diet: Eat Gently, Feel Amazing, Age in Slow Motion…
"Be good to others, get good back. Eat beautiful food, create a beautiful life. This is kitchen table karma, the sweetest and simplest kind, elegantly presented by Victoria Moran, who knows from experience that a little produce and a lot of love can change, well, just about everything."
—Kris Carr, New York Times bestselling author of Crazy Sexy Kitchen and Crazy Sexy Diet
"Victoria's new book is a fantastic guide to the amazing and far-reaching benefits of the simple choice to eat plant food – physical, psychological and spiritual. With her usual grace and insight, she shows us how Mother Nature's delicious abundance can make a profound difference in our own lives and in the lives of those we touch."
—Joe Cross, filmmaker, Fat, Sick & Nearly Dead
"I love good karma, especially with a drizzle of red raspberry sauce on top! I also love Victoria Moran's intelligent and motivating writing in her book,
The Good Karma Diet
. It's a great read."
—Joel Fuhrman, MD, author of the #1 New York Times bestseller Eat to Live 
"Every one of Victoria Moran's marvelous books helps people, animals, and the earth.
The Good Karma Diet
is no exception—it's eminently readable, highly informative, and wonderfully useful."
—Gene Stone, author of The Secrets of People Who Never Get Sick and the #1 New York Times bestseller Forks Over Knives
"
The Good Karma Diet
solves your food questions and diet challenges with a fun, practical, and remarkably simple approach. If you'd like to ramp up your motivation and accelerate your success, this refreshing and uplifting book ​ will be the one to do it.​"
—Neal D. Barnard, M.D., founder of the Physicians Committee for Responsible Medicine and author​ of the New York Times bestseller 21-Day Weight Loss Kickstart​
"Victoria Moran is an inspiration to all who know her and
The Good Karma Diet
gets the formula right: combine food that's full of life, a heart that's full love, and expect to experience joy, vitality, and beauty at every age."
—Mimi Kirk, PETA's Sexiest Vegetarian Over 50, and author of Live Raw, Live Raw Around the World, and The Ultimate Book of Modern Juicing
"
The Good Karma Diet 
shows you why it's in your self-interest to care about animals and the future of this planet. You feel better and avoid the ills plaguing American society, like heart disease and obesity. We all win a better world. And, good karma is delicious."
—Jane Velez-Mitchell, creator of JaneUnchained.com, journalist, and author of Addict Nation 
"Once again Victoria Moran provides a plan that can help so many people. One of my med school professors taught, 'We kill the cows and the cows kill us.' Moran shows us how good the results can be when 'We cherish all life and life will love you back.'" 
—Joel Kahn, MD, FACC, Professor of Cardiology, Wayne State University School of Medicine, and author of The Whole Heart Solution
"The secret to happiness is simple: do your best to contribute to more happiness in the lives of others. Let
The Good Karma Diet
be your how-to manual and begin today to create a more joyful life for yourself, others, and the planet."
—Sharon Gannon, cofounder of Jivamukti Yoga, and author of Simple Recipes for Joy
"Inspirational and thought-provoking. A profound and uplifting book that just may save your life."
—Robert Ostfeld, MD, MSc., FACC, director of the Cardiac Wellness Program, Montefiore Medical Center, New York
TarcherPerigee, 9780399173158, 320pp.
Publication Date: May 19, 2015
About the Author
Victoria Moran is the author of twelve books, including Main Street Vegan: Everything You Need to Know to Eat Healthfully and Live Compassionately in the Real World and Creating a Charmed Life: Sensible, Spiritual Secrets Every Busy Woman Should Know. An obesity survivor, certified holistic health counselor, and much-sought-after speaker, Moran hosts the Main Street Vegan podcast on Unity Online Radio and directs Main Street Vegan Academy (mainstreetvegan.net), training vegan lifestyle coaches and educators.
or
Not Currently Available for Direct Purchase