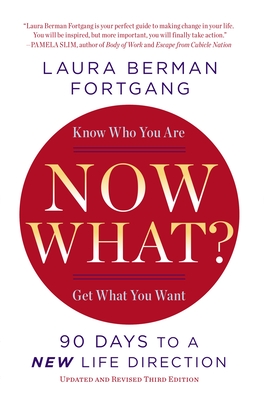 Now What? Revised Edition (Paperback)
90 Days to a New Life Direction
TarcherPerigee, 9780399173165, 304pp.
Publication Date: March 3, 2015
Other Editions of This Title:
Paperback (4/7/2005)
Hardcover (4/26/2004)
* Individual store prices may vary.
Description
A clear and utterly practical ninety-day program for discovering a new direction for your life—now completely revised and updated by the author!
In
Now What?
pioneering life coach Laura Berman Fortgang shares the process that she has used to help hundreds of clients make major changes in their lives. Whether it's moving on from a dead-end job, discovering an entirely new creative outlet, or answering the age-old question "What am I meant to do with my life?" this book provides a clear and practical ninety-day program that can help you make major changes in your life.
This revised edition  valuable insights into how to stoke change, including:
Ten years of additional client experience
Reports from 500 coaches worldwide who have trained to use this material with clients
New stories and modern-day dilemmas addressed
QR codes and additional interactive materials 
For anyone who feels drawn toward a life-changing move but is not sure exactly what to do or how to move forward,
Now What?
presents a concrete process for finding and pursuing a new path in life.
About the Author
Laura Berman Fortgang is a nationally renowned speaker, life coach, and career strategist, helping individuals, small businesses, and corporations forge new directions and weather change. Laura is a recent Huffington Post blogger and a media perennial appearing on Oprah, various morning shows, CNN, MSNBC, and in many print publications. She lives in Montclair, New Jersey.
Praise For Now What? Revised Edition: 90 Days to a New Life Direction…
"This is it--a turbocharged, high-energy, stripped-to-the-core distillation of key insights and practices to truly move you forward. After readiong Laura's loving and potent guidance, you can't help creating the life you yearn for."
—Jennifer Louden, author of Comfort Secrets for Busy Women

"Laura Berman Fortgang is your perfect guide to making change in your life. You will be inspired, but more importantly, you will finally take action."
—Pamela Slim, Body of Work

"If this book delivers just ten percent of the power of Laura's coaching, it will be worth thousands of times the price."
—Mark Bryan, co-author of THE ARTIST'S WAY AT WORK

"We all need to plug into an energy source for our lives and once you plug into Laura Berman Fortgang and Now What? you will be electrified and raring to go. Listen to what she has to say and you will move your life to new heights."
—Iyanla Vanzant

"Thinking of making a big change in how you make a living--or how you live your life? Having trouble getting started? This wise, honest and practical book can help you figure out what may be holding you back, and where to go from here. I'm recommending it to everyone I know. Great stuff!"
—Anne Fisher, FORTUNE

Praise for LIVING YOUR BEST LIFE....

"Laura Berman Fortgang will help you reach the success and fulfillment you are destined for."
--Ken Blanchard

"A brilliantly written, indispensable guide that touches and expands the very best of our hearts, minds, and spirits."
--Harold Bloomfield, M.D., author of Making Peace with Your Past and How to Survive the Loss of a Love

"Beware-this thought-provoking book will put you on a one-way path to a more creative and fulfilling life."
--Kyle MacLachlan

"Fortgang generously offers glorious, refreshing guidance to help us each find our unique path in life."
--Jennifer Louden, author of The Woman's Comfort Book

"Fortgang's Wisdom Access Questions have the makings of brilliance-simple, easy to use, hugely effective, and humblingly obvious."
--Judy George, founder and CEO, Domain

"Laura helps you organize information... so you can move your life forward in positive ways. I can't recommend this enough!"
--Julia Sweeney