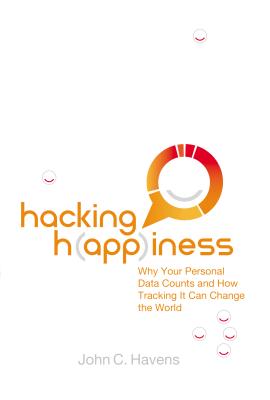 Hacking Happiness
Why Your Personal Data Counts and How Tracking It Can Change the World
Paperback

* Individual store prices may vary.
Description
The answer to The Dumbest Generation—Hacking H(app)iness shows us how to utilize our technology to improve the human experience and drive social change. Hacking H(app)iness was featured at TEDx and in USA Today, Fast Company, BBC News, Mashable.com, The Guardian, The Huffington Post, Forbes, Inc., PRWeek, and Advertising Age.
 
In Hacking H(app)iness, futurist and contributing Mashable.com writer John C. Havens introduces you to your "quantified self"—your digital identity represented by gigabytes of data produced from tracking your activities on your smartphone and computer. Harvested by mega-corporations such as Google, Facebook, and Amazon, this data is gathered, Havens argues, because of its immense economic value, by companies that encourage a culture of "sharing" as they hoard the information for monetary gain.

But there's an alternative to this digital dystopia. Emerging technologies will help us reclaim this valuable data for ourselves. At the same time, sensors in smartphones and wearable devices will help us track our emotions and thereby improve our well-being. 

An issues book highlighting the benefits of an examined life in the digital world, this timely work takes the trepidation out of the technological renaissance and illustrates how the fruits of the Information Age can improve our lives for a happier humanity.
Praise For Hacking Happiness: Why Your Personal Data Counts and How Tracking It Can Change the World…
"The book certainly opens up an important conversation about how individuals can, and should, manage their data in an age of rapid advancements in personal technology. Mashable and Guardian contributing writer Havens provides a detailed defense of how developing technologies in augmented reality and wearable devices can increase happiness...An optimistic vision of how new technologies can be reimagined to increase productivity and personal growth."
 —Kirkus Reviews

"More than any time in human history, we have access to mountains of data about ourselves. Hacking H(app)iness is the first book to show us how to leverage this information as a path to happiness, rather than a source of misery."
—Adam Grant, New York Times-bestselling author of Give and Take
"Hacking H(app)iness is a mind boggling and optimistic vision of how new technologies can be reimagined to increase productivity and personal growth—and you don't have to be a geek to like it."
—Michael Port, New York Times-bestselling author of The Think Big Manifesto

"In Hacking H(app)iness, I was excited to find a discussion of psychology and technology that extends far beyond a self-improvement guide. Havens weaves together trends related to personal data with futurist scenarios and poignant details from his own life to illustrate how data can help us hold ourselves accountable to others. I recommend this to anyone trying to boost the wellbeing of individuals and communities.
—Margie Morris, senior researcher at Intel

"In Hacking H(app)iness, John C. Havens makes the persuasive case that a key to happiness in the digital age is being able to control and leverage your personal data for your own benefit. It's a must-read for anyone who wants to better understand the interplay of economics, innovation, and the rising personal data sector, and how you can make better, smarter decisions when you're in charge of your own data."
—Shane Green, Co-Founder and CEO of Personal
 
"I've met and spoken with literally hundreds of people about aging and the consequences of isolation. Most of them knew the space; many of them understood the emotional impacts, but only John felt it. He intuitively understood how our societal focus on physical health was obscuring our view on emotional health."
—Iggy Fanlo, Co-Founder and CEO of Live!y
 
"The unexamined digital life is walking along an unstable ledge of happiness, in an era of digital exuberance. John C. Havens's Hacking H(app)iness is the balancing stick that allows us to synthesize and leverage technology by understanding the evolutionary value of one's digital blueprint, so that well-being and happiness can emerge."
—Judy Martin, founder of WorkLifeNation.com and contributor for Forbes and NPR

"John C. Havens gives us an illuminating examination of how emerging technology can be harnessed to promote individual, community, corporate, and global happiness. As one who studies intrinsic motivation, achievement and happiness, I enjoyed John's rare emphasis on altruistically serving others as a path toward greater happiness and health."
—John Mark Froiland, Ph.D., assistant professor of psychology, University of Northern Colorado
 
"In the 20th century, we made great progress in terms of our material wealth, but we're not really any happier. In this insightful book, John Havens shows us how the new century will bring us opportunities to improve our general well being. Rather than keeping up with the Joneses, he explains how we can use technology to actually improve our lives. It is a truly remarkable work."
—Greg Satell, contributing writer for Forbes
 
"John Havens has written a comprehensive guide through our complicated digital lives, carefully examining the benefits of the data-driven pursuit of happiness through the lens of an enlightened idealist. A must-read for anyone interested in a humane future of connectivity."
—Tim Leberecht, chief marketing officer of NBBJ
 
"John Havens is leading the charge to change the way we talk and think about digital consumer technology. Rather than simply asking whether the latest gadget is faster or has more features, John encourages us to ask such questions as 'Will this make me happier?'  And it's not just a rhetorical ploy; he wants us to think through the question sincerely.   John avoids the kneejerk conclusions of both the techno-fanboy and neo-Luddite camps—to the occasional irritation of both—which makes his work all the more important."
—Brian Wassom, Augmented Reality Law Expert, Partner at Honigman Miller Schwartz and Cohn LLP
 
"This book shows us that happiness can be an active pursuit—a journey filled with data and optimization, with satisfaction as the ultimate goal. Just reading this book made me happier."
—Ari Meisel, author of Less Doing, More Living, founder of The Art of Less Doing, and Ironman Triathlete
 
"Hacking Happiness covers a whole range of technologies that are all emerging and looks at them from a positive perspective to see how can they help people, our communities, and the world. John's approach is refreshing and adds new perspectives to consider how we as a society make considerations about what technologies to adopt and how they might fit together for the benefit of the whole."
—Kaliya, aka "Identity Woman"
 
"In Hacking H(app)iness, John C. Havens proves the importance of measuring our lives to identify our purpose versus just increasing profits or productivity.  By showing how altruistic actions can increase happiness, Havens also provides a roadmap to scaling (or hacking) how the world perceives value, where currency will be based on compassion versus capitalism."
—Aaron Hurst, author of The Purpose Economy and CEO of Imperative
TarcherPerigee, 9780399173196, 304pp.
Publication Date: March 10, 2015
About the Author
John C. Havens is a contributing writer for Mashable, The Guardian, and The Huffington Post. He is the Founder of The H(app)athon Project, a non-profit organization, "Connecting Happiness to Action one phone, one heart, and one city at a time" through the use of interactive, sensor-based smartphone surveys. A former EVP for a top-ten global PR firm, he has counseled clients like Gillette, HP, and Merck on emerging and social media issues, and has been quoted on issues relating to technology, business, and well being by USA Today, Fast Company, BBC News, Mashable, The Guardian, The Huffington Post, Forbes, INC, PR Week, and Advertising Age.  Havens was also a professional actor in New York City for over 15 years, appearing in principal roles on Broadway, television, and film.
or
Not Currently Available for Direct Purchase