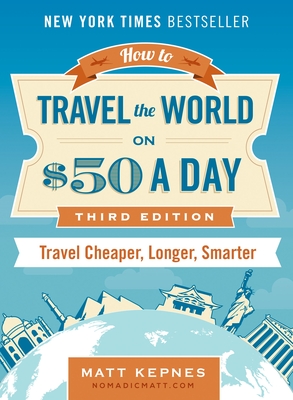 How to Travel the World on $50 a Day
Third Edition: Travel Cheaper, Longer, Smarter
Paperback

* Individual store prices may vary.
Other Editions of This Title:
Compact Disc (5/16/2017)
MP3 CD (5/16/2017)
Compact Disc (5/16/2017)
Description
*UPDATED 2017 EDITION*

New York Times bestseller!

No money? No problem. You can start packing your bags for that trip you've been dreaming a lifetime about.

For more than half a decade, Matt Kepnes (aka Nomadic Matt) has been showing readers of his enormously popular travel blog that traveling isn't expensive and that it's affordable to all. He proves that as long as you think out of the box and travel like locals, your trip doesn't have to break your bank, nor do you need to give up luxury.

How to Travel the World on $50 a Day reveals Nomadic Matt's tips, tricks, and secrets to comfortable budget travel based on his experience traveling the world without giving up the sushi meals and comfortable beds he enjoys. Offering a blend of advice ranging from travel hacking to smart banking, you'll learn how to:

* Avoid paying bank fees anywhere in the world
* Earn thousands of free frequent flyer points
* Find discount travel cards that can save on hostels, tours, and transportation
* Get cheap (or free) plane tickets

Whether it's a two-week, two-month, or two-year trip, Nomadic Matt shows you how to stretch your money further so you can travel cheaper, smarter, and longer.
Praise For How to Travel the World on $50 a Day: Third Edition: Travel Cheaper, Longer, Smarter…
Praise for How to Travel the World on $50 a Day

"A bible for budget travellers."—BBC Travel

"Whether you're a savvy backpacker or just dreaming of getting a passport and going overseas, Matt's collection of easy-to-employ money-saving strategies will open your eyes to the near-infinite ways of seeing the world without busting your budget." —Matt Gross, former New York Times Frugal Traveler

"If you've longed to travel the world but figured it was just an unattainable pipe-dream, take that pipe out of your mouth and read this book. Matt Kepnes does the math and shows you how to make this dream a reality, from how to save for an extended trip, which credit card to get, how to handle banking on the road, to a breakdown of how to save on accommodations, transportation, food, and activities. Matt proves that for most Americans, traveling is cheaper than staying home." —Marilyn Terrell, National Geographic Traveler

"A celeb in the travel blogging world, Matt is your go-to guy for all things budget backpacker. This book is an awesome resource for any traveler looking to maximize their adventures without maxing out their credit cards." —Julia Dimon, Travel Writer, Outside TV

"There are very few people in the world who have gathered as much first-hand knowledge about long-term world travel as Nomadic Matt. This book will guide you from the first exclamation of 'I'm going traveling!' through the planning, take-off, and navigation. Filled with insider strategies and resources, it's a valuable primer for your upcoming adventures." —Tim Leffel, author of The World's Cheapest Destinations
TarcherPerigee, 9780399173288, 368pp.
Publication Date: January 6, 2015
About the Author
Matt Kepnes is a native of Boston but calls the world home now. After a trip to Thailand in 2005 inspired him to travel more, he quit his job and set off around the world. More than six years later, he is still exploring new lands and helping others do the same.