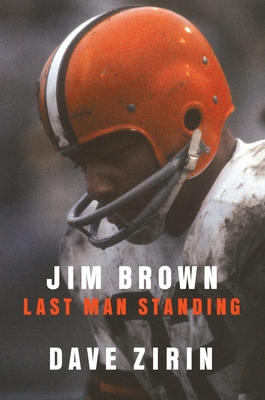 Jim Brown
Last Man Standing
Hardcover

* Individual store prices may vary.
Description
A unique biography of Jim Brown--football legend, Hollywood star, and controversial activist--written by acclaimed sports journalist Dave Zirin.

Jim Brown is recognized as perhaps the greatest football player to ever live. But his phenomenal nine-year career with the Cleveland Browns is only part of his remarkable story, the opening salvo to a much more sprawling epic. Brown parlayed his athletic fame into stardom in Hollywood, where it was thought that he could become "the black John Wayne." He was an outspoken Black Power icon in the 1960s, and he formed Black Economic Unions to challenge racism in the business world. For this and for his decades of work as a truce negotiator with street gangs, Brown--along with such figures as Muhammad Ali, Bill Russell, and Billie Jean King--is revered as a socially conscious athlete.

On the most hypermasculine cultural canvases of the United States--NFL football, the Black Power movement, Hollywood's blaxploitation films, gang intervention both inside and outside prison walls--Jim Brown has made his mark. Yet in the landscape of the most toxic expression of "what makes a man"--numerous accusations of violence against women--he has left a jagged mark as well.

Dave Zirin's book redefines an American icon, and not always in a flattering light. At eighty-one years old, Brown continues to speak out and look for fights. His recent public support of Donald Trump and criticism of Colin Kaepernick are just the latest examples of someone who seems restless if he is not in conflict. Jim Brown is a raw and thrilling account of Brown's remarkable life and a must-read for sports fans and students of the black freedom struggle.
Praise For Jim Brown: Last Man Standing…
"Jim Brown is heroic but no hero. Dave Zirin gives us an extraordinary life of fame, manhood and masculinity that is not always a compliment to its subject but is undeniably important. Last Man Standing confronts the three third rails of American Life—race, class and gender—through an American icon whose triumphs are matched only by his flaws."—Howard Bryant, Author of The Heritage: Black Athletes, a Divided America, and the Politics of Patriotism
 
"Dave Zirin incisively explores the fault lines of race, gender, masculinity, and celebrity while chronicling the career of an American legend. As athletes and women speak out against racial and sexual violence, Jim Brown: Last Man Standing provides compelling context for understanding the urgency of today's activism."—Barbara Smith, Black Feminist Author and Activist, Co-founder of the Combahee River Collective and Kitchen Table: Women of Color Press
 
"In this deeply engrossing, bracingly honest book, Zirin reveals that 'Jim Brown' is far more than a mythic name, far more than one of the greatest athletes of all time.  This is no fawning homage. This is a sculpted work of truth, a quintessentially American story that will resonate today in a time of burgeoning social activism among athletes."—Jonathan Coleman, Author of Long Way to Go: Black and White in America and coauthor (with Jerry West) of West by West: My Charmed, Tormented Life
 
"Jim brown, the most fascinating, complex, and gifted athlete of my time, has finally gotten the powerful and graceful biography he deserves. Now I understand why he always took my breath away, in his presence or watching him play."—Robert Lipsyte, author SportsWorld: An American Dreamland
 
"Jim Brown has been one of the most mercurial, headline-making figures atop the intersection of sports and activism for decades. Dave Zirin has shrewdly captured this man's odyssey—and psyche—in this smart, timely, and fearless chronicle."—Wil Haygood, Author of Showdown: Thurgood Marshall and the Supreme Court Nomination that Changed America
 
"Dave Zirin's writing is, much like Jim Brown, tough, powerful, blunt and uncompromising. This book is the perfect match of writer and subject."—Wright Thompson, Senior Writer at ESPN
Blue Rider Press, 9780399173448, 336pp.
Publication Date: May 15, 2018
About the Author
Dave Zirin is the sports editor for The Nation, a columnist for The Progressive, and the author of eight books on the politics of sports, including What's My Name, Fool? Sports and Resistance in the United States and A People's History of Sports in the United States. He was named among the Utne Reader's "50 Visionaries Who Are Changing Your World" and was a finalist for the 2016 PEN/ESPN Award for Literary Sports Writing.
Coverage from NPR
or
Not Currently Available for Direct Purchase