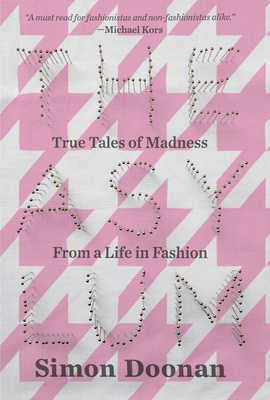 The Asylum
True Tales of Madness from a Life in Fashion
Paperback

* Individual store prices may vary.
Description
After nearly a lifetime spent in the Industry, author and fashion insider Simon Doonan is ready to let you in on a little secret: his peers in this multibillion-dollar industry are just as nutty as the denizens of your local loony bin. In The Asylum, an unabashedly hilarious memoir-in-essays, Doonan, the creative ambassador for Barneys New York, tells the real-life stories of glamorous madness and stylish insanity.

Doonan has seen it all: from dealing with models unable to work for fear of ghosts, to deep-sea fishing with a couturier pal and his jailbird companion, to watching Anna Wintour remain perfectly calm while the ceiling fell—literally—in the middle of Fashion Week. The outlandish family Doonan knew as a child has given way to alarmingly similar lunatic peers in the fashion world: style insiders see patterns and trends in everything; they suffer from outsize personality disorders and delusions of grandeur; and, of course, they have a predilection for theatrical makeup and artfully destroyed clothing. No one is more suited to the asylum than the truly die-hard fashionista—after all, eccentricity and extremism are the foundations of great style.

Hailed as "a must-read for fashionistas and non-fashionistas alike," (Michael Kors) and "raucous and revelatory" (Booklist), Doonan's critically acclaimed collection gives us the scoop on the kooky, cutthroat—but always fabulous—fashion world, and proves the author to be one of the sharpest humorists writing today.
Praise For The Asylum: True Tales of Madness from a Life in Fashion…
Praise for The Asylum:

"Simon Doonan's hysterical first row, firsthand observations are a must-read for fashionistas and non-fashionsitas alike."
—Michael Kors  
 
"The fashion world is—in a word—hysterical! Simon Doonan is the one man who sees it and tells it like it (absurdly) is."
—Marc Jacobs
 
"Simon Doonan is the Bon Qui Qui of Fashion—stirring things up and reminding us to keep a sense of humor."
—Alexander Wang 
 
"In The Asylum, Simon Doonan's comedic genius explodes out of highbrow shoe boxes."
—Leandra Medine, author, and blogger of The Man Repeller

"[A] raucous and revelatory essay collection....[Doonan] knows the fashion world inside out....Even readers whose fashion sense is more Gap than GQ will find keen insight and humor in Doonan's cheeky take on what it means to be chic."
—Booklist

"Hilarious, irresistible essays about the sheer lunacy of the fashion world, from a sharp-eyed (and even sharper-tongued) industry insider."—People

"The funniest fashion book of all time."—Lucky Magazine

"These snappy essays find Doonan surprisingly more sincere and charming than ever… A gossipy, voyeuristic and reliably campy romp down the catwalks of the fashion asylum."—Kirkus Reviews

"Simon Doonan, the creative ambassador for Barney's and Slate columnist, is one of culture writing's funniest voices."—The New Republic

"Simon Doonan is a legend in the fashion world. Wickedly funny, wildly creative...has an insider's view of global style and its peculiar inhabitants....Indeed, those loony, creative types are what have kept Doonan interested for the decades he's been in the fashion business. And what makes his book so entertaining for the rest of us."—Suzanne S. Brown, The Denver Post
Blue Rider Press, 9780399173714, 288pp.
Publication Date: February 5, 2015
About the Author
Simon Doonan is the creative ambassador for Barneys New York and the author of several books, including Gay Men Don't Get Fat, Wacky Chicks, and Beautiful People (published in the U.S. as Nasty), which became a BBC TV series. Originally from England, he worked on Savile Row, at Maxfield in Los Angeles, and with Diana Vreeland at The Costume Institute of The Metropolitan Museum of Art before becoming the creative director of Barneys New York, where he designed legendary window displays for more than twenty years. In 2009, he designed the holiday decorations for the Obama's first White House Christmas. Formerly a columnist for The New York Observer, he is now a contributor to Slate.com, and has appeared on Gossip Girl, Iron Chef America, America's Next Top Model, and elsewhere. Doonan lives in New York with his husband, Jonathan Adler.
or
Not Currently Available for Direct Purchase