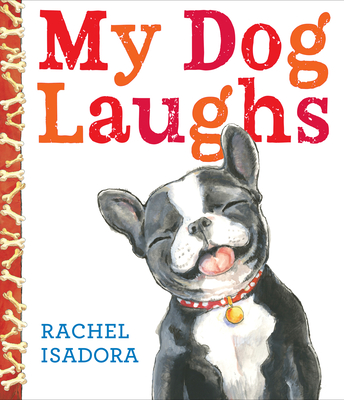 My Dog Laughs (Hardcover)
Nancy Paulsen Books, 9780399173851, 32pp.
Publication Date: August 21, 2018
* Individual store prices may vary.
Description
Caldecott Honor winner Rachel Isadora's delightful introduction to the joys of having a dog stars a diverse ensemble of adorable kids and their beloved canine friends, in a style reminiscent of her popular I Hear a Pickle.

Dogs are amazing! Dogs are a lot of work! And here is the perfect book to help a child understand what is involved in living with one. Lively illustrations show a variety of children learning what makes their dog tick, as they train them, care for them, and play with them. But most of all, it celebrates the fact that dogs are truly awesome companions--who are always happy to see you, and who can even sing, laugh and dream with you!

Rachel Isadora's love for our canine friends shines through on every page, as she shares some of the best--and most exasperating!--things about having a dog.
About the Author
Rachel Isadora received a Caldecott Honor for Ben's Trumpet, and has written and illustrated numerous other books for children, including several classic tales set in Africa (such as Old Mikamba Had a Farm and The Princess and the Pea), My Dog Laughs, I Just Want to Say Good Night, I Hear a Pickle, Bea in the Nutcracker, Bea at Ballet, Jake at Gymnastics, Say Hello!, Peekaboo Morning, and the Lili at Ballet series. She lives in New York City.
Praise For My Dog Laughs…
* "Readers without a puppy will soon be begging for a dog of their own by the conclusion of this enchanting look at pet ownership. . . . The children's observations often turn amusingly candid. . . . As with I Hear a Pickle, Isadora delightfully showcases everyday pleasures. Relying on expressive, minimalist art and simple prose, she offers a winsome take on a well-trod topic. This charming work deserves a spot in all libraries."—School Library Journal, starred review

"Features dogs of many breeds, sizes, and ages, with a cast of charming toddlers and preschoolers describing their dogs. . . . Each section shows different children interacting with their own dogs in all sorts of situations, described with just a few words of text with the child as narrator. . . . The whole gamut of canine behavior is covered. . . . Isadora's spare ink-and-watercolor illustrations are delightfully amusing, whether showing the children romping with their dogs or having a quiet snuggle. . . . This endearing introduction to dog behavior will please those who already have a dog and make those who don't want to join the fun."—Kirkus Reviews

"There's some nice messaging about good dogmanship and good lessons for everybody, and plenty of humor. The spirited, informal line and watercolor vignettes, featuring a multiracial cast of kids and a multi-breed cast of dogs, offer peeks into various kinds of kid-and-dog interactions, and throughout there's a happy cavalcade of wagging tails and owners who'd wag 'em if they had 'em. The result is a catalogue of the kind of vivid detail that will make dog owners yelp in recognition and the dogless whimper in yearning."—The Bulletin of the Center for Children's Books