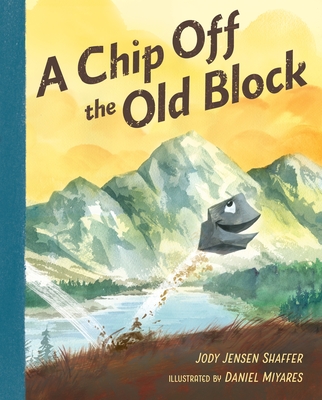 A Chip Off the Old Block
Hardcover

* Individual store prices may vary.
Description
A plucky pebble shows true grit as he travels the country trying to find out if he fits in with any of his famous rock-formation relatives.

Rocky comes from a long line of rock stars! Uncle Gibraltar, Aunt Etna, and Great-Grandma Half Dome are just some of the legendary rock formations he calls family. It's no wonder he wants to matter in a big way too--but it's not easy trying to get a foothold. Rocky gets tossed by The Wave and driven away at Devil's Tower--but he's determined not to allow these pitfalls to chip away at his confidence. Rather than feeling crushed, he keeps on rolling, hoping to become the rock-star he knows he's meant to be.
Praise For A Chip Off the Old Block…
"Being small doesn't mean you can't have big goals! A pebble who feels like a boulder sets out to prove that little ones can accomplish great things in this quirky, suspenseful, pun-filled tale. . . . Rocky landscapes and stony surfaces are depicted with just the right amount of detail. . . . Young readers will root for this less-than-pint-sized hero while he makes the most of his own personal talents. . . . They will learn a bit about rock types and formations (factual information is included in the final notes). Replete with wry, comic references and infused with a sense of adventure, this is a lighthearted tale that readers will certainly not 'take for granite.'"—Kirkus Reviews

"Full of rock puns, this inspirational tale with a sense of humor is more fun the more time you spend with it—especially if you study the back matter, which places members of 'Rocky's Rock Star Family' in geological context. . . . Miyares creates impressive full-bleed landscapes and also manages to give personality to a pebble. Rock on."—The Horn Book

"Miyares paints Rocky on heavily textured paper, adding depth and richness to his spreads; saturated reds and purples contribute drama. It's tough to cast a rock as a main character, but Shaffer comes up with lots of ways a rock can travel and uses every geological pun she can think of. Rock hounds and teachers doing earth science units are a natural audience."—Publishers Weekly

"Miyares' vivid illustrations, painted in watercolor and acrylics, give this story momentum—paneled sequences depict stages of Rocky's journey—and reflect the grandeur of many of America's geologic marvels. An afterword on rock types and formations creates a natural segue for discussions on geology or geography, while the encouraging message of dreaming big grounds the playful story."—Booklist

"Word play is peppered throughout the text. . . . The illustrations . . . depict amusing scenes of Rocky's perilous journey and some impressive spreads of the majestic rock formations. This title may be a jumping-off point for a group discussion of perseverance in the face of obstacles as well as an introduction to famous rock formations."—School Library Journal


Nancy Paulsen Books, 9780399173882, 32pp.
Publication Date: February 20, 2018
About the Author
Jody Jensen Shaffer has written twenty-seven books of fiction and nonfiction, the most recent being The Way the Cookie Crumbled (July 2016). Others include Ninja Warriors, Inside My Muscles, and What's Your Story, Frederick Douglass? She's also had work published in Highlights, High Five, Hello, Babybug, Humpty Dumpty, Turtle, and Clubhouse Jr.

Daniel Miyares wrote and illustrated Bring Me a Rock!, Float, and Pardon Me!, and illustrated Surf's Up (by Kwame Alexander). He grew up in the foothills of South Carolina, received a BFA in illustration from Ringling College of Art and Design, and now lives in Kansas City with his wife and their two children. His clients have included Hallmark Cards, The New York Times, National Geographic, Spider Magazine, Ladybug Magazine, and the Kansas City Star.