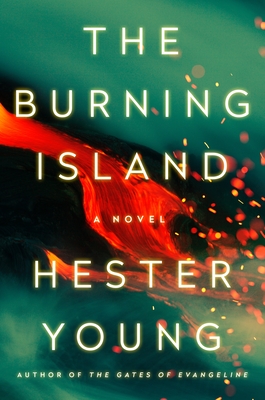 The Burning Island
Hardcover

* Individual store prices may vary.
Other Editions of This Title:
Digital Audiobook (2/11/2019)
Description
The newest haunting mystery from the beloved author of The Gates of Evangeline, featuring Charlie Cates, a headstrong heroine who must confront her unwanted supernatural gift and bring dark secrets to light if she ever wants to leave the Big Island . . .

Journalist Charlie Cates has always believed in facts, in what can be proved--her career depends on it. Which is why she has never truly accepted the supernatural visions that guide her to children in danger. After her work on a high-profile missing-child case brings unwanted fame, she reluctantly flees to the lush Big Island of Hawaii with her best friend, Rae. Determined to avoid her disturbing visions, Charlie begins writing what seems to be a harmless interview of a prominent volcanologist, Victor Nakagawa. But her hopes for a peaceful vacation are soon dashed by haunting dreams of a local girl who went missing six weeks earlier.

In the small and sleepy town of Kalo Valley, Charlie and Rae come to realize that even paradise has its ugly secrets, and the Nakagawa family is no exception. In order to find the missing teenager and stop a dangerous predator from striking again, Charlie is forced to embrace the gift she has always tried to conceal. Meanwhile, someone is watching her every move, and the closer Charlie gets to the truth, the more distant her chances of ever leaving the island alive.

With a deliciously eerie and fast-paced story told in vivid prose, all with an overlay of supernatural suspense, The Burning Island is a pulse-pounding mystery perfect for fans of Jennifer McMahon and Kate Atkinson.
Praise For The Burning Island…
"Brace for a hair-raising cliff dive into waters dark and deep."--Publishers Weekly

"Young engagingly weaves Hawaiian mythology, history, and sociology into a novel of suspense in a vividly portrayed setting, whetting the appetite for more of this psychic protagonist."--Booklist

"Intriguing characters and unanswered questions keep the story moving at an engaging pace....Those looking for solid suspense stories, especially those with psychic or supernatural elements, will enjoy this novel. "--Library Journal

"I hate to say goodbye to Charlie Cates, the fierce and endearing heroine whose dark visions drive her to help missing children, living or dead. Young masterfully crafts a dread-tinged atmosphere of dense forests and fog-shrouded volcanoes on the Big Island of Hawaii as the backdrop for Charlie's final adventure. Not knowing whether her visions show the past or the future, Charlie races to save a missing girl before it's too late. The suspense ratchets higher as Charlie begins to wonder whether she will survive to return to her own children and the family she has built with Noah. A haunting and immersive mystery, and a deeply satisfying finale to the trilogy."
-Laura McHugh, author of The Weight of Blood and Arrowood 


"From the bayou of Louisiana to the desert of Arizona, Hester Young knows how to transport her readers. And her latest book is no exception as she brings the Big Island of Hawaii to vibrant, and timely, life. I'm always a little sad to say good-bye to a series as good as this one, but The Burning Island, with its well-drawn characters and expertly plotted story, is a perfect and satisfying end to the Charlie Cates mysteries." -Amy Engel, author of The Roanoke Girls

"Hester Young creates a Hawaii that is beautiful, seductive--and full of secrets. This is no island paradise. Full of twists, The Burning Island delivers an ending you won't see coming." - Alma Katsu, author of The Hunger


Praise for the Charlie Cates Series
"A beautifully crafted mystery combining literary suspense, romance, and a mystical element that lends a unique twist." —The Huffington Post

"In this spooky thriller, everyone's a suspect, and the plot twists will keep you guessing." —People

"Hester Young leads the reader through a dreamy, Southern gothic mystery. . . . Powerful and captivating." —New Orleans magazine

"Readers may want to strap on their metaphorical life jackets for the wild and exhilarating ride that is this startling debut novel by Hester Young. . . . Dreamy, steamy, scary . . . An unusual and delightful Southern gothic-meets-romance-meets-thriller concoction."
—Fort Worth Star-Telegram
G.P. Putnam's Sons, 9780399174025, 416pp.
Publication Date: February 12, 2019
About the Author
Hester Young is the author of The Gates of Evangeline and The Shimmering Road. She holds a master's degree in English with a creative writing concentration from the University of Hawaii at Manoa, and her work has been published in literary magazines such as The Hawaii Review. Before turning to writing full-time, she worked as a teacher in Arizona and New Hampshire. Young lives with her husband and two children in New Jersey.
or
Not Currently Available for Direct Purchase