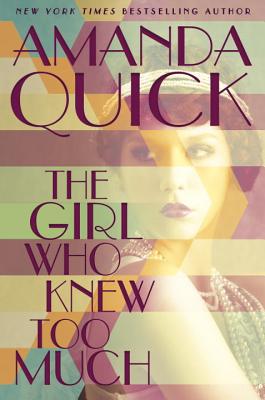 The Girl Who Knew Too Much (Hardcover)
Berkley, 9780399174476, 368pp.
Publication Date: May 9, 2017
* Individual store prices may vary.
Description
THE NEW YORK TIMES BESTSELLER

Amanda Quick, the bestselling author of 'Til Death Do Us Part, transports readers to 1930s California, where glamour and seduction spawn a multitude of sins…
 
When Hollywood moguls and stars want privacy, they head to an idyllic small town on the coast, where the exclusive Burning Cove Hotel caters to their every need. It's where reporter Irene Glasson finds herself staring down at a beautiful actress at the bottom of a pool…
 
The dead woman had a red-hot secret about up-and-coming leading man Nick Tremayne, a scoop that Irene couldn't resist—especially since she's just a rookie at a third-rate gossip rag. But now Irene's investigation into the drowning threatens to tear down the wall of illusion that is so deftly built around the famous actor, and there are powerful men willing to do anything to protect their investment.
 
Seeking the truth, Irene finds herself drawn to a master of deception. Oliver Ward was once a world-famous magician—until he was mysteriously injured during his last performance. Now the owner of the Burning Cove Hotel, he can't let scandal threaten his livelihood, even if it means trusting Irene, a woman who seems to have appeared in Los Angeles out of nowhere four months ago…
 
With Oliver's help, Irene soon learns that the glamorous paradise of Burning Cove hides dark and dangerous secrets. And that the past—always just out of sight—could drag them both under…
About the Author
Amanda Quick is a pseudonym for Jayne Ann Krentz, the author of more than fifty New York Times bestsellers. She writes historical romance novels under the Quick name, contemporary romantic suspense novels under the Krentz name, and futuristic romance novels under the pseudonym Jayne Castle. There are more than 35 million copies of her books in print.
Praise For The Girl Who Knew Too Much…
Praise for The Girl Who Knew Too Much
 
"There are fierce forces at play in every page of The Girl Who Knew Too Much, and you won't be able to put down this captivating mystery until the last page is fervently turned. What's not to love about a scandalous historical tale set in the glamorous years of 1930s Hollywood?"—Redbook 

"All of the key ingredients—wit-infused writing, sharply etched characters, and plenty of simmering sexual chemistry—that readers have come to expect from Quick snap into perfect alignment in this stellar novel. Put that together with a plot that neatly marries high-stakes suspense and a glamorous, old Hollywood setting, and you have a blockbuster that will not only delight historical-romance readers but also entice historical-mystery fans to join in on the fun."—Booklist, starred review
 
"This swiftly moving romance brims with surprising plot twists, delicious sensuality, and a delightfully classy 1930s California setting. An adventurous romp that will have readers hungry for more."—Library Journal, starred review
 
"Quick's ambitious novel, set during the golden age of Hollywood, sparkles with wit and clever plotting."—Publishers Weekly, starred review
 
"Quick is often named as one of the inventors of the romantic mystery, and she writes the genre effortlessly—the love story and the mystery are beautifully intertwined here..."—The Washington Post