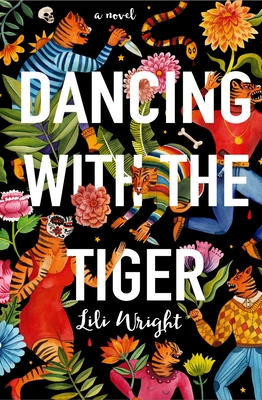 Dancing with the Tiger
Hardcover

* Individual store prices may vary.
Other Editions of This Title:
MP3 CD (7/12/2016)
Compact Disc (7/12/2016)
Description
Taut, acidly witty, menacingly erotic, and often absolutely terrifying: this is a literary thriller of propulsive force that introduces a powerful storyteller.

*An Edgar Finalist for Best First Novel
*Semifinalist for the 2017 VCU Cabell First Novelist Award
 
It begins when a meth-addicted grave robber unearths the death mask of Montezuma, setting off a violent struggle for its possession. There is the drug lord who employs him, who would kill for that mask. There is the expat American collector, sinister and possibly mad. There is the greatly respected curator, who for a fee will provide provenances for his country's looted artifacts, and his long-suffering housekeeper, a deeply religious lesbian in a culture of machismo, who despises her patron. And there is the looter himself, who has stolen the mask and is now running for his life.

Above all, there is Anna Ramsey, an American with a history of bad choices, who has hidden behind a mask all her adult life. A deeply wounded woman, Anna knows that masks protect and conceal. Anna is a heroine for our times, as she searches for the courage to remove her mask and show her true face.
Praise For Dancing with the Tiger…
Winner of the Housatonic Book Award for Fiction 

"A whirling tale of art and its sometimes sordid acquisition...[In] short, punchy chapters...[Dancing with the Tiger] races through the antics of...[a] rapacious cadre of thieves, collectors, murderers, bounty hunters and art lovers...[Wright] explores the ethical implications of collecting and its scent of exploitation [and] takes us into the underground world of art laundering, where stolen objects are washed clean by corrupt dealers with fake provenance papers...[Lots of] valuable insights to unearth in this wild novel."—The Washington Post

"In her energetic debut novel, the sprawling literary thriller Dancing with the Tiger, Lili Wright straddles borders and genres...Take [a] high-stakes game of keepaway, add several pairs of lovers, and you have everything you could want in a summer caper. But Dancing with the Tiger has literary ambitions as well. It strives to comment on grief, love, citizenship, the human spirit, the impulse to wear a mask (whether literal, as here, or metaphorical) and a host of other elevated themes. Quite often, it hits the mark. Toggling among nearly a dozen points of view, Wright demonstrates her range as a storyteller...The result is a novel that vacillates in tone and genre. At times the narrative is as heavy as the air before a storm, wrestling with life's persistent questions; at other times it zips along, aiming [for] thrills and surprises...[A] real romp; chapters end like old-school cliffhangers. Peppered throughout, blocks of delightful prose enjoy a laugh at the novel's (and the genre's) expense [and] every page is shot through with golden threads of striking images...The chorus of the many voices of Oaxaca—expats, tourists and locals alike—creates a siren song that keeps you turning the pages. This novel has much in common with Anna's favorite drink, the margarita, said to be the brainchild of an American Mexiphile: It's salty-sweet, refreshing and more powerful than you think."—The New York Times Book Review

"A fast-moving [and] intricately wrought thriller. Clearly written with great care, the novel plumbs the depths of love and obsession in complex yet delicately woven themes...[a] journey of self-discovery [set] within a powerful story full of danger and pathos that will appeal to fans of Megan Abbott, Denise Mina, and Minette Walters."—Booklist (starred review)

"Fantastic...a fresh, non-stop story that will appeal to fans of all types of suspense fiction."—Suspense Magazine

"A rollicking combination of art and archeology, forgeries, drug deals, and tourists, Montezuma, murder, and love. Dancing with the Tiger is smart, sexy, and extremely suspenseful. Block out some time—once you start, you won't be putting it down."—Karen Joy Fowler, author of We Are All Completely Beside Ourselves and Black Glass: Short Fictions

"A gripping and powerful story of artifact smuggling and drug dealing in Mexico, driven by Lili Wright's deep compassion for the people and place she writes about."—Jess Walter, author of Beautiful Ruins and We Live in Water and Beautiful Ruins

"An entrancing, provocative, and utterly beguiling debut. Like its heroine, Lili Wright's Dancing with the Tiger is so vibrant and alive you can practically feel the pages humming beneath your fingers. Not to be missed."—Megan Abbott, Dare Me and The Fever

"From sentence to sentence, Wright provides a literary theme park of noir thrills and cross-cultural conflict. Her talents as a storyteller are only exceeded by her skill in portraying the desperate brilliance that a centuries-old MacGuffin brings out in her characters. A Raymond Chandler engine inside a Megan Abbott chassis with detailing by Graham Greene. Wright is the early millennium novelist that we deserve...for our sins."—Dan Barden, author of The Next Right Thing

"Dancing with the Tiger is built on beautiful sentences the way a spider web is built on silk. Pleasing also is Lili Wright's wisdom regarding the human condition, present on every page. Her elegant and vital sentences  also travel in service to what is surely one of the most intricate plots of the year; but first and foremost, the sentences: one will follow them almost anywhere."—Rick Bass, author of The Lives of Rocks and All The Land to Hold Us

"It is a sexy, headlong descent into art and addiction, as hallucinatory and revelatory as a shot of mescal. Lili Wright creates a rogue's gallery of saints and sinners obsessively pursuing Montezuma's death mask, even as death dances in their midst. Fierce and fast paced, this is an urgent novel of ideas."—Sheri Holman, author of The Dress Lodger and Witches on the Road Tonight

"Smart and vivid, Dancing with the Tiger turns all the gears—and with gusto—from sex to gun play to old lost treasures in Mexico. As the ancient stolen mask changes hands, this novel delivers."—Ron Carlson, the author of Return to Oakpine

"This book is one of those literary novels that transcends genre—several, in fact: it contains romance, mystery, suspense, and history. Yet at heart its greatest gift is the care with which it's written. A superb success."—Antonya Nelson, author of Funny Once and In the Land of Men

"A literary thriller of propulsive force that is taut, acidly witty, menacingly erotic, and often absolutely terrifying...With a fresh voice, vivid descriptions, and intriguing characters, at no time does this book read like a first novel."—Criminal Element
Marian Wood Books/Putnam, 9780399175176, 464pp.
Publication Date: July 12, 2016
About the Author
During her many trips to Mexico, Lili Wright has studied Spanish, lived with Mexican families, worked as a journalist, watched dancing tigers parade down streets, visited ghost towns, and started her own mask collection. She received the Housatonic Book Award and an Edgar Award nomination for her debut novel, Dancing with the Tiger and earned her MFA in nonfiction writing at Columbia University. Author of the travel memoir Learning to Float, she lives with her husband and two children in Greencastle, Indiana, and teaches English at DePauw University.
or
Not Currently Available for Direct Purchase