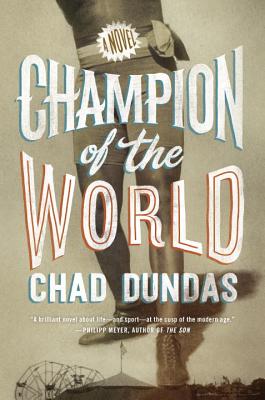 Champion of the World
Hardcover

* Individual store prices may vary.
Other Editions of This Title:
Paperback (12/10/2019)
Compact Disc (7/12/2016)
MP3 CD (7/12/2016)
Compact Disc (7/12/2016)
Description
A Boston Globe Best Book of the Year

In this stunning historical fiction debut set in the world of wrestling in the 1920s, a husband and wife are set adrift in a place where everyone has something to hide and not even the fights can be taken at face value.

Late summer, 1921: Disgraced former lightweight champion Pepper Van Dean has spent the past two years on the carnival circuit performing the dangerous "hangman's drop" and taking on all comers in nightly challenge bouts. But when he and his cardsharp wife, Moira, are marooned in the wilds of Oregon, Pepper accepts an offer to return to the world of wrestling as a trainer for Garfield Taft, a down-and-out African American heavyweight contender in search of a comeback and a shot at the world title.

At the training camp in rural Montana, Pepper and Moira soon realize that nothing is what it seems: not Taft, the upcoming match, or the training facility itself. With nowhere to go and no options left, Pepper and Moira must carefully navigate the world of gangsters, bootlegging, and fixed competitions, in the hope that they can carve out a viable future.

A story of second chances and a sport at the cusp of major change, Champion of the World is a wonderful historical debut from a new talent in fiction.
Praise For Champion of the World…
Praise for Champion of the World

"A riveting novel about hardheaded men, tough women, and even tougher times in Prohibition America. It's difficult to believe Chad Dundas's CHAMPION OF THE WORLD is a debut novel—so fluid is it's plot movement, so sure the narrative...slyly ambitious…one of the most wonderfully controlled displays of storytelling by a new author in recent memory. Besides the page-turning momentum and thrilling set pieces, Dundas's novel has an almost sweet melancholy. So many of the characters are searching for redemption… When the betrayals, failures, and mishaps come, they're surprising and at times brutal, as merciless in their own way as that greatest of culprits here, the slow slipping away of time."—O Magazine

"A well written, engaging tale that reads like a beautiful grappling match between experienced and will trained athletes. Dundas has worked a tale that is intricate and intense with the call and response feeling of watching an excellent athletic contest. With twists and turns that are unexpected yet flow naturally, Champion keeps the reader entranced and curious throughout."—Missoulian

"With crisp, muscular prose, this 470-page historical novel illuminates a time of rapid change in America."—Poets & Writers

"Champion of the World, a terrific debut novel from Chad Dundas, is about professional wrestling in the early 1920s, when the sport wasn't unabashedly fake the way it is today. But you don't have to be a wrestle-maniac to enjoy it. If you appreciate great storytelling and dynamic characters, this book is going to satisfy… [Dundas] writes exciting action sequences. But his real gift is in making 1920s America and the people who populate it come vibrantly alive. In his hands, Champion of the World is an extraordinary trip through time to a culture very different from our own — never does it feel like a dry history textbook."—Fort Worth Star-Telegram

"At first glance, Champion of the World is a novel about wrestling in the 1920s. But what's that saying about the tip of the iceberg?"—Portland Oregonian

"Dundas puts the gritty, unpleasant realities of the opening decades of the twentieth century on display, offering something of an implicit critique of the prevailing attitudes of Americans, both then and now. Wrestling fans with a penchant for history will relish the details woven into Champion of the World….Through his compelling and artful construction of Champion of the World, Dundas effectively provides wrestling fans with our own equivalent of folk heroes like Paul Bunyan and John Henry….For its unique content, vivid storytelling, and noteworthy attention to detail, we award Champion of the World five out of five suplexes."—Pro Wrestling Illustrated

"Champion of the World is window into wrestling history… The story ties in bootleggers, con men and wrestling poised to make a fundamental change from the sport of presidents (at least in their younger days) and common men alike to what would eventually become the antics of WWE (formerly called the World Wrestling Federation)."—Great Falls Tribune

"You can count the truly great sports novels on two hands and have fingers to spare. Wrestling, the sport of kings, has never had one-until now. Bleacher Report's lead MMA writer Chad Dundas has done the impossible. He has written a book about professional wrestling that appeals not only to fans of the grappling arts, but to sophisticated readers who wouldn't know a wristlock from a wrist watch."— Bleacher Report

 "Longtime MMA journalist Chad Dundas has written one of the great debut novels of 2016 in Champion of the World. The novel is an engaging tale of carnivals, gangsters, bootlegging, race relations, decisions, deception, attempted redemption, tragedy and life. It's a spectacular piece of writing, which even before publication was seeing Dundas compared to American greats such as Cormac McCarthy and Jim Thompson – and justifiably so."— MMA Junkie

"Dundas puts together a tightly woven piece of storytelling punctuated by some intriguing close-ups of wrestling when it was taken seriously. . . . [The] last [twist is] a doozy with a demon ex machina even nastier than the mobsters. Centered on the sweet-tough relationship of Pepper and his card shark wife, Moira, and enriched by a wrestling history that contrasts sharply with today's circus, the novel has the feel of noir but is rounder and richer than a Jim Thompson outing. Dundas suggests writers known for loosely historical works, such as Doctorow and Chabon, but he features a pared-down, punchy style that goes well with his characters' basic raw ambitions and emotions."—Kirkus Reviews (starred review)

"A brilliant novel about life—and sport—at the cusp of the modern age, Champion of the World follows a down-and-out couple as they struggle to survive on their wits alone. Reminiscent of the best of early Cormac McCarthy, but with compelling female characters."—Philipp Meyer, New York Times-bestselling author of The Son and American Rust

"Champion of the World is a debut with the masterful breadth and insight of a veteran talent's work. The confluence of a sport and entertainment, gambling and gangsterism is illuminated on every page, as Chad Dundas burrows into the tangled roots of American wrestling. Tragic and by turns hopeful, Champion of the World is a showcase bout full of reversals, grit, and spirit."—Smith Henderson, author of Fourth of July Creek

"Here's one of the finest first novels in years, a gritty tale involving professional wrestling, bootlegging, and the byzantine strategies of cold-blooded conmen and desperate grifters. If the subject matter strikes you as too quirky, think again. My advice to anyone who loves brilliant storytelling is this: read Chad Dundas's Champion of the World."—Jeff Guinn, New York Times-bestselling author of The Last Gunfight

"Chad Dundas's novel Champion of the World sets us squarely down in 1921 and brings it vividly to life.  Moira and Pepper Van Dean feel like a real couple. The tense buildup to the wrestling matches is outstanding, and the pleasure of the matches themselves is that their outcome cannot be predicted.  A terrific debut."—David Fuller, author of Sundance 

"Smart and flinty, Chad Dundas's archetypal debut is a sprawling, brawling yarn populated by gangsters and carnies, bootleggers, hucksters and early-day wrestlers—characters who, in their irresistibility, fairly drag you along by the throat through page after compelling page.  A piercing and at times heart-rending examination of the universal quest to reach our own championship, be it the big pay-day, enduring love, or mere survival in a ruthless world."—Kim Zupan, author of The Ploughmen

"Champion of the World is professional wrestling of the 1920s in full roar. It bristles with heroes, schemes, bootleggers, shysters, twists, romance, and excitement. Dundas knows wrestling, scene-making and a good plot. The result is this vivid and cinematic portrait of a sport, and a culture, in flux."—Deirdre McNamer, author of One Sweet Quarrel and Red Rover 
G.P. Putnam's Sons, 9780399176081, 480pp.
Publication Date: July 12, 2016
About the Author
Chad Dundas earned his MFA from the University of Montana, and his short fiction has appeared in the Beloit Fiction Journal, Sycamore Review, Sou'Wester, and Thuglit. Since 2001, he's worked as a sportswriter for national outlets including ESPN, NBC Sports, Sporting News, Bleacher Report, and the Associated Press, as well as local and regional newspapers. A fourth-generation Montanan, he lives with his wife and children in Missoula.
or
Not Currently Available for Direct Purchase