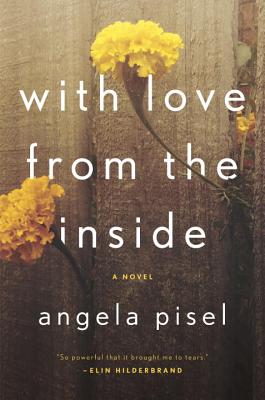 With Love from the Inside (Hardcover)
G.P. Putnam's Sons, 9780399176364, 320pp.
Publication Date: August 9, 2016
Other Editions of This Title:
Pre-Recorded Audio Player (8/9/2016)
* Individual store prices may vary.
Description
Angela Pisel's poignant debut explores the complex relationship between a mother and a daughter, and their quest to discover the truth and whether or not love can prevail—even from behind bars.
 
Grace Bradshaw knows the exact minute she will die. On death row for murdering her infant son, her last breath will be taken on February 15 at 12:01 a.m. Eleven years, five months, and twenty-seven days separate her from the last time she heard her precious daughter's voice and the final moment she'd heard anyone call her Mom. Out of appeals, she can focus on only one thing—reconnecting with her daughter and making sure she knows the truth.
            Secrets lurk behind Sophie Logan's big house and even bigger bank account. Every day when she kisses her husband good-bye, she worries her fabricated life is about to come crumbling down. No one knows the unforgivable things her mother did to tear her family apart—not her husband, who is a prominent plastic surgeon, or her "synthetic" friends who live in her upscale neighborhood.
            Grace's looming execution date forces Sophie to revisit the traumatic events that haunted her childhood. When she returns to her hometown, she discovers new evidence about her baby brother William's death seventeen years ago—proof that might set her mother free but shatter her marriage forever.
            Sophie must quickly decide if her mother is the monster the prosecutor made her out to be or the loving mother she remembers—the one who painted her toenails glittery pink and plastered Post-it notes with inspiring quotes ("100 percent failure rate if you don't try") all over Sophie's bathroom mirror—before their time runs out.
About the Author
Angela Pisel was born in the Midwest but has set up homes across the United States since marrying an Army physician. As a therapist and life coach, she has taken a special interest in mentoring women throughout various transitions in their lives. She decided to write her first novel after her obsession with TV trials led her to research women on death row. She didn't find what she thought she'd find—how people end up where they end up continues to mesmerize her. Pisel volunteers with an organization in North Carolina (forgivenministry.org) that seeks to break the cycle of recidivism by promoting healthy relationships between children and their incarcerated parent. With Love from the Inside is her debut novel.
Praise For With Love from the Inside…
"A chilling and mesmerizing novel."—Charlotte Observer

"A touching story of love and forgiveness in the face of adversity."—Booklist

"Briskly paced....An admirable debut."—Kirkus Reviews

"A thoughtful...story of mothers and daughters, heavily weighted with sentiment...this should appeal to readers of issue-based novels by Jodi Picoult or Chris Bohjalian."—Library Journal

"Like nothing else I've read this year, With Love from the Inside chronicles a mother awaiting her execution on death row for ostensibly killing her infant son.  The writing in this novel is so strong and its message of forgiveness so powerful that it brought me to tears."
—Elin Hilderbrand, New York Times bestselling author of The Rumor

"Powerful, provocative, and written with a rare grace. This novel will steal your breath—and your heart."—Sarah Pekkanen, author of Things You Won't Say

"With Love from the Inside is a gripping page-turner wrought with conflict, mystery, and life or death stakes. Angela Pisel ushers readers down the bleak corridors of death row, while simultaneously weaving a stunning tale of love and hope and faith. I fell in love with this tragic mother-daughter love story, a heart-wrenching illustration of the strength of the mother-daughter bond, the resiliency of the human spirit, and the power of forgiveness. Bittersweet and emotionally charged, With Love from the Inside is a perfect choice for book clubs. With Love from the Inside is a book that lingers long after the last page is read."
—Lori Nelson Spielman, #1 international bestselling author of The Life List and Sweet Forgiveness

"With Love from the Inside is a page-turning tale of redemption, forgiveness, and the unending bonds of love. Pisel has written a gripping and emotional novel that is ultimately a love letter between mothers and daughters that will you have routing for both until the last page."
—Elizabeth L. Silver, author of The Execution of Noa P. Singleton

"If you believed your mother murdered your baby brother, would you forgive her?  If, after she'd spent more than a decade on death row and was closing in on her execution date, you concluded she hadn't done it after all, would you forgive yourself?  In this beautifully rendered and gripping tale, Angela Pisel explores these questions as nobody has before, and along the way takes us inside the daily dehumanization of death row.  Pisel is a novelist to watch, and this debut will stay with me for a very long time."
—David R. Dow, author of The Autobiography of an Execution and founder of the Texas Innocence Network

"A moving and skillfully crafted portrayal of a death-row inmate and her family. Pisel delivers well-drawn characters who humanize the heartache and trauma of this emotional situation. Through the eyes of Grace, we see a very visual perspective of prison life--humiliation, degradation, self-doubt, and state of hopelessness. Deftly written, With Love from the Inside realistically portrays how anyone can become a victim of circumstances, in prison or out. A powerful and heart wrenching debut."
—Forgiven Ministry