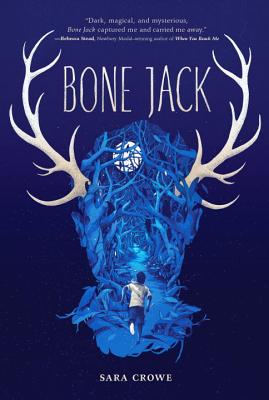 Bone Jack (Hardcover)
Philomel Books, 9780399176517, 256pp.
Publication Date: February 7, 2017
* Individual store prices may vary.
Description
A haunting story of magic and myth, of one boy caught between worlds, and of the lengths he will travel to save those he loves.

"Dark, magical, and mysterious, Bone Jack captured me and carried me away." —Rebecca Stead, Newbery Medal-winning author of When You Reach Me and Goodbye Stranger

Times have been tough for Ash lately, and all he wants is for everything to go back to the way it used to be. Back before drought ruined the land and disease killed off the livestock. Before Ash's father went off to war and returned carrying psychological scars. Before his best friend, Mark, started acting strangely.
 
As Ash trains for his town's annual Stag Chase—a race rooted in violent, ancient lore—he's certain that if he can win and make his father proud, life will return to normal. But the line between reality and illusion is rapidly blurring, and the past has a way of threatening the present.
 
When a run in the mountains brings Ash face-to-face with Bone Jack—a figure that guards the boundary between the living world and the dead—everything changes once more. As dark energies take root and the world as he knows it is upended, it's up to Ash to restore things to their proper order and literally run for his life.

Praise for Bone Jack:

A 2015 Carnegie Medal nominee
A 2015 Branford Boase Award nominee

"Though this might seem like justanother ghost story, there's subtle depth here, too, and teen fans of both horror and literary fiction will findlots to like." —Booklist

"Crowe is a masterly storyteller whose lyrical prose will enthrall young readers. A page-turning and atmospheric offering for middle graders who crave dark fantasy." —School Library Journal

"Crowe is particularly effective in evoking the sensory elements of the natural world...eminiscent of David Almond's work in its sensuality and mysticism." —Horn Book

"British author Crowe crafts a tense, atmospheric tale steeped in folklore, where the setting itself comes alive. It's a quick but memorable read, and a fascinating take on the power of belief and healing." —Publishers Weekly

"The action scenes around the chase itself are gripping, with lots of high drama and no guaranteed happy outcome. What's even more memorable, however, is the lingering feeling of loss that shapes so many lives in this British import; plenty of real-life monsters like war, depression, and isolation haunt people as much as ghostly hound boys." —BCCB

"[P]owerful and beguiling." —Telegraph

"A lovely, eerie adventure, balancing the ancient magic with Ash's very real character growth." —Kirkus Reviews
About the Author
Sara Crowe (theforest.me) was born in Cornwall and raised all over England by her restless parents. She taught cinema and photography studies until 2012, when she and her partner bought a van and spent the next eighteen months traveling around the British Isles. She currently lives in a tumbledown cottage in Lincolnshire. Bone Jack, which has been nominated for the Carnegie Medal and the Branford Boase Award, is her first novel. You can follow her on Twitter
@dark_fell.
Praise For Bone Jack…
Praise for Bone Jack:

A 2015 Carnegie Medal nominee
A 2015 Branford Boase Award nominee

"Though this might seem like justanother ghost story, there's subtle depth here, too, and teen fans of both horror and literary fiction will findlots to like." —Booklist

"Crowe is a masterly storyteller whose lyrical prose will enthrall young readers. A page-turning and atmospheric offering for middle graders who crave dark fantasy." —School Library Journal

"Crowe is particularly effective in evoking the sensory elements of the natural world...eminiscent of David Almond's work in its sensuality and mysticism." —Horn Book

"British author Crowe crafts a tense, atmospheric tale steeped in folklore, where the setting itself comes alive. It's a quick but memorable read, and a fascinating take on the power of belief and healing." —Publishers Weekly


"The action scenes around the chase itself are gripping, with lots of high drama and no guaranteed happy outcome. What's even more memorable, however, is the lingering feeling of loss that shapes so many lives in this British import; plenty of real-life monsters like war, depression, and isolation haunt people as much as ghostly hound boys." —BCCB

"[P]owerful and beguiling." —Telegraph

"A lovely, eerie adventure, balancing the ancient magic with Ash's very real character growth." —Kirkus Reviews