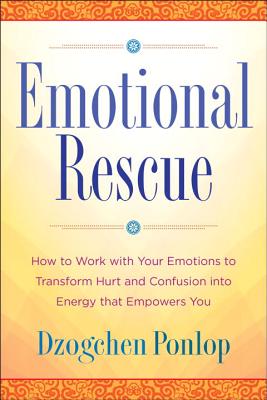 Emotional Rescue
How to Work with Your Emotions to Transform Hurt and Confusion into Energy That Empowers You
Hardcover

* Individual store prices may vary.
Other Editions of This Title:
Digital Audiobook (5/2/2016)
Paperback (4/18/2017)
MP3 CD (5/3/2016)
Compact Disc (5/3/2016)
Description
In this life-changing book, acclaimed Buddhist teacher Dzogchen Ponlop Rinpoche shows how to free yourself from being a victim of your emotions by gaining the awareness and understanding that will help you harness their power.

      Emotions bring color and meaning to our lives, but they can also put us on an exhausting rollercoaster ride that takes us to blissful peak states, the depths of delusion and despair, and everything in between. It is only by learning to relate to our emotions skillfully that we benefit from their richness and glean wisdom, rather than letting them control us. Emotions get their power from a simple but deep-seated source: our lack of self-knowledge. When we bring awareness to our experience of emotions, something truly amazing happens—they lose their power to make us miserable.
     In this book, Rinpoche leads us through the three steps of his Emotional Rescue Plan. Mindful Gap is the practice of creating a safe distance between you and your emotions, which gives you the psychological space to work with their energy. Clear Seeing involves recognizing the bigger picture. Last, Letting Go is the practice of releasing stressful physical and emotional energy through exercise, relaxation, and awareness. With each step, we become increasingly familiar with the inner workings of our emotions, seeing straight to the heart of anger, fear, passion, jealousy, and pride. With time and practice, instead of leading us astray, our emotions become our guide towards living a more compassionate, creative, and fulfilling life.
Praise For Emotional Rescue: How to Work with Your Emotions to Transform Hurt and Confusion into Energy That Empowers You…
"Ponlop Rinpoche gives us here a down-to-earth guide to recognize, understand, transform, and utilize the basic energy of even our negative emotions to live fresh and genuinely happy lives."
—Richard Gere

"Dzogchen Ponlop Rinpoche combines his powerful depth of understanding with straightforward language to make this an enjoyable and highly valuable book. The three step process for emotional rescue is a superb modern-day expression of traditional teachings. Its instructions, well practiced, will be liberating".
—Sharon Salzberg, author of Lovingkindness and Real Happiness

"Emotions can tangle and trip us up with no understanding of their wild chaotic possibility. In this important book Ponlop teaches us step by step how to unwind emotions and use their energy and power. We no longer have to be at the mercy of anger, delusion, desire, and aggression. Happy he wrote this book."
—Natalie Goldberg, author of The Great Spring and Writing Down the Bones

"Dzogchen Ponlop's teachings always beautifully balance the ancient Eastern with the modern Western, the profoundly complex with the freshly simple. In Emotional Rescue, he turns his attention to perhaps the most urgent topic faced by meditators: how to deal with difficult emotions. The three-step process for mindfulness of emotions contained in this book is deeply rooted in the wisdom of Buddhist psychology, yet offered free of jargon by a modern master. I will definitely be using the deep insights of this book in my own practice and in my work with students."
—Ethan Nichtern, author of The Road Home: A Contemporary Exploration of the Buddhist Path

TarcherPerigee, 9780399176647, 272pp.
Publication Date: April 19, 2016
About the Author
Dzogchen Ponlop Rinpoche is a widely celebrated Buddhist teacher and the author of Rebel Buddha: A Guide to a Revolution of Mind. ("Rinpoche" is an honorific reserved for highly respected Buddhist teachers.) He is the founder and president of Nalandabodhi, an international network of Buddhist centers.