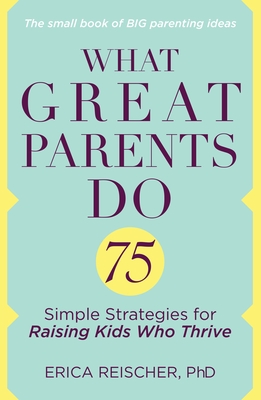 What Great Parents Do
75 Simple Strategies for Raising Kids Who Thrive
Paperback

* Individual store prices may vary.
Other Editions of This Title:
Compact Disc (8/16/2016)
Compact Disc (8/16/2016)
Paperback, Vietnamese (7/1/2019)
Compact Disc (8/16/2016)
MP3 CD (8/16/2016)
Description
A golden rule book to parenting best practices, What Great Parents Do concisely presents key strategies to help parents reshape kids' challenging behaviors, create strong family bonds, and guide children toward becoming happy, kind, responsible adults.

What Great Parents Do is an everything-you-need-to-know road map for parenting that you will consult again and again. Psychologist Erica Reischer draws on research in child development and cognitive science to distill the best information about parenting today into bite-size pieces with real examples, useful tips, and tools and techniques that parents can apply right away. This book will show you how to do what great parents do so well, including:

- Great parents start with empathy
- Great parents accept their kids just as they are
- Great parents avoid power struggles
- Great parents see the goal of discipline as learning, not punishment
- Great parents know they aren't perfect

A toolbox of the most effective parenting strategies, What Great Parents Do is accessible, actionable, and easy to follow.
Praise For What Great Parents Do: 75 Simple Strategies for Raising Kids Who Thrive…
"What Great Parents Do is the only parenting playbook you need. No book has better distilled, science-based parenting tips than this one! If you have only two minutes a day, you have time to pick up a quick strategy for parenting with more joy, skill, and ease. A must read!"
—Christine Carter, PhD, author of The Sweet Spot and Raising Happiness, and senior fellow at UC Berkeley's Greater Good Science Center

"Every so often, a book comes out that truly shares our big-picture attitude about raising kids. What Great Parents Do is packed with smart reminders about parenting priorities and how to actually do what you want to do."
—Diane Debrovner, Deputy Editor, Parents Magazine

"The great anthropologist Margaret Mead used to say that she could not understand our priorities: We require by law for people to get driving permits, but we allow people to bring up children without demonstrating any aptitude for parenting. If things were to change, Dr. Reischer's book would become an essential Rules of the Road for would-be parents. A well conceived, well researched, and well written handbook."
—Mihaly Csikszentmihalyi, Distinguished Professor of Psychology and Management, Claremont Graduate University, and New York Times bestselling author of Flow: The Psychology of Optimal Experience

"Looking for advice on parenting but don't want to wade through reams of studies? A new book offers help. In What Great Parents Do Erica Reischer offers practical tips in an easy-to-read format, and the strategies are delivered in a nonjudgmental and to-the-point tone."
—The Washington Post

"Packed with useful, practical advice and how-to's, this book promises to be one that every parent will wish they had from day one." 
—Dr. Madeline Levine, New York Times bestselling author of The Price of Privilege and Teach Your Children Well

"Erica Reischer offers a 'cheat sheet' of best parenting practices. Equipped with her wisdom, we all have the potential to be 'great parents.'" 
—Peggy Orenstein, New York Times bestselling author of Girls & Sex: Navigating the Complicated New Landscape and Cinderella Ate My Daughter

"Covering everything from discipline to encouraging curiosity, Reischer's gentle yet firm model is simple and powerful. Parents who read one tip per day will have a sound rubric for child rearing through the years."
—Publisher's Weekly

"Psychologist Reischer's parenting style might be best described as 'evidence-based.' In her parenting workshops and this book, she distills research on children's social and emotional development into a set of best parenting practices. She is at her best in the 'Try This' section at the end of each chapter, which includes real-life examples and step-by-step instructions for applying the strategy in a challenging parenting situation. Like many authors of parenting books, Reischer wrote the one book she was unable to find when her first child was born. She has ensured that parents of young children no longer have that problem."
—Booklist (starred review)

"As much as parents crave wisdom, we really want someone to have our back in those hard parenting moments. Dr. Erica Reischer delivers. With oodles of great scenarios drawn from real life, it's like she sees us about to flub up, hits the pause button, and whispers a key piece of advice. Her advice isn't just about handling kids, though—it's about how to be more mindful of our own behavior so we can appreciate the impact we're having on our kids in these moments. Reischer may be offering simple strategies, but the wisdom behind them is incredibly deep and profound."
—Julie Lythcott-Haims, New York Times bestselling author of How to Raise an Adult, and former dean, Stanford University

"The book to keep on your bedside table." 
—Greater Good Science Center, University of California Berkeley

"I breathed a sigh of relief after reading this book—this is the kind of thoughtful, practical guide I've wished for as both a parent and educator. Dr. Reischer has created a set of clear, simple, yet profound pointers toward better parenting."
—Christopher Balme, former CEO of Spark and cofounder/head of school, Millennium School

"Dr. Erica Reischer has been teaching fact-filled, action-oriented, and incredibly useful parenting workshops for years now, and parents always leave wanting more.  Even if you already have a collection of parenting books, you'll still want this one."
—Rachel Kadner, parenting and community partnerships manager, Habitot Children's Museum

"This is the parenting book you've been waiting for. Whether you're a brand new parent or a veteran with older children, What Great Parents Do condenses the latest research into easy-to-use strategies for parenting that we all need. Dr. Erica Reischer guides us through our most pressing dilemmas as parents—how to cultivate respect in our children, how to help our kids handle strong feelings, how to minimize negative behaviors, how to build independence and close relationships at the same time, and how to create happy family lives."
—Leslie Bell, PhD, psychotherapist

"What Great Parents Do by psychologist and parent educator Erica Reischer, touts itself as 'the everything-you-need-to-know road map for parenting that you will consult again and again.' That's a grand statement, but I agree with her."
—True Parent Magazine

"Filled with handy tips and the best tidbits from piles of research on kids' social and emotional development, consider this book a 'cheat sheet' to great parenting. Broken down into action-oriented pieces for easy implementation, backed up by great scenarios from real life, if you're looking for a map to guide you through the journey of being a parent, What Great Parents Do is a good choice."  
—Red Tricycle

"What Great Parents Do is a gem! This practical, easy-to-apply guide offers step-by-step guidance and real-life examples that can transform how you parent. In a sea of parenting books that often make you feel 'less than,' this down-to-earth manual will help you feel more confident, excited, and secure on your parenting journey. What a gift!"
—Renee Peterson Trudeau, author of The Mother's Guide to Self-Renewal

TarcherPerigee, 9780399176692, 240pp.
Publication Date: August 16, 2016
About the Author
Erica Reischer, PhD, is a psychologist and parent educator. She received her doctorate from the University of Chicago in Psychology/Human Development and is an honors graduate of Princeton University. 
      A former consultant with McKinsey & Company, Dr. Reischer sits on the advisory board for Happy Healthy Kids and leads popular parenting classes at schools and organizations such as UCSF Benioff Children's Hospital, Habitot Children's Museum, and the University of California.
      Her writing about children and families appears in Psychology Today, The New York Times, The Washington Post, and The Atlantic. She maintains a private psychology practice in Oakland, California where she lives with her husband and two children.
or
Not Currently Available for Direct Purchase