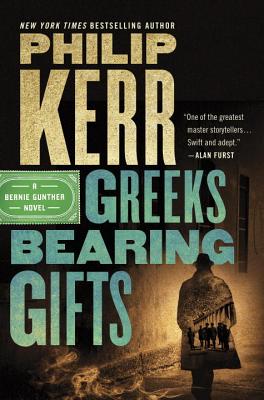 Greeks Bearing Gifts (A Bernie Gunther Novel #13)
Hardcover

* Individual store prices may vary.
Other Editions of This Title:
Digital Audiobook (4/2/2018)
Paperback (3/12/2019)
Description
An NPR Book of the Year
A Crime Reads Best Crime Book of 2018

A vicious murder puts Bernie Gunther on the trail of World War 2 criminals in Greece in this riveting historical thriller in Philip Kerr's New York Times bestselling series.

Munich, 1956. Bernie Gunther has a new name, a chip on his shoulder, and a dead-end career when an old friend arrives to repay a debt and encourages "Christoph Ganz" to take a job as a claims adjuster in a major German insurance company with a client in Athens, Greece.

Under the cover of his new identity, Bernie begins to investigate a claim by Siegfried Witzel, a brutish former Wehrmacht soldier who served in Greece during the war. Witzel's claimed losses are large , and, even worse, they may be the stolen spoils of Greek Jews deported to Auschwitz. But when Bernie tries to confront Witzel, he finds that someone else has gotten to him first, leaving a corpse in his place.

Enter Lieutenant Leventis, who recognizes in this case the highly grotesque style of a killer he investigated during the height of the war. Back then, a young Leventis suspected an S.S. officer whose connection to the German government made him untouchable. He's kept that man's name in his memory all these years, waiting for his second chance at justice...

Working together, Leventis and Bernie hope to put their cases--new and old--to bed. But there's a much more sinister truth to acknowledge: A killer has returned to Athens...one who may have never left.
Praise For Greeks Bearing Gifts (A Bernie Gunther Novel #13)…
Praise for Greeks Bearing Gifts
 
"A terrifically complex tale ... a beautifully written novel by a gifted writer who has left us too soon." — Washington Post

"It doesn't take much to get swept into Gunther's latest adventure or taken in by his darkly witty commentary." — Chicago Tribune

"Every bit as powerful and atmospheric and addictively page-turning as all the ones that came before it."— Christian Science Monitor
 
"For bereft Kerr aficionados, this is a draught of vintage, as themes of redemption
are grippingly explored." — The Guardian

"Bernie Gunther…is back — which is good news for all readers… What makes this latest Bernie book notable is how it strikes a series of authentic notes." — The Washington Times
 
"Beyond Marlowe, though, there's Bernie…Bernie's internal demons have always provided the compelling drama in this series, and here we loyal supporters are granted a ray of hard-won hope. It provides a great moment in an always-riveting series." —Booklist, starred review

"In typical top form, Kerr provides valuable insights into the times...Inspired by real people and events, the latest novel by the celebrated author of the Berlin Noir trilogy is a deep but breezy work in which even the most trustworthy characters can harbor dark secrets."—Kirkus Review, starred review
 
"An outstanding historical thriller steeped in intrigue with a superb narrative, pace, and characterization."—Library Journal, starred review
 
"Once again, Kerr shows Bernie contending bravely if futilely against powerful forces whose full evil becomes clear only at the end."—Publishers Weekly

"Greeks Bearing Gifts is the 13th Bernie book, each of them a polished gem of unsentimental detective writing echoing Chandler and Hammett in spirit, if not language. … The entire series of books balances on the shoulders of Bernie Gunther, surely one of the most likable and confounding characters in modern detective fiction — or, it should be said, in contemporary English literature in general. For that is what Kerr has created, not mere formulaic genre novels, and Bernie's moral ambiguity has a lot to do with the magnetic power of Kerr's work." — San Antonio Express-News
Marian Wood Books/Putnam, 9780399177064, 528pp.
Publication Date: April 3, 2018
About the Author
Philip Kerr was the New York Times bestselling author of the acclaimed Bernie Gunther novels, three of which—Field Gray, The Lady from Zagreb, and Prussian Blue—were finalists for the Edgar Award for Best Novel. Kerr also won several Shamus Awards and the British Crime Writers' Association Ellis Peters Award for Historical Crime Fiction. Just before his death in 2018, he was made a Fellow of the Royal Society of Literature. As P.B. Kerr, he was the author of the much-loved young adult fantasy series Children of the Lamp.
or
Not Currently Available for Direct Purchase