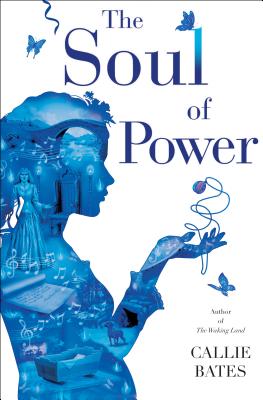 The Soul of Power (The Waking Land #3)
Hardcover

* Individual store prices may vary.
Other Editions of This Title:
Paperback (1/7/2020)
Description
One young woman learns the true nature of power—both her own and others'—in the riveting conclusion to The Waking Land Trilogy.

"Bates brilliantly concludes an impressive high fantasy trilogy with this tale of scheming and magic."—Publishers Weekly (starred review)

Sophy Dunbarron—the illegitimate daughter of a king who never was—has always felt like an impostor. Separated from her birth mother, raised by parents mourning the loss of their true daughter, and unacknowledged by her father, Sophy desires only a place and a family to call her own. But fate has other ideas. Caught up in Elanna Valtai's revolution, Sophy has become the reigning monarch of a once-divided country—a role she has been groomed her whole life to fill.

But as she quickly discovers, wearing a crown is quite a different thing from keeping a crown. With an influx of magic-bearing refugees pouring across the border, resources already thinned by war are stretched to the breaking point. Half the nobility in her court want her deposed, and the other half question her every decision. And every third person seems to be spontaneously manifesting magical powers.

When Elanna is captured and taken to Paladis, Sophy's last ally seems to have vanished. Now it is up to her alone to navigate a political maze that becomes more complex and thorny by the day. And worse, Sophy is hiding a huge secret—one that could destroy her tenuous hold on the crown forever.
 
"Sophy is truly a feminist hero: she embraces equality and justice for all—a theme running throughout the novel—while challenging societal norms."—Booklist
 
Don't miss any of Callie Bates's magical Waking Land trilogy:
THE WAKING LAND • THE MEMORY OF FIRE • THE SOUL OF POWER
Praise For The Soul of Power (The Waking Land #3)…
"An excellent and exciting conclusion to an outstanding romantic fantasy trilogy. Sophy is as intriguing and complex a hero as Elanna and Jahan (The Memory of Fire), while the secondary characters remain just as well drawn. Highly recommended."—Library Journal (starred review)
 
"Callie Bates's The Soul of Power expands the world she built in the previous two installments and brings her trilogy to an emotional and worthwhile close. . . . She builds the politics and magic as much as she does Sophy's character, and it's truly a testament to how much an author can do in just over 400 pages. . . . From classism, to the nuances of creating a new government, to sexism—it's all explored during the final book."—Culturess
Del Rey, 9780399177446, 480pp.
Publication Date: June 4, 2019
About the Author
Callie Bates is the author of The Waking Land and The Memory of Fire. She is also a harpist, certified harp therapist, sometimes artist, and nature nerd. When she's not creating, she's hitting the trails or streets and exploring new places. She lives in the Upper Midwest.
or
Not Currently Available for Direct Purchase