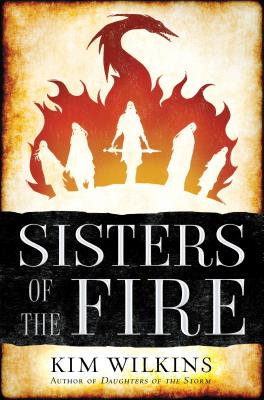 Sisters of the Fire (Daughters of the Storm #2) (Hardcover)
Del Rey, 9780399177507, 464pp.
Publication Date: February 5, 2019
* Individual store prices may vary.
Description
In the next chapter of a fantasy series featuring five unforgettable sisters—the warrior, the magician, the lover, the zealot, and the gossip—an insidious threat jeopardizes a fragile peace.
 
Four years have passed since the five royal sisters—daughters of the king—worked together to restore their father to health and to the throne while fracturing the bonds among themselves almost irreparably. Only Bluebell remains at home, dutifully serving as heir to her father's kingdom. Rose has been cast aside by her former husband and hides in exile with her aunt, separated forever from her beloved daughter, Rowan. Ash wanders the distant wastes with her teacher, learning magic and hunting dragons, determined that the dread fate she has foreseen for herself and her loved ones never comes to pass. Ivy rules over a prosperous seaport, married to an aged husband she hates yet finding delight in her two young sons and a handsome captain of the guard. And as for Willow, she hides the most dangerous secret of all—one that could destroy all that the sisters once sought to save.

The saga begins in . . .
DAUGHTERS OF THE STORM

"Five stubborn royal sisters continue to pursue their intersecting and often conflicting destinies in this follow-up to the Viking-inspired epic fantasy Daughters of the Storm. . . . The story gathers more depth and originality in this solidly action-packed middle volume, with the promise of more plot development—and probably a hefty dose of tragedy—to come."—Kirkus Reviews
About the Author
Kim Wilkins, the author of Daughters of the Storm, was born in London, England, and grew up at the seaside north of Brisbane, Australia. She has degrees in literature and creative writing and teaches at the University of Queensland and in her community. Her first novel, The Infernal, a supernatural thriller, was published in 1997. Since then she has published across many genres and for many different age groups. Her contemporary epic women's fiction is published under the pseudonym Kimberley Freeman. Wilkins has won many awards and is published all over the world. She lives in Brisbane with a bunch of lovable people and pets.
Praise For Sisters of the Fire (Daughters of the Storm #2)…
Praise for Sisters of the Fire

"Five stubborn royal sisters continue to pursue their intersecting and often conflicting destinies in this follow-up to the Viking-inspired epic fantasy Daughters of the Storm. . . . The story gathers more depth and originality in this solidly action-packed middle volume, with the promise of more plot development—and probably a hefty dose of tragedy—to come."—Kirkus Reviews


Praise for Kim Wilkins's Daughters of the Storm

"Filled with dangerous magic, life-and-death politics, and five unforgettable sisters, Daughters of the Storm is vivid, gripping, and entirely magnificent. I couldn't put it down!"—Sarah Beth Durst, author of The Queen of Blood
 
"Raw and powerful . . . A fierce tale of sisterhood, Daughters of the Storm shows how deeply family can love, and how sharply they can betray. Prepare to have your loyalties tested."—Stephanie Garber, author of Caraval
 
"A ruthlessly compelling tale of female ambition and rivalry, reminding me that the female of the species is, indeed, more deadly than the male."—Robin Hobb, author of Assassin's Fate
 
"Daughters of the Storm combines family drama with high fantasy. The conflicting relationships between the king's five daughters and the consequences of their actions drive the story about a kingdom in peril, star-crossed lovers, religious upheaval, and dark magic. It's a page-turning read."—Anne Bishop, author of Etched in Bone
 
"A well-envisioned world, carried by a cast of fully formed female characters, with lively storytelling and a good dash of action that kept me turning the pages."—Kristen Britain, author of the Green Rider series

"Eerie, eldritch magic; a vivid, hostile world; five wildly different and compelling women—I loved this engrossing epic!"—Callie Bates, author of The Waking Land