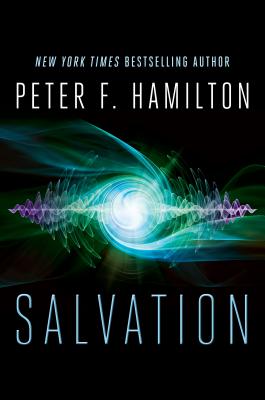 Salvation (Hardcover)
A Novel
Del Rey, 9780399178764, 576pp.
Publication Date: September 4, 2018
* Individual store prices may vary.
Description
Humanity's complex relationship with technology spirals out of control in this first book of an all-new series from "the owner of the most powerful imagination in science fiction" (Ken Follett).
 
In the year 2204, humanity is expanding into the wider galaxy in leaps and bounds. Cutting-edge technology of linked jump gates has rendered most forms of transportation—including starships—virtually obsolete. Every place on Earth, every distant planet humankind has settled, is now merely a step away from any other. All seems wonderful—until a crashed alien spaceship of unknown origin is found on a newly located world eighty-nine light-years from Earth, carrying a cargo as strange as it is horrifying. To assess the potential of the threat, a high-powered team is dispatched to investigate.  But one of them may not be all they seem. . . .

Bursting with tension and big ideas, Peter F. Hamilton's Salvation is the first book of an all-new series that highlights the inventiveness of an author at the top of his game.

Advance praise for Salvation

"Peter F. Hamilton smashes through the crazy battlefield of space opera like a giant all-conquering war-robot. His newest is loud, proud, and beyond epic. Accept no substitutes, this is the real deal. You need Salvation, my friend. Everyone needs salvation."—Ian McDonald

"No one offers action-packed, meticulous, suspenseful, and consistent high-tech futures better than Peter Hamilton, and Salvation cranks all of that up five notches."—David Brin

"A gripping novel from one of the modern masters, Salvation is a must-read not just for sci-fi fans but for anyone who loves a great story well told."—Jason M. Hough

"Hamilton knows how to build a world, and he's one of the best in the field at imagining complex societies. Just as important, though, he knows how to populate his future environments with real-seeming people whose lives extend beyond the page. Salvation is a twisty and hugely satisfying SF thriller that opens a portal on a new and exciting series."—Alastair Reynolds

"Peter F. Hamilton's great strength is building rich, complex future societies rooted in our own and slamming with terrible threats, and in Salvation this skill is deployed to great effect. Salvation is space-opera intrigue with a cold shock of an ending that makes the sequel a matter of urgency."—Ken MacLeod
About the Author
Peter F. Hamilton is the author of numerous novels, including A Night Without Stars, The Abyss Beyond Dreams, Great North Road, The Evolutionary Void, The Temporal Void, The Dreaming Void, Judas Unchained, Pandora's Star, Misspent Youth, Fallen Dragon, and the acclaimed epic Night's Dawn trilogy: The Reality Dysfunction, The Neutronium Alchemist, and The Naked God. He lives with his family in England.
Praise For Salvation: A Novel…
"Peter F. Hamilton smashes through the crazy battlefield of space opera like a giant all-conquering war-robot. His newest is loud, proud, and beyond epic. Accept no substitutes, this is the real deal. You need Salvation, my friend. Everyone needs salvation."—Ian McDonald

"No one offers action-packed, meticulous, suspenseful, and consistent high-tech futures better than Peter Hamilton, and Salvation cranks all of that up five notches."—David Brin

"A gripping novel from one of the modern masters, Salvation is a must-read not just for sci-fi fans but for anyone who loves a great story well told."—Jason M. Hough

"Hamilton knows how to build a world, and he's one of the best in the field at imagining complex societies. Just as important, though, he knows how to populate his future environments with real-seeming people whose lives extend beyond the page. Salvation is a twisty and hugely satisfying SF thriller that opens a portal on a new and exciting series."—Alastair Reynolds

"Peter F. Hamilton's great strength is building rich, complex future societies rooted in our own and slamming with terrible threats, and in Salvation this skill is deployed to great effect. Salvation is space-opera intrigue with a cold shock of an ending that makes the sequel a matter of urgency."—Ken MacLeod

"The classic Hamilton cocktail of techno-thriller, far-future vision, and action adventure shaken to an intoxicating combination. This is a promising start to an ambitious new series."—Justina Robson

"Liberally sprinkled with boosted mercs, weird aliens, agents and double agents, nasty weapons and advanced technology . . . lots of interconnected, one might say entangled, threads, steadily weaving together toward a revelation—and a thoroughly enjoyable read."—Neal Asher

PRAISE FOR PETER F. HAMILTON
 
"The owner of the most powerful imagination in science fiction, author of immense, complex far-future sagas."—Ken Follett
 
"The clear heir to Heinlein in my view."—Marc Andreessen, co-founder of Netscape
 
"Space Opera doesn't get much more epic than Peter F. Hamilton."—SFFWorld
 
"Hamilton tackles SF the way George R. R. Martin is tackling fantasy."—SF Reviews
 
"Fusing elements of hard SF with adventure fantasy tropes, Hamilton has singlehandedly raised the bar for grand-scale speculative storytelling."—Publishers Weekly
 
"The author's mastery of the art of the 'big story' earns him a place among the leading authors of dynastic SF."—Library Journal