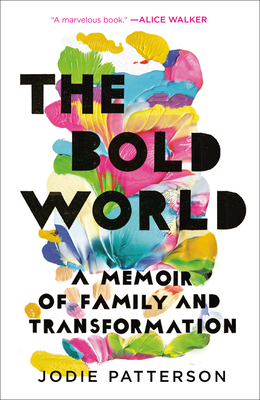 The Bold World (Paperback)
A Memoir of Family and Transformation
Ballantine Books, 9780399179037, 352pp.
Publication Date: February 11, 2020
Other Editions of This Title:
Digital Audiobook (1/28/2019)
Hardcover (1/29/2019)
* Individual store prices may vary.
Description
Inspired by her transgender son, activist Jodie Patterson explores identity, gender, race, and authenticity to tell the real-life story of a family's history and transformation.

"A courageous and poetic testimony on family and the self, and the learning and unlearning we must do for those we love."—Janet Mock

As an African American growing up on Manhattan's Upper West Side in the 1970s, when neighborhoods defined people, Jodie Patterson learned early on to engage with her community for strength and comfort. But then in 2009 this mother of five had her world turned upside down. Realizing that her definition of community wasn't wide enough for her own child's needs, Patterson forced the world wide open.

In The Bold World, we witness a mother reshaping her attitudes and beliefs, as well as those of her community, to meet the needs of her transgender son, Penelope— and opening the minds of everyone in her family who absolutely, unequivocally refused to conform.

As we walk alongside Patterson on her journey, we meet the Southern women who came before her—the mother, grandmothers, and aunts who raised and fortified her, all the while challenging cultural norms and gender expectations. She shares her family's history—particularly incidents within the Black community around sexism, racism, and civil rights. We learn about her children, who act as a vehicle for Jodie Patterson's own growth and acceptance of her diverse family, and her experiences as a wife, mother, and, eventually, activist. The result is an intimate portrait and an exquisite study in identity, courage, and love. Patterson's relentless drive to change the world will resonate with and inspire us all, reflecting our own individual strength and tenacity, our very real fears, and, most of all, our singular ability to transform despite the odds.

Praise for The Bold World

"In The Bold World, Jodie Patterson makes a case for respecting everyone's gender identity by way of showing how she came to accept her son, Penelope. In tying that struggle to the struggle for race rights in this country during her own childhood, she paints a vivid picture of the permanent work of social justice."—Andrew Solomon, bestselling author of The Noonday Demon and Far from the Tree
About the Author
Jodie Patterson is a social activist, entrepreneur, and writer. She has been lauded for her activist work by Hillary Clinton, The Advocate, Family Circle, Essence, Cosmopolitan, and Yahoo!, among others. She sits on the board of a number of gender/family/human rights organizations, including the Human Rights Campaign, and is a sought-after public speaker addressing a wide range of audiences about identity, gender, beauty, and entrepreneurship. Patterson was appointed by the United Nations as a Champion of Change and, perhaps most impressively, she is a former circus acrobat who performed in the Big Apple Circus. She lives in Brooklyn, New York, where she co-parents her five children with love, education, and family solidarity.
Praise For The Bold World: A Memoir of Family and Transformation…
"The Bold World reminds me of the best things we have learned from our uniquely instructive sojourn as Black people in America. To be watchful; to pay attention; to make every attempt to comprehend reality; to believe that real life flows in the direction of the real, which is to say, of the true. Not to feel daunted by almost any obstacle for which we have brains and energy to challenge. To rejoice when Life comes through us and has the courage to keep on going. It's a marvelous book."—Alice Walker

"A courageous and poetic testimony on family and the self, and the learning and unlearning we must do for those we love. In her stunning and moving debut, Jodie Patterson offers us all a blueprint for what it means to be a champion for our children and encourage us to be bold enough to let our babies lead the way, especially when we don't have answers. Required reading for every parent, and anyone who has ever been parented."—Janet Mock, New York Times bestselling author of Redefining Realness and Surpassing Certainty

"In The Bold World, Jodie Patterson makes a case for respecting everyone's gender identity by way of showing how she came to accept her son, Penelope. In tying that struggle to the struggle for race rights in this country during her own childhood, she paints a vivid picture of the permanent work of social justice. Written with sparkle and charm, and deeply introspective, hers is a book of refreshing frankness and great moral purpose, moving and pellucid."—Andrew Solomon, bestselling author of The Noonday Demon and Far from the Tree
 
"Patterson leaves no emotional stone unturned in her powerful chronicle. . . . [This] raw tour de force illustrates the strength of a loving and determined mother."—Publishers Weekly

"There are things each of us can't see—until we're ready. With this book Patterson encourages us to seek out our blind spots—to see who we can't see and to hear what we can't hear. Our children need us to read this book—a story of mama-bear instinct and internal awakenings."—Christy Turlington Burns, founder, Every Mother Counts

"This isn't a book just for mothers or mothers of trans children or folks from the trans community. This is, above all, a story about self-determination, and it is vital for anyone seeking love in its highest form. Patterson's clear-eyed recollections and poignant insights from her own transformative journey—from girl to woman, from daughter to wife, from mother to activist—inspire us all to remember and to become the people we were meant to be. This is the work we all must do in order to be free, and to love more fully."—Elaine Welteroth, journalist, former editor in chief, Teen Vogue

"Jodie Patterson is the type of mom that every transgender child deserves. Her unconditional love for her son Penelope radiates throughout her book. Being a trans youth myself, I know what it feels like to live in a body that doesn't align with your heart and mind. I see myself in Penelope yearning to be understood and cheer for Jodie as she learns how to parent a transgender child in a world that often isn't welcoming. Bravo, Jodie!"—Jazz Jennings, trans youth activist, star of the YouTube series I Am Jazz
 
"The Bold World is a wonderful read of a modern woman's approach to life, love, and family with a transgender child to raise, in this not-so-perfect world. A must-read."—Bethann Hardison, fashion activist