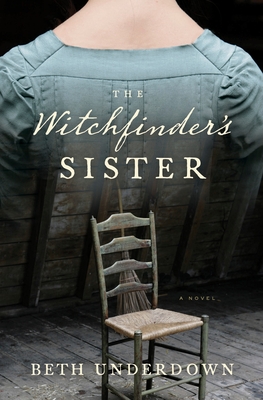 The Witchfinder's Sister (Hardcover)
A Novel
Ballantine Books, 9780399179143, 336pp.
Publication Date: April 25, 2017
Other Editions of This Title:
Hardcover, Large Print (12/1/2017)
* Individual store prices may vary.
Description
"This is a novel for our times. . . . The Witchfinder's Sister [lays] bare the visceral horror of what a witch hunt truly is."—The New York Times Book Review (Editors' Choice)

"Vivid and terrifying."—Paula Hawkins, author of The Girl on the Train and Into the Water

"Connects nicely with such dystopian classics as 1984 and The Handmaid's Tale."—Booklist

Essex, England, 1645. With a heavy heart, Alice Hopkins returns to the small town she grew up in. Widowed, with child, and without prospects, she is forced to find refuge at the house of her younger brother, Matthew. In the five years she has been gone, the boy she knew has become a man of influence and wealth—but more has changed than merely his fortunes. Alice fears that even as the cruel burns of a childhood accident still mark his face, something terrible has scarred Matthew's soul.

There is a new darkness in the town, too—frightened whispers are stirring in the streets, and Alice's blood runs cold with dread when she discovers that Matthew is a ruthless hunter of suspected witches. Torn between devotion to her brother and horror at what he's become, Alice is desperate to intervene—and deathly afraid of the consequences. But as Matthew's reign of terror spreads, Alice must choose between her safety and her soul.

Alone and surrounded by suspicious eyes, Alice seeks out the fuel firing her brother's brutal mission—and is drawn into the Hopkins family's past. There she finds secrets nested within secrets: and at their heart, the poisonous truth. Only by putting her own life and liberty in peril can she defeat this darkest of evils—before more innocent women are forced to the gallows.

Inspired by the real-life story of notorious "Witchfinder General" Matthew Hopkins, Beth Underdown's thrilling debut novel blends spellbinding history with echoes of Margaret Atwood's The Handmaid's Tale for a truly haunting reading experience.

Praise for The Witchfinder's Sister

"Entertaining and thought-provoking—with a valuable message for our own times."—The Washington Post

"Highly recommended."—Library Journal (starred review)
About the Author
Beth Underdown studied English literature at the University of York and worked as an intern at the arts and culture magazine Aesthetica. After becoming an editor at Phaidon Press, Underdown graduated with distinction from the University of Manchester's Creative Writing MA program. She came across the story of Matthew Hopkins while reading a book about seventeenth-century midwifery. Underdown now lectures at the University of Manchester and lives in the Peak District, not too far from where she was born; the sense of history in that landscape is an important catalyst for her writing. This is her first novel.
Praise For The Witchfinder's Sister: A Novel…
"Beth Underdown brilliantly meditates on the notion of a 'witch hunt' in this sharp work of historical fiction. It's a prescient dystopia that should remind readers of The Handmaid's Tale: A witch story to match the political climate of 2017."—Entertainment Weekly

"This is a novel for our times. . . . The Witchfinder's Sister [lays] bare the visceral horror of what a witch hunt truly is."—The New York Times Book Review (Editors' Choice)

"Entertaining and thought-provoking—with a valuable message for our own times."—The Washington Post

"This satisfyingly suspenseful book should appeal strongly to readers who enjoyed other witchcraft-themed historical fiction; it will also attract those who like such novels as Jessie Burton's The Miniaturist that feature female protagonists resisting restrictive social roles to do a little sleuthing about the men in their lives. Highly recommended."—Library Journal (starred review)

"Underdown's well-researched, believable chronicle of persecution brings its era alive and will have readers rapt. . . . The Crucible is the obvious read-alike for this book. It also connects nicely with such dystopian classics as 1984 and The Handmaid's Tale."—Booklist

"A well-written dramatization of witch hunting in Europe during the seventeenth century . . . An entertaining yarn for readers who can't get enough of the subject matter."—Publishers Weekly

"Vivid and terrifying."—Paula Hawkins, #1 New York Times bestselling author of The Girl on the Train

"Beth Underdown conjures a mesmerizing tale. The Witchfinder's Sister will draw you into the terrifying world of England's witch hunts. Read it late into the night, but don't expect to sleep afterward!"—Paula Brackston, New York Times bestselling author of The Witch's Daughter

"Gripping . . . The Witchfinder's Sister gives a long-forgotten historical tragedy a fresh, feminist spin. Beth Underdown, by providing us with this intelligent, sympathetic protagonist, allows us to see inside the hearts of both monster and victims while never letting us forget that throughout history women's stories have too often been told by men."—Melanie Benjamin, New York Times bestselling author of The Swans of Fifth Avenue

"A tense, surprising, and elegantly crafted novel."—Ian McGuire, New York Times bestselling author of The North Water

"Bone-chilling and meticulously researched, The Witchfinder's Sister brings home the true terror of a witch hunt."—Mary Sharratt, award-winning author of Daughters of the Witching Hill

"A richly told and utterly compelling tale, with shades of Hilary Mantel."—Kate Hamer, author ofThe Girl in the Red Coat