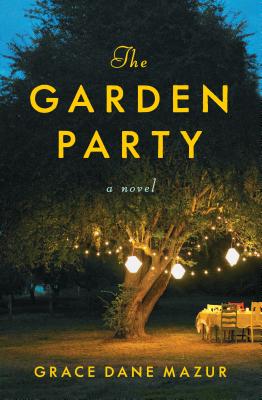 The Garden Party (Hardcover)
A Novel
Random House, 9780399179723, 240pp.
Publication Date: July 10, 2018
* Individual store prices may vary.
Description
A rehearsal dinner brings together two disparate families in this sparkling, witty novel

"This vital novel offers delicious echoes of Virginia Woolf and E. M. Forster, and a touch of A Midsummer Night's Dream—but its magic is unique. The Garden Party is beautiful and full of life."—Claire Messud, author of The Burning Girl and The Woman Upstairs

The Cohens are wildly impractical intellectuals—academics, activists, and artists. The Barlows are Wall Street Journal–reading lawyers steeped in trusts and copyrights, golf and tennis. The two families are reserved with and wary of each other, but tonight, the evening before the wedding that is supposed to unite them in marriage, they will attempt to set aside their differences over dinner in the garden.
          
As Celia Cohen, the eminent literary critic, sets the table, her husband, Pindar, would much rather be translating ancient recipes for his Babylonian cookbook than hosting this rehearsal dinner. Meanwhile, their son, Adam, the poet (and nervous groom), wonders if there is still time to simply elope. One of Adam's sisters, Naomi, a passionate but fragile social activist, refuses to leave her room, while Sara, scorpion biologist turned folklore writer, sits up on the roof mourning an imminent breakup. And Pindar's elderly mother, Leah, witnesses everything, weaving old memories into the present.

The lawyers are early: patriarch Stephen Barlow and his bespangled wife, Philippa, who specializes in estates, along with Philippa's father, Nathan, hobbled by age and Lyme disease. Then come the Barlow sons William (war crimes), Cameron (intellectual property), and Barnes (the prosecutor), each with desperate wife and precocious offspring. How could their younger siblings—Eliza, the bride, an aspiring veterinarian, and her twin brother, Harry, recently expelled from divinity school—have issued from such a family?

Up and down the dinner table, with its twenty-four (or is it twenty-five?) guests, unions are forming and dissolving while Pindar is trying to figure out whether time is really shaped like baklava, and off in the surrounding forest with its ancient pond different sorts of mischief will lead to a complicated series of fiascoes and miracles before the party is over. Set over the course of a single day and night, Grace Dane Mazur's brilliantly observed novel weaves an irresistible portrayal of miscommunication, secrets, and the power of love.

"Lyrical and charming, this comedy of errors is a delightful summer read."—People
About the Author
Grace Dane Mazur is the author of Hinges: Meditations on the Portals of the Imagination; Trespass: A Novel; and Silk: Stories. Trained in painting, ceramics, and biology, she was engaged in postdoctoral research on morphogenesis in silkworms when she left biology in order to write. Most recently she has been on the fiction faculty at Harvard Extension School and at the MFA Program for Writers at Warren Wilson College. She lives in Cambridge and Westport, Massachusetts, with her husband, the mathematician Barry Mazur.
Praise For The Garden Party: A Novel…
"This vital novel offers delicious echoes of Virginia Woolf and E. M. Forster, and a touch of A Midsummer Night's Dream—but its magic is unique. The Garden Party is beautiful and full of life."—Claire Messud, author of The Woman Upstairs and The Burning Girl

"Lyrical and charming, this comedy of errors is a delightful summer read."—People

"As in British country house novels, stories involving weddings and funerals provide ideal spaces for all the action and emotional turmoil to happen under one roof. Mazur's enchanting new novel does just that. . . . Sharp but generous."—National Book Review

"Moments of delightful perception proliferate."—The Washington Post

"Beautifully written and bracingly intelligent."—Kirkus Reviews

"This shimmering novel stands apart from those with similar themes owing to the mercurial feeling conjured by the author's elegant prose, as if the Cohens' garden has an enchantment all its own."—Library Journal

"Witty . . . Readers will be charmed by this stylish ensemble novel, which expertly dissects family dynamics over the course of one fateful day."—Publishers Weekly

"The descriptions of the garden are lush, and [Grace Dane] Mazur does a fine job of evoking a summer evening as well as juggling her many characters. Give this to readers who enjoy a comedy of manners."—Booklist

"This sharply observant novel is rollicking and resonant."—In Touch
 
"Vivid and melodic . . . a rich and lovely book."—Vox

"The Garden Party is a beautiful and compelling story of love in all its prismatic colours. Grace Dane Mazur is that rare writer who makes domesticity alluring even as she brilliantly presents its dangers and complexity in sharp, tart language that is so enjoyable to read. Lightness, darkness, longing: all skillfully contained here. I loved this book, for it reminded me of the pleasure that reading a good book can bring and the sadness that comes over me when I am done."—Jamaica Kincaid

"In her feast of a novel, delicious with secrets and longings and the mischief of both angels and demons, Grace Dane Mazur gives the reader the best seat at the table on a most fateful night. As two families stumble toward union, playing their various parts, only we can see into each of their hearts and minds, learning—thrillingly—what they mean to each other, and what's been left behind."—Christopher Castellani, author of All This Talk of Love

"This is a wonderful book. Set at a wedding rehearsal dinner in a garden full of secrets, the story lets us watch time spilling out its chances on an intensely thoughtful cast of characters. And it leaves the reader with the remarkable sensation that happiness is not in contradiction with intelligence."—Joan Silber, author of Fools and Ideas of Heaven

"An overgrown garden, two families with nothing in common, six couples in various stages of love and dissolution, a bride and groom determined to disrupt their own wedding, a pond of giant fish. In this unique and absorbing novel, Grace Dane Mazur gives us that 'essential thing' Virginia Woolf taught us to look for in fiction, but we don't often find."—Charlotte Rogan, New York Times bestselling author of The Lifeboat and Now and Again