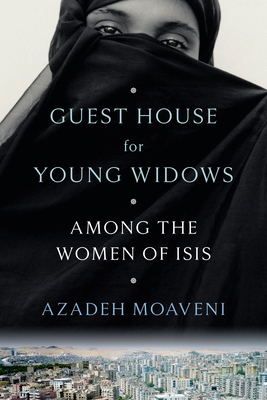 Guest House for Young Widows
Among the Women of ISIS
Hardcover

* Individual store prices may vary.
Other Editions of This Title:
Digital Audiobook (9/9/2019)
Description
A gripping account of thirteen women who joined, endured, and, in some cases, escaped life in the Islamic State—based on years of immersive reporting by a Pulitzer Prize finalist.

FINALIST FOR THE BAILLIE GIFFORD PRIZE • NAMED ONE OF THE TEN BEST BOOKS OF THE YEAR BY PUBLISHERS WEEKLY AND ONE OF THE BEST BOOKS OF THE YEAR BY The New York Times Book Review • NPR • Toronto Star • The Guardian

Among the many books trying to understand the terrifying rise of ISIS, none has given voice to the women in the organization; but women were essential to the establishment of Abu Bakr al-Baghdadi's caliphate.

Responding to promises of female empowerment and social justice, and calls to aid the plight of fellow Muslims in Syria, thousands of women emigrated from the United States and Europe, Russia and Central Asia, from across North Africa and the rest of the Middle East to join the Islamic State. These were the educated daughters of diplomats, trainee doctors, teenagers with straight-A averages, as well as working-class drifters and desolate housewives, and they joined forces to set up makeshift clinics and schools for the Islamic homeland they'd envisioned. Guest House for Young Widows charts the different ways women were recruited, inspired, or compelled to join the militants. Emma from Hamburg, Sharmeena and three high school friends from London, and Nour, a religious dropout from Tunis: All found rebellion or community in political Islam and fell prey to sophisticated propaganda that promised them a cosmopolitan adventure and a chance to forge an ideal Islamic community in which they could live devoutly without fear of stigma or repression.

It wasn't long before the militants exposed themselves as little more than violent criminals,more obsessed with power than the tenets of Islam, and the women of ISIS were stripped of any agency, perpetually widowed and remarried, and ultimately trapped in a brutal, lawless society. The fall of the caliphate only brought new challenges to women no state wanted to reclaim.

Azadeh Moaveni's exquisite sensitivity and rigorous reporting make these forgotten women indelible and illuminate the turbulent politics that set them on their paths.
Praise For Guest House for Young Widows: Among the Women of ISIS…
"A skillful, sensitive report . . . superb."—The Guardian
 
"The debate badly needs an injection of sanity. Happily, Azadeh Moaveni's Guest House for Young Widows . . . provides some perspective. . . . Moaveni makes several pertinent points."—The Sunday Times

"A fascinating dive into the lives of women who aided or flocked to Isis. . . . Moaveni portrays her subjects with nuance, and even a dose of compassion—an approach that yields a far better understanding of Isis than more sensationalist accounts."—Financial Times

"Journalist Azadeh Moaveni uses years of powerful, intimate reporting, including interviews with women who joined the Islamic State, their families and their communities, to show how smart young girls, girls who watched The Princess Diaries and went to Zumba classes, became radicalized. . . . All of the detail and history allows Moaveni to describe these girls in a way that's both relatable and admirably anchored in context."—Minneapolis Star Tribune

"A master class in illustrating the big picture through small stories . . . An illuminating, much-needed corrective to stock narratives, not only about the group that deliberately and deftly terrified officials and publics across the world, but also about the larger 'war on terror' and the often ineffective, even counterproductive policies of Western and Middle Eastern governments."—Anne Barnard, The New York Times Book Review

"Azadeh Moaveni has achieved a feat of reporting to provide a rare glimpse into the private lives of these ordinary people caught up in extraordinary events. Brave, visceral, moving; essential reading for anyone seeking to understand so much of the violence in our troubled world."—Ben Rawlence, author of City of Thorns

"In concise, visceral vignettes, Moaveni immerses her readers in a milieu saturated with the romantic appeal of violence. The result is a journalistic tour de force that lays bare the inner lives, motivations, and aspirations of her subjects."—Publishers Weekly (starred review)

"Sure to become a modern classic . . . Moaveni persuasively argues that the West's broad narratives of radicalization fail to account for the lived experiences of Muslim women. . . . The stories are utterly captivating. . . . I couldn't put the book down."—BookPage (starred review)

"A compelling read that imparts important lessons about religious extremism. Recommended for readers interested in women's issues and current affairs."—Library Journal
 
"Guest House for Young Widows offers unprecedented insight into the recent history of Tunisia, Syria, and Iraq as well as the rise of trans-national political movements. . . . This detailed book is an essential addition to library and academic shelves."—BookBrowse
Random House, 9780399179754, 352pp.
Publication Date: September 10, 2019
About the Author
Azadeh Moaveni is a journalist, writer, and academic who has been covering the Middle East for nearly two decades. She started reporting in Cairo in 1999 while on a Fulbright fellowship to the American University in Cairo. For the next several years she reported from throughout the region as Middle East correspondent for Time magazine, based in Tehran, and covered Lebanon, Syria, Egypt and Iraq. She is the author of Lipstick Jihad, Honeymoon in Tehran, and co-author, with Shirin Ebadi, of Iran Awakening. In November 2015, she published a front-page piece in The New York Times on ISIS women defectors that was a Pulitzer Prize finalist as part of the Times's ISIS coverage. Her writing appears in The Guardian, The New York Times, and The London Review of Books. She teaches journalism at NYU in London, is a fellow at the New America foundation, and is now senior gender analyst at the International Crisis Group.