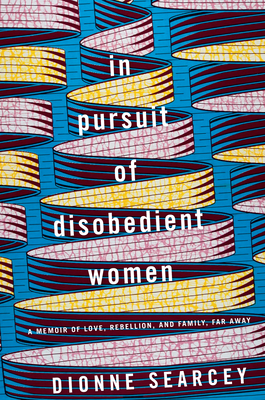 In Pursuit of Disobedient Women
A Memoir of Love, Rebellion, and Family, Far Away
Hardcover

* Individual store prices may vary.
Other Editions of This Title:
Digital Audiobook (3/9/2020)
Paperback (3/9/2021)
Description
When a reporter for The New York Times uproots her family to move to West Africa, she manages her new role as breadwinner while finding women cleverly navigating extraordinary circumstances in a forgotten place for much of the Western world.
 
"A story you will not soon forget."—Kathryn Bigelow, Academy Award–winning director of The Hurt Locker and Zero Dark Thirty

In 2015, Dionne Searcey was covering the economy for The New York Times, living in Brooklyn with her husband and three young children. Saddled with the demands of a dual-career household and motherhood in an urban setting, her life was in a rut. She decided to pursue a job as the paper's West Africa bureau chief, an amazing but daunting opportunity to cover a swath of territory encompassing two dozen countries and 500 million people. Landing with her family in Dakar, Senegal, she quickly found their lives turned upside down as they struggled to figure out their place in this new region, along with a new family dynamic where she was the main breadwinner flying off to work while her husband stayed behind to manage the home front.
 
In Pursuit of Disobedient Women follows Searcey's sometimes harrowing, sometimes rollicking experiences of her work in the field, the most powerful of which, for her, center on the extraordinary lives and struggles of the women she encounters. As she tries to get an American audience subsumed by the age of Trump and inspired by a feminist revival to pay attention, she is gone from her family for sometimes weeks at a time, covering stories like Boko Haram–conscripted teen-girl suicide bombers or young women in small villages shaking up social norms by getting out of bad marriages. Ultimately, Searcey returns home to reconcile with skinned knees and school plays that happen without her and a begrudging husband thrown into the role of primary parent.
 
Life, for Searcey, as with most of us, is a balancing act. She weaves a tapestry of women living at the crossroads of old-fashioned patriarchy and an increasingly globalized and connected world. The result is a deeply personal and highly compelling look into a modern-day marriage and a world most of us have barely considered. Readers will find Searcey's struggles, both with her family and those of the women she meets along the way, familiar and relatable in this smart and moving memoir.
Praise For In Pursuit of Disobedient Women: A Memoir of Love, Rebellion, and Family, Far Away…
"Dionne Searcey's In Pursuit of Disobedient Women offers a candid and riveting backstory of the powerful series she crafted on Boko Haram and independent women in Nigeria during her tenure as West Africa bureau chief for The New York Times. Through Searcey's stunning descriptions and humorously self-deprecating honesty, we gain insight into the relentless (and at times, frustrating) reporting required for such outstanding journalism, while shedding light on the never-ending juggle to balance work and home life as a foreign correspondent."—Lynsey Addario, photojournalist and New York Times bestselling author of It's What I Do and Of Love & War

"In Pursuit of Disobedient Women is an urgent and necessary work, taking the reader into the heart of one of the most dangerous terrorist militias on earth. Searcey's fearless reporting on Boko Haram's survivors is as compassionate as it is unrelenting. It's a story you will not soon forget."—Kathryn Bigelow, Academy Award–winning director of The Hurt Locker and Zero Dark Thirty

 "In Pursuit of Disobedient Women beautifully chronicles the sometimes harrowing challenges women in West Africa face as well as their triumphs. Searcey portrays African women for what they are: strong and clever, like women everywhere. She weaves stories of family life and motherhood throughout her tales, rounding out a unique and relatable portrait of womanhood."—Oby Ezekwesili, global women's advocate, founder of Bring Back Our Girls and former education minister of Nigeria

"Compulsively readable and searingly honest, Dionne Searcey's account of her tenure as New York Times West Africa bureau chief begins as a personal journey, as she juggles motherhood, career, and guilt, and ends as a testament to the people whose stories she illuminates. There's not enough space on the pages of a newspaper to tell their tales, which lingered with me days after finishing the book. Thought provoking, at times deeply uncomfortable and moving, yet filled with humor and honesty, this is a book that everyone should read."—Yangsze Choo, New York Times bestselling author of The Night Tiger and The Ghost Bride

"In turns funny, wise, sad, and terrifying, Searcey vividly puts the reader in her shoes and compellingly details the often ignored stories of women who live through conflict every day, including her own."—Kim Barker, author of The Taliban Shuffle

"Gracefully moving between the personal and the geopolitical, Searcey gives a poignant and at times harrowing account of one of the more difficult jobs in journalism. A rare book that manages to be both entertaining, thought-provoking, and utterly transporting."—Ian Urbina, New York Times bestselling author of The Outlaw Ocean
Ballantine Books, 9780399179853, 304pp.
Publication Date: March 10, 2020
About the Author
Dionne Searcey was the West Africa bureau chief for The New York Times from 2015 to 2019. She won the Michael Kelly Award for courage in international reporting, the Society of Professional Journalists' Sigma Delta Chi award for international reporting for her coverage of Boko Haram, and a citation for her work by the Overseas Press Club. She and a team of Times journalists were nominated for an Emmy for her stories on Boko Haram. She joined the Times in 2014 to write about the American economy after working for ten years at The Wall Street Journal, where she was an investigative reporter and national legal correspondent, and covered the telecom industry. She has worked as a political reporter at Newsday and The Seattle Times and was a reporting resident at the Chicago Tribune. She started her career as a crime reporter at the City News Bureau of Chicago. She was raised in Wymore, Nebraska, and lives with her husband and three children in Brooklyn, New York.
or
Not Currently Available for Direct Purchase