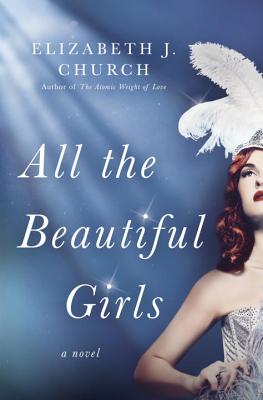 All the Beautiful Girls (Hardcover)
A Novel
Ballantine Books, 9780399181061, 336pp.
Publication Date: March 6, 2018
* Individual store prices may vary.
Description
"No one captures the exuberant passions and inner struggles of women like Elizabeth Church."—Martha Hall Kelly, author of Lilac Girls

A powerful novel about a gutsy showgirl who tries to conquer her past amongst the glamour of 1960s Las Vegas—and finds unexpected fortune, friendship, and love.

It was unimaginable. When she was eight years old, Lily Decker somehow survived the auto accident that killed her parents and sister, but neither her emotionally distant aunt nor her all-too-attentive uncle could ease her grief. Dancing proves to be Lily's only solace, and eventually she receives a "scholarship" to a local dance academy—courtesy of a mysterious benefactor.

Grown and ready to leave home for good, Lily changes her name to Ruby Wilde and heads to Las Vegas to be a troupe dancer, but her sensual beauty and voluptuous figure land her work instead as a showgirl performing everywhere from Les Folies Bergere at the Tropicana to the Stardust's Lido de Paris. Wearing sky-high headdresses, five-inch heels, and costumes dripping with feathers and rhinestones, Ruby may have all the looks of a Sin City success story, but she still must learn to navigate the world of men—and figure out what real love looks like. 

With her uncanny knack for understanding the hidden lives of women, Elizabeth J. Church captures both the iconic extravagance of an era and the bravery of a young woman who dances through her sadness to find connection, freedom, and, most important, herself.

Praise for All the Beautiful Girls

"A gorgeously written novel with the bite of a gin martini, All the Beautiful Girls goes beyond the splashy, gaudy dazzle of Las Vegas in the sixties to reveal the beating heart beneath the glamorous façade of a showgirl with big ambitions."—Sara Gruen, New York Times bestselling author of At the Water's Edge

"A razzle-dazzle novel about loss, love, and friendship . . . All the Beautiful Girls pulls back the curtain on the glamorous, titillating world of showgirls, revealing the emotional bruises hidden beneath the dazzling costumes."—Melanie Benjamin, New York Times bestselling author of The Swans of Fifth Avenue

"Delightful . . . Church's appreciation of language is apparent as she masterfully creates pictures with words."—Associated Press
About the Author
Elizabeth J. Church is the author of The Atomic Weight of Love. All the Beautiful Girls is her second novel. Ms. Church lives in northern New Mexico.
Praise For All the Beautiful Girls: A Novel…
"A gorgeously written novel with the bite of a gin martini, All the Beautiful Girls goes beyond the splashy, gaudy dazzle of Las Vegas in the sixties to reveal the beating heart beneath the glamorous façade of the showgirl with big ambitions. Our protagonist Lily's grit, determination, and grace as she discovers the heady possibilities and dark perils of the American dream make Elizabeth Church's second novel unforgettable."—Sara Gruen, New York Times bestselling author of At the Water's Edge
 
"An exquisitely crafted novel of love discovered and friendship found."—Martha Hall Kelly, author of the New York Times bestseller Lilac Girls

"Church's appreciation of language is apparent as she masterfully creates pictures with words . . . All the Beautiful Girls provides a delightful antidote to cold and dark mid-winter days."—Associated Press
 
"A beautifully rendered tale of personal redemption filled with friendship, loss, extravagant furs, and feathery headdresses."—Kirkus Reviews
 
"On the run from misery, eighteen-year-old Lily Decker transforms herself into Ruby Wilde, devouring Las Vegas in glittering bites. Church has given us a true heroine, both flawed and beautiful, who rises even as she falls."—Juliette Fay, USA Today bestselling author of The Tumbling Turner Sisters
 
"A razzle-dazzle novel about loss, love, and friendship . . . All the Beautiful Girls pulls back the curtain on the glamorous, titillating world of showgirls, revealing the emotional bruises hidden beneath the dazzling costumes."—Melanie Benjamin, New York Times bestselling author of The Swans of Fifth Avenue
 
"A riveting novel, at once raw and tender, of a woman's struggle to heal the wounds of a devastating childhood . . . Church makes us feel Ruby Wilde's pain and root for her to survive. This is a heartbreaking story, passionately told."—Ellen Feldman, author of Next to Love

"A brave and powerful novel that captures the very soul of a young woman coming of age . . . With heart-wrenching immediacy and gorgeous prose, Elizabeth Church examines the often desperate choices women must confront, and the secrets they must protect."—Lauren Belfer, New York Times bestselling author of And After the Fire

"Church brings 1960s Vegas to life in this delightful, moving read. Lily/Ruby, two sides of a complex woman, pulls us through her dance of life. And what happens in Vegas stays in Lily's heart."—Library Journal

"All the Beautiful Girls is a delightful and poignant novel. . . . It's the kind of book that remains with the reader long after the final page is turned, and while the feelings it evokes might not always be warm and fuzzy, the story is captivating."—All About Romance