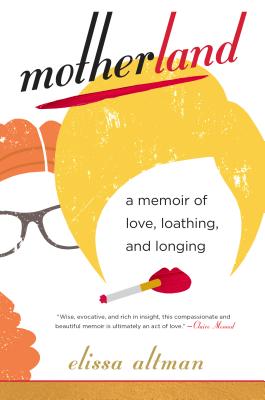 Motherland
A Memoir of Love, Loathing, and Longing
Hardcover

* Individual store prices may vary.
Other Editions of This Title:
Digital Audiobook (8/5/2019)
Paperback (9/8/2020)
Description
"I'm reading this book right now and loving it!"—Cheryl Strayed, #1 New York Times bestselling author of Wild

How can a mother and daughter who love (but don't always like) each other coexist without driving each other crazy? 

"Vibrating with emotion, this deeply honest account strikes a chord."—People
"A wry and moving meditation on aging and the different kinds of love between women."—O: The Oprah Magazine 

After surviving a traumatic childhood in nineteen-seventies New York and young adulthood living in the shadow of her flamboyant mother, Rita, a makeup-addicted former television singer, Elissa Altman has managed to build a very different life, settling in Connecticut with her wife of nearly twenty years. After much time, therapy, and wine, Elissa is at last in a healthy place, still orbiting around her mother but keeping far enough away to preserve the stable, independent world she has built as a writer and editor. Then Elissa is confronted with the unthinkable: Rita, whose days are spent as a flâneur, traversing Manhattan from the Clinique counters at Bergdorf to Bloomingdale's and back again, suffers an incapacitating fall, leaving her completely dependent upon her daughter.

Now Elissa is forced to finally confront their profound differences, Rita's yearning for beauty and glamour, her view of the world through her days in the spotlight, and the money that has mysteriously disappeared in the name of preserving youth. To sustain their fragile mother-daughter bond, Elissa must navigate the turbulent waters of their shared lives, the practical challenges of caregiving for someone who refuses to accept it, the tentacles of narcissism, and the mutual, frenetic obsession that has defined their relationship.

Motherland is a story that touches every home and every life, mapping the ferocity of maternal love, moral obligation, the choices women make about motherhood, and the possibility of healing. Filled with tenderness, wry irreverence, and unforgettable characters, it is an exploration of what it means to escape from the shackles of the past only to have to face them all over again.

Praise for Motherland

"Rarely has a mother-daughter relationship been excavated with such honesty. Elissa Altman is a beautiful, big-hearted writer who mines her most central subject: her gorgeous, tempestuous, difficult mother, and the terrain of their shared life. The result is a testament to the power of love and family."—Dani Shapiro, author of Inheritance

Praise For Motherland: A Memoir of Love, Loathing, and Longing…
"A bold, unapologetic look at the most sensitive of relationships, Motherland questions the unhealthy choices we make for love while conducting an unrelenting dissection of one fraught mother-daughter relationship."—Shelf Awareness (starred review)
 
"True to the trajectory of Altman's literary career thus far, Motherland offers something completely new not only to her own oeuvre, but also to the world of queer literature writ large. . . . Altman's gorgeous new memoir makes clear . . . that many of us 'want to know,' that we 'want to understand,' but that we have been born into families or circumstances in which secrets and appearances and silences are held close to chest. Motherland lyrically, quietly, but relentlessly seeks out these secrets, trying to know, trying to understand."—Lambda Literary

"This is the stuff memoirs are made of. Filled with tenderness, irreverence, and unforgettable characters, Motherland is an exploration of what it means to escape from the shackles of the past only to have to face them all over again."—Read it Forward

"Washington Post columnist Altman shares the intimate and fascinating story of her alternately loving, turbulent, and toxic relationship with her mother. . . . Altman's memoir is an incisive look at complex mother-daughter attachments."—Publishers Weekly 

"An acclaimed food writer and memoirist's account of the codependent relationship she had with her charming and outrageous—but also very difficult—mother . . . Funny, raw, and tender, Altman's book examines the inevitable role reversals that occur in parent-child relationships while laying bare a mother-daughter relationship that is both entertaining and excruciating. An eloquent, poignant memoir."—Kirkus Reviews

"Elissa Altman's haltingly poignant Motherland: A Memoir of Love, Loathing, and Longing captures with clear-eyed candor the ways that Altman struggles to love her mother despite her mother's insistence on creating Altman in her own image. . . . The beauty of Motherland lies in its embrace of the raggedness of relationships and in its candid acknowledgment that sometimes resolution and reconciliation simply elude us. But that longing for reconciliation itself functions as a form of resolution." —BookPage

"Elissa Altman's Motherland traces the history of a particularly complicated relationship. Wise, evocative, and rich in insight, this compassionate and beautiful memoir is ultimately an act of love."—Claire Messud, author of The Burning Girl

"It's a braided daisy chain, this mother-love. She loves me, she loves me not. I love her, I love her not. For an only child in a glamorous, glittery world, perhaps it's more chain than daisy. Elissa Altman uses her wit, heart, moxie, and everything she has ever learned, to both love and free herself from an impossible, never-say-die mother. She does it with scintillating, unsparing prose. I couldn't quit them; I didn't want to. Honor to them both."—Jacki Lyden, author of Daughter of the Queen of Sheba

"In Motherland, Elissa Altman brilliantly untwists her own lifelong passionate-but-fraught mother-daughter helix. Beautifully written, infused with humor, sorrow, and hard-won clarity, this memoir is a triumph of writerly and daughterly empathy. The ending moved me to tears."—Kate Christensen, author of Blue Plate Special 

"With all the warmth, candor, and intelligence of her previous memoirs, Elissa Altman now turns her miss-nothing observational skills on the most complicated of relationships—that between daughter and mother. The resulting story, of a mother most bedeviling and a daughter doing everything she can to save herself without losing her oldest tie, is a triumph of sensitivity and a truly compelling read."—Ann Packer, author of The Children's Crusade
Ballantine Books, 9780399181580, 272pp.
Publication Date: August 6, 2019
About the Author
Elissa Altman is the critically acclaimed author of Poor Man's Feast: A Love Story of Comfort, Desire, and the Art of Simple Cooking and the James Beard Award–winning blog of the same name and Treyf: My Life as an Unorthodox Outlaw. Her work has appeared in O: The Oprah Magazine, The Wall Street Journal, The Guardian, The New York Times, Tin House, The Rumpus, Dame Magazine, LitHub, Saveur, and The Washington Post, where her column, "Feeding My Mother," ran for a year. Her work has been anthologized in Best Food Writing six times. A finalist for the Frank McCourt Memoir Prize, Altman has taught the craft of memoir at the Fine Arts Work Center in Provincetown, The Loft Literary Center, 1440 Multiversity, and Ireland's Literature and Larder program, and has appeared live on stage at TEDx and The Public, on Heritage Radio, and widely on NPR. She lives in Connecticut with her family.