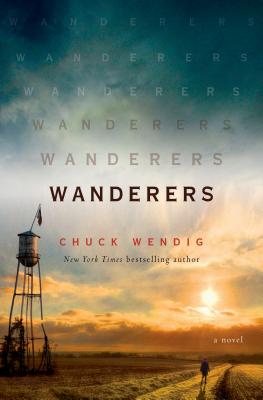 Wanderers (Hardcover)
A Novel
Del Rey, 9780399182105, 800pp.
Publication Date: July 2, 2019
* Individual store prices may vary.
Description
A decadent rock star. A deeply religious radio host. A disgraced scientist. And a teenage girl who may be the world's last hope. From the mind of Chuck Wendig comes an astonishing tapestry of humanity that Harlan Coben calls "a suspenseful, twisty, satisfying, surprising, thought-provoking epic."

Shana wakes up one morning to discover her little sister in the grip of a strange malady. She appears to be sleepwalking. She cannot talk and cannot be woken up. And she is heading with inexorable determination to a destination that only she knows. But Shana and her sister are not alone. Soon they are joined by a flock of sleepwalkers from across America, on the same mysterious journey. And like Shana, there are other "shepherds" who follow the flock to protect their friends and family on the long dark road ahead.

For as the sleepwalking phenomenon awakens terror and violence in America, the real danger may not be the epidemic but the fear of it. With society collapsing all around them—and an ultraviolent militia threatening to exterminate them—the fate of the sleepwalkers depends on unraveling the mystery behind the epidemic. The terrifying secret will either tear the nation apart—or bring the survivors together to remake a shattered world.

Advance praise for Wanderers

"With Wanderers, Chuck Wendig levels up—and when you consider the high level he was already writing at, that's saying something."—John Scalzi, New York Times  bestselling author of The Consuming Fire

"A riveting examination of America—fiction that feels more real than reality itself."—Scott Sigler, #1 New York Times bestselling author of The Generations Trilogy

"Wanderers is Chuck Wendig at his best. The book is beautiful and harrowing—and timely as hell in its depiction of a very real world on the edge of the abyss. I loved it."—Richard Kadrey, New York Times bestselling author of The Grand Dark

"Unexpected and enthralling . . . Approach Wanderers like it's a primetime television series, along the lines of The Passage [or] Lost. Break it up into seventy-page segments that you can devour like candy for an hour each evening. Let it unfold across your summer. . . . Make Wanderers a summer reading priority; you won't regret it."—Book Riot
About the Author
Chuck Wendig is the New York Times bestselling author of Star Wars: Aftermath, as well as the Miriam Black thrillers, the Atlanta Burns books, and Zer0es/Invasive, alongside other works across comics, games, film, and more. He was a finalist for the John W. Campbell Award for Best New Writer and an alum of the Sundance Screenwriters Lab, and he served as the co-writer of the Emmy-nominated digital narrative Collapsus. He is also known for his popular blog, terribleminds, and books about writing such as Damn Fine Story. He lives in Pennsylvania with his family.
Praise For Wanderers: A Novel…
"Wanderers is wonderful—a suspenseful, twisty, satisfying, surprising, thought-provoking epic of a novel. Chuck Wendig has taken his considerable talents to the next level. Dig in."—Harlan Coben, #1 New York Times bestselling author of Run Away

"Chuck Wendig's latest, Wanderers, is a magnum opus of both storytelling and prose, epic in scope, yet told with an intimacy that hooked me from the first page. It reminded me of a technological version of Stephen King's The Stand—but dare I say, this is even better: a postapocalyptic horror story that bares the best and worst of humanity in all its rawest forms. Don't miss this tour de force. It left me awed."—James Rollins, #1 New York Times bestselling author of Crucible 

"Wanderers is a stunning epic that deftly weaves together a deadly pandemic, ideological violence, and environmental collapse in a way that feels both fantastically mysterious and very frighteningly plausible. Wendig's tale brims with the irresistible dread of The Stand and prose as sharp and heartbreaking as Station Eleven, but what sets this book apart and will keep you riveted until the end is its deeply compelling cast of characters—courageous, terrified, flawed, but most of all full of hope. Simply put, Wanderers is a masterpiece."—Peng Shepherd, author of The Book of M

"Wow! Mix Stephen King with a Michael Crichton techno-thriller and you have this heart-pounding page-turner about a mysterious plague that causes people to "sleepwalk" out of their lives on a path to somewhere unknown. The loved ones of the affected follow the group as shepherds, and the CDC has sent researchers to find out what caused the outbreak. I could not put this book down!"—Susan Taylor, of The Book House of Stuyvesant Plaza 

"Wanderers is a bold, beautiful book; full of soul, with a fine blend of heart, gut-wrenching twists, and gore, just the way I like it. If you ever wanted to know what America's soul might look like, here's its biography."—Rin Chupeco, author of The Bone Witch

"A magnum opus that grapples with culture, science, faith, and our collective anxiety while delivering an epic equal to Steven King's The Stand . . . a story about survival that's not just about you and me, but all of us, together."—Kirkus Reviews (starred review)

"Riveting . . . Chuck Wendig's Wanderers is a unique look at a potential Armageddon. . . . Wendig's greatest strength might be his character work, so I'm excited to fall in love (or love-to-hate) with the characters inhabiting this America. . . . Count me in for the novel and any adaptations that might come forth from it."—The Mary Sue

"Brilliant, incisive, inventive, true, and as painful as the punch that pops out a blackened tooth, Wanderers is as much a warning as it is a paean to hope and redemption. With this book, Chuck Wendig proves he's the next Stephen King. Trust me: You're not ready for this book."—Delilah S. Dawson, New York Times bestselling author of Star Wars: Phasma

"Chuck Wendig's Wanderers doesn't just pick up the gauntlet thrown by The Stand, it runs away with it, building a new mythology in its place. This brutally epic story of survival takes humanity to the edge and beyond. An astounding adventure."—Fran Wilde, Hugo, Nebula, and World Fantasy finalist and award-winning author of the Bone Universe trilogy