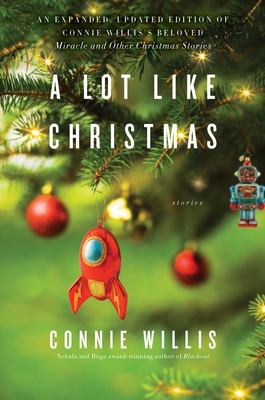 A Lot Like Christmas (Paperback)
Stories
Del Rey, 9780399182341, 544pp.
Publication Date: October 10, 2017
* Individual store prices may vary.
Description
This new, expanded edition of Miracle and Other Christmas Stories features twelve brilliantly reimagined holiday tales, five of which are collected here for the first time.

Christmas comes but once a year, yet the stories in this dazzling collection are fun to read anytime. They put a speculative spin on the holiday, giving fans of acclaimed author Connie Willis a welcome gift and a dozen reasons to be of good cheer.

Brimming with Willis's trademark insights and imagination, these heartwarming tales are full of humor, absurdity, human foibles, tragedy, joy, and hope. They both embrace and send up many of the best Christmas traditions, including the holiday newsletter, Secret Santas, office parties, holiday pageants, and Christmas dinners (both elaborate and spare). There are Rockettes, the best and worst Christmas movies, modern-day Magi, Ghosts of Christmases Past, Present, and Yet to Come—and the triumph of generosity over greed. Like all the timeless classics we return to year after year, these stories affirm our faith in love, magic, and the wonder of the season.

Praise for A Lot Like Christmas

"A perfect stocking stuffer for Christmas—celebrating fans of [Connie] Willis's humorous SF."—Publishers Weekly
 
"A collection of Christmas stories with just the right blend of sugar and spice . . . sweet and sharp, whimsical and heartfelt, funny and warm . . . Fans of Willis's gently comic speculative fiction will love this collection, and it will also appeal to readers looking to get into the holiday spirit."—Kirkus Reviews
About the Author
Connie Willis is a member of the Science Fiction Hall of Fame and a Grand Master of the Science Fiction and Fantasy Writers of America. She has received seven Nebula awards and eleven Hugo awards for her fiction; Blackout and All Clear—a novel in two parts—and Doomsday Book won both. Her other works include Crosstalk, Passage, Lincoln's Dreams, Bellwether, Impossible Things, Remake, Uncharted Territory, To Say Nothing of the Dog, Fire Watch, and Miracle and Other Christmas Stories. Connie Willis lives with her family in Colorado.
Praise For A Lot Like Christmas: Stories…
"A perfect stocking stuffer for Christmas—celebrating fans of [Connie] Willis's humorous SF."—Publishers Weekly
 
"A collection of Christmas stories with just the right blend of sugar and spice . . . sweet and sharp, whimsical and heartfelt, funny and warm . . . Fans of Willis's gently comic speculative fiction will love this collection, and it will also appeal to readers looking to get into the holiday spirit."—Kirkus Reviews