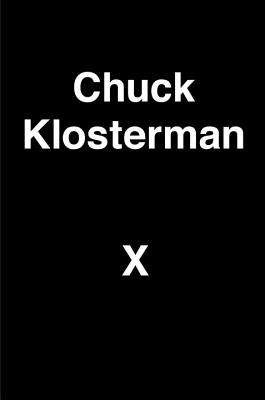 Chuck Klosterman X
A Highly Specific, Defiantly Incomplete History of the Early 21st Century
Hardcover

* Individual store prices may vary.
Other Editions of This Title:
Digital Audiobook (5/15/2017)
Paperback (5/1/2018)
Description
New York Times-bestselling author and cultural critic Chuck Klosterman sorts through the past decade and how we got to now.

Chuck Klosterman has created an incomparable body of work in books, magazines, newspapers, and on the Web. His writing spans the realms of culture and sports, while also addressing interpersonal issues, social quandaries, and ethical boundaries. Klosterman has written nine previous books, helped found and establish Grantland, served as the New York Times Magazine Ethicist, worked on film and television productions, and contributed profiles and essays to outlets such as GQ, Esquire, Billboard, The A.V. Club, and The Guardian.

Chuck Klosterman's tenth book (aka Chuck Klosterman X) collects his most intriguing of those pieces, accompanied by fresh introductions and new footnotes throughout. Klosterman presents many of the articles in their original form, featuring previously unpublished passages and digressions. Subjects include Breaking Bad, Lou Reed, zombies, KISS, Jimmy Page, Stephen Malkmus, steroids, Mountain Dew, Chinese Democracy, The Beatles, Jonathan Franzen, Taylor Swift, Tim Tebow, Kobe Bryant, Usain Bolt, Eddie Van Halen, Charlie Brown, the Cleveland Browns, and many more cultural figures and pop phenomena. This is a tour of the past decade from one of the sharpest and most prolific observers of our unusual times.
Praise For Chuck Klosterman X: A Highly Specific, Defiantly Incomplete History of the Early 21st Century…
"Often imitated and rarely replicated, the writing style of Chuck Klosterman has proven rather influential in all manner of 21st century writing. From news stories to critical reviews to artist profiles, Klosterman's often irreverent, self-deprecating, footnote happy smart/funny observations make for highly entertaining reading." —John Paul, Popmatters

"Infectious.... Though Klosterman may be pigeonholed as a guy who thinks too much about Kiss, his 10th book shows he's something else: a philosopher." —Justin Wm. Moyer, The Washington Post

"Klosterman is a master of the high-low…He injects a level of intellectual rigor into subjects that receive precious little…With X, Klosterman wallows in the trivial…but he's not trivializing...proving that culture essays can teach us something about ourselves and the people around us…Each of his essays is a love letter to a moment." —B. David Zarley, Paste
 
"Chuck Klosterman has become a cultural observer of our time. Klosterman roams the junk drawer we call popular culture, providing shockingly keen insight into how our absorption of culture reflects on us." —Jim McLauchlin, Los Angeles Times

"A hilarious new essay collection…by this brilliant writer… His great gift as a writer is his ability to take the 'inflexibly personal' and make it true." —Ann Levin, The Associated Press

"Highly entertaining...honest, unpredictable, and fun...addictively readable...surprisingly poignant." —June Sawyers, Booklist

"A collection of journalistic pieces that remain provocative...offers insight into the relations among artist, art, and audience that goes considerably deeper [and] will leave readers with fresh appreciation for both the subjects and the journalist." —Kirkus Reviews
Penguin Press, 9780399184154, 464pp.
Publication Date: May 16, 2017
About the Author
Chuck Klosterman is the bestselling author of many books of nonfiction (including Sex, Drugs, and Cocoa Puffs, I Wear the Black Hat, But What If We're Wrong?, and Chuck Klosterman X) and two novels (Downtown Owl and The Visible Man). He has written for The New York Times, The Washington Post, GQ, Esquire, Spin, The Guardian, The Believer, Billboard, The A.V. Club, and ESPN. Klosterman served as the Ethicist for The New York Times Magazine for three years, appeared as himself in the LCD Soundsystem documentary Shut Up and Play the Hits, and was an original founder of the website Grantland with Bill Simmons.
or
Not Currently Available for Direct Purchase