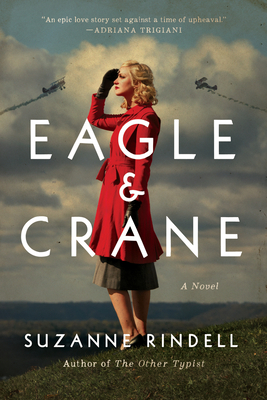 Eagle & Crane (Paperback)
G.P. Putnam's Sons, 9780399184307, 464pp.
Publication Date: July 16, 2019
Other Editions of This Title:
Digital Audiobook (7/2/2018)
Hardcover (7/3/2018)
Paperback, Large Print (7/3/2018)
* Individual store prices may vary.
Description
Two daredevil flyers and the young woman they both love lie at the heart of this mesmerizing novel about the Japanese internment during World War II, from the author of The Other Typist and Three-Martini Lunch.

"An epic love story set against a time of upheaval." —Adriana Trigiani

"Majestic. . . . Profoundly relevant in today's world." —Fiona Davis
 
Louis Thorn and Harry Yamada are boyhood friends divided by family differences. But their childhood camaraderie reignites when they are convinced to perform death-defying tricks as Eagle & Crane in Earl Shaw's Flying Circus —until their mutual attraction to Shaw's stepdaughter, smart and beautiful Ava Brooks, complicates things anew.
 
Then Pearl Harbor is bombed in December 1941 and Harry is imprisoned in a Japanese American internment camp. When a Shaw stunt plane crashes soon after Harry and his father leave the camp without permission, the two bodies discovered are assumed to be theirs. But the details don't add up, and no one involved seems willing to tell the truth.
 
An absorbing mystery and story of love, Eagle & Crane explores race, family, and loyalty in a fraught era of American history.

"Rindell joins the ranks of popular historical fiction authors Kristin Hannah and Kate Quinn with this fast-paced, gripping novel." —Library Journal (starred review) 
About the Author
Suzanne Rindell is the author of two previous novels, The Other Typist and Three-Martini Lunch. She earned her Ph.D. in literature from Rice University, and divides her time between New York and California.
Praise For Eagle & Crane…
Praise for Eagle & Crane

"Suzanne Rindell takes to the heavens in this glorious story of two daring aviators during the Great Depression. She's written an epic love story set against a time of upheaval, suspicion and change. A magnificent novel from a great writer."—Adriana Trigiani, bestselling author of Kiss Carlo

"Rindell joins the ranks of popular historical fiction authors Kristin Hannah and Kate Quinn with this fast-paced, gripping novel that compellingly explores a tumultuous era of 20th-century history."—Library Journal (starred review)

"Masterfully told, completely immersive, with indepth characters who illustrate the social complexities of the time, this is an unforgettable historical novel, similar in impact to Snow Falling on Cedars, by David Guterson, and Hotel on the Corner of Bitter and Sweet, by Jamie Ford."—Booklist (starred review)

"Rindell's sweeping generational saga will please fans of immersive, meticulously researched historicals."—Publishers Weekly

"Wildly ambitious and filled with heartbreak (I love heartbreak), Suzanne Rindell's third novel mesmerizingly pilots us through the Depression, the 1930s, Pearl Harbor, and the love one fierce young woman has for two very different aviators. Passionate, profound and an absolutely daredevil act of imagination."—Caroline Leavitt, New York Times-bestselling author of Pictures of You and Cruel Beautiful World

"In this blazing saga about a flying circus, Rindell performs death-defying plot twists that race toward the shocking conclusion. Eagle & Crane is a majestic historical novel that is profoundly relevant in today's world."—Fiona Davis, author of The Address and The Dollhouse

"A white-knuckled historical mystery and collision course of cultures, Eagle & Crane threads a fascinating tale through the half-silenced world of Japanese internment in America. Timely, expertly researched, and provocative."—Dominic Smith, New York Times-bestselling author of The Last Painting of Sara de Vos

"Elegantly interweaving a lyrical love triangle with the spectacle of Depression-era barnstorming, the plight of Japanese Americans during the Second World War, and a bitter family feud spanning generations, Eagle & Crane poignantly plumbs still deeper waters: how far loyalty and friendship can be tested, and what it means to be an American."—Lyndsay Faye, Edgar-nominated author of Jane Steele and the Timothy Wilde trilogy