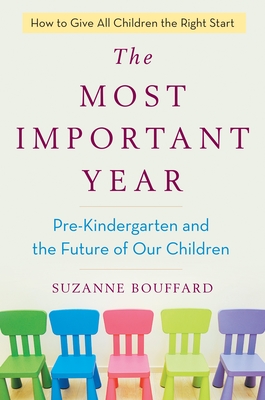 The Most Important Year
Pre-Kindergarten and the Future of Our Children
Hardcover

* Individual store prices may vary.
Description
An eye-opening look inside pre-K in America and what it will take to give all children the best start in school possible.


At the heart of this groundbreaking book are two urgent questions: What do our young children need in the earliest years of school, and how do we ensure that they all get it? Cutting-edge research has proven that early childhood education is crucial for all children to gain the academic and emotional skills they need to succeed later in life.  Children who attend quality pre-K programs have a host of positive outcomes including better language, literacy, problem-solving and math skills down the line, and they have a leg up on what appears to be the most essential skill to develop at age four:  strong self-control.   But even with this overwhelming evidence, early childhood education is at a crossroads in America.  We know that children can and do benefit, but we also know that too many of our littlest learners don't get that chance—millions of parents can't find spots for their children, or their preschoolers end up in poor quality programs.
        
With engrossing storytelling, journalist Suzanne Bouffard takes us inside some of the country's best pre-K classrooms to reveal the sometimes surprising ingredients that make them work—and to understand why some programs are doing the opposite of what is best for children. It also chronicles the stories of families and teachers from many backgrounds as they struggle to give their children a good start in school. This book is a call to arms when we are at a crucial moment, and perhaps on the verge of a missed opportunity: We now have the means and the will to have universal pre-kindergarten, but we are also in grave danger of not getting it right.
Praise For The Most Important Year: Pre-Kindergarten and the Future of Our Children…
"Bouffard's interviews with educators and administrators give insight into the landscape of the pre-K debate and support her call for universal pre-K."
—The New York Times

"Suzanne Bouffard's new book, The Most Important Year, may be just what parents of preschoolers have been waiting for; a guide to what a quality pre-K program should look like."
—NPR

"Something amazing is happening in America: We are building a new public education system, nearly from scratch -- to serve 3 and 4 year olds. The grand "pre-K" experiment has consequences for our economy, our democracy, and, of course, the little children who will one day lead us all. Suzanne Bouffard is the tour guide we need to understand what is happening and what we can all do to make the experiment a success. "
—Elizabeth Green, author of Building a Better Teacher
 
"Anyone who cares about children, their future, and the future of our country should read THE MOST IMPORTANT YEAR, Suzanne Bouffard's compelling investigation into the state of preschool education in America.  Bouffard sheds light on how and why educational inequity exists, delves into the research on how young children learn best, and offers important insights on how to change early childhood education for the better. Essential reading for any parent, teacher, or policymaker who believes that all American children deserve a quality pre-K education that will set them up for a lifetime of learning."
—Christine Gross-Loh, author of Parenting Without Borders
Avery, 9780399184949, 272pp.
Publication Date: September 5, 2017
About the Author
Suzanne Bouffard is a writer with a background in child development and education. She received her Ph.D. in developmental psychology from Duke University and has spent the past ten years conducting and writing about education research at Harvard University. Bouffard's articles have appeared in The New York Times, Parents magazine online, Educational Leadership magazine, and The Harvard Education Letter, and she is the coauthor of Ready, Willing, and Able. She lives in Massachusetts with her husband and two children.