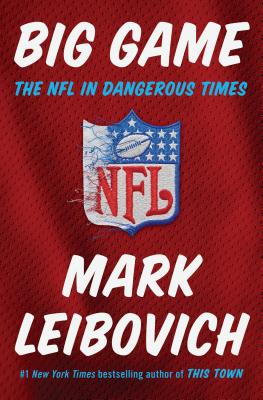 Big Game
The NFL in Dangerous Times
Hardcover

* Individual store prices may vary.
Other Editions of This Title:
Digital Audiobook (9/3/2018)
Paperback (8/27/2019)
Description
The New York Times bestseller!

From the #1 New York Times bestselling author of This Town, an equally merciless probing of America's biggest cultural force, pro football, at a moment of peak success and high anxiety

Like millions of Americans, Mark Leibovich has spent more of his life tuned into pro football than he'd care to admit. Being a lifelong New England Patriots fan meant growing up on a steady diet of lovable loserdom. That is, until the Tom Brady/Bill Belichick era made the Pats the most ruthlessly efficient and polarizing sports dynasty of the modern NFL, and its fans the most irritating in all of Pigskin America. Leibovich kept his obsession quiet, making a nice career for himself covering that other playground for rich and overgrown children, American politics. Still, every now and then Leibovich would reach out to Tom Brady to gauge his willingness to subject himself to a profile. He figured that the chances of Brady agreeing were a Hail Mary at best, but Brady returned Mark's call in summer 2014 and kept on returning his calls through epic Patriots Super Bowl victory and defeat, and a scandal involving Brady--Deflategate--whose grip on sports media was as profound as its true significance was ridiculous.

So began a four-year odyssey that took Mark Leibovich deeper inside the NFL than anyone has gone before. From the owners' meeting to the draft to the sidelines of crucial games, he takes in the show at the elbow of everyone from Brady to big-name owners to the cordially despised NFL Commissioner, Roger Goodell. Ultimately, BIG GAME is a chronicle of "peak football"--the high point of the sport's economic success and cultural dominance, but also the time when the dark side began to show. It is an era of explosive revenue growth, but also one of creeping existential fear. Players have long joked that NFL stands for "not for long," but as the true impact of concussions becomes inescapable background noise, it's increasingly difficult to enjoy the simple glory of football without the buzz-kill of its obvious consequences.

And that was before Donald Trump. In 2016, Mark's day job caught up with him, and the NFL slammed headlong into America's culture wars. BIG GAME is a journey through an epic storm. Through it all, Leibovich always keeps one eye on Tom Brady and his beloved Patriots, through to the 2018 Super Bowl. Pro football, this hilarious and enthralling book proves, may not be the sport America needs, but it is most definitely the sport we deserve.
Praise For Big Game: The NFL in Dangerous Times…
"A gossipy, insightful and wickedly entertaining journey through the N.F.L. sausage factory . . . a sparkling narrative."  —The New York Times

"Juicy and mean in the way all books about the NFL ought to be, but few are." —Drew Magary, Deadspin

"A raucous, smash-mouth, first-person takedown of the National Football League, it is also the story of an aging fanboy whose reportorial eye and ear are far too acute to ignore what's wrong with the game and the team he loves. . . . Mr. Leibovich understands that humor—bruising, black-and-blue humor—is the best way to attack the self-seriousness and grandiosity of the NFL. It works as well for him as it did for his comically insurgent predecessors—Dan Jenkins in 'Semi-Tough' and Peter Gent in 'North Dallas Forty'—making Big Game an instant classic in the pigskin oeuvre." —Wall Street Journal

'"Hilarious, energetically reported and endlessly entertaining. . . Leibovich emerges as the pro game's Mencken, tossing out one-liners as barbed as the spiked costumes of the Raiders' faithful." —San Francisco Chronicle

"This book needs to be remembered as the greatest accounting of the NFL owners I have ever read." —Mike Pesca, Slate

"As someone who's covered the league for three decades and knows how difficult it is to get behind the curtain, I can tell you Big Game is genuine and important—and a great read." —Peter King

"A funny, insightful and fascinating perspective of the league." —USA Today

"Highly entertaining . . . If anything, you'll want to read until Dallas Cowboys owner Jerry Jones invites Leibovich over for a few—well, more than a few—drinks." —Mother Jones, Best Nonfiction Books of 2018

"The high point of any monster movie, whether you're talking 'King Kong' or 'Jurassic Park,' comes at the moment when you finally get a full view of the giant beast. You've caught a glimpse or two, heard a roar in the distance, but when you finally see the monster's full immensity, it's a sight to behold … and you wonder how in the hell your little heroes are going to survive its fury. Big Game: The NFL in Dangerous Times, an exceptional new behind-the-scenes book by Mark Leibovich, is a monster movie disguised as investigative journalism. Running from 2014 right on up to this year, Leibovich's narrative presents the NFL's owners and commissioner in all their bumbling, well-meaning, self-serving, self-satisfied glory … and shows in high definition how unprepared they were for the monster that stomped in to demolish everything they hold dear." —Yahoo Sports
 
"What we have here are 349 unflinching pages detailing the NFL's rampant boobery . . . It probably took a reporter like Leibovich to write a historic book like this. A top-flight journalist who'd gorged on a product for decades parachutes into the factory to see exactly how the product is made and who's making it. The findings are mind-numbing, stomach-turning and stupefying. But the product is still so delicious." —NBCSports.com

"Enlightening and entertaining . . . Boston fans will savor an abundance of material about the hometown team. The chapters involving the Patriots (among them, 'Beware the Pissed Off Pretty Boy,' '"I'm Drunk, I'm Stupid, I'm a Pats Fan", the Man Told Police') are filled with delectable tidbits." —Boston Globe

"Rollicking entertainment. Must-read for NFL junkies." —Kirkus

"[A] skewering and witty cultural study." —Publisher's Weekly
Penguin Press, 9780399185427, 400pp.
Publication Date: September 4, 2018
About the Author
MARK LEIBOVICH is the Chief National Correspondent for the New York Times Magazine. He is the recipient of the National Magazine Award for profile writing. Leibovich is the author of three books, including the #1 New York Times best-seller This Town, about the political culture of 21st-century Washington, D.C. Prior to joining the Times magazine in 2012, Leibovich covered national politics in the New York Times' Washington Bureau. He previously worked at the Washington Post and San Jose Mercury News. He lives with his family in Washington, D.C.
or
Not Currently Available for Direct Purchase