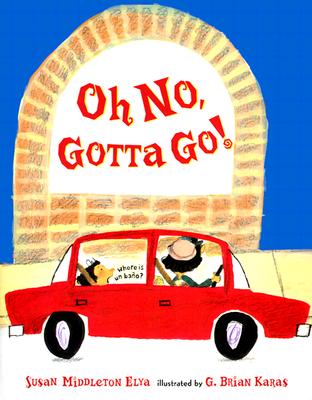 Oh No, Gotta Go!
Hardcover

* Individual store prices may vary.
Description
It happens all the time. As soon as the car pulls away, someone needs the bathroom.
Where is un baño? ¿Dónde está? I really do need one," I told mi mamá.
After racing around town, passing a gushing fountain, and cutting the inevitable line for the ladies' room, this adorable little girl makes it to the bathroom in the nick of time. And because the bathroom is in a restaurant, the family stays for a wonderful meal-and lots of limonada. . . .
Buoyant illustrations and a clever mix of Spanish and English combine to capture the urgency and humor of the situation to the delight of kids and grown-ups alike.
Praise For Oh No, Gotta Go!…
"Brilliantly conceived...Readers will find these multi-textured illustrations fascinating and as imaginative as the concept." -
Kirkus Reviews
"Each of Elya's couplets seamlessly introduces or reinforce two Spanish words, while the cunning rhyme scheme helps readers with their pronunciation...An appealingly painless introduction to another language." -Booklist
G.P. Putnam's Sons Books for Young Readers, 9780399234934, 32pp.
Publication Date: June 30, 2003
About the Author
I have wanted to write books ever since I was a little kid. I used to make up poems and songs back then, in the stairwell to our upstairs in Urbandale, Iowa. It was the only quiet place in the whole house!
I didn't have my own room -- ever! -- when I was growing up, so I found ways to be "alone" by writing, playing in the corner of the backyard, and hiding from all the noise -- in the stairwell. I kept diaries when I was a student in grade school and junior high school. I always felt guilty when I didn't make an entry for every day. Now I know that a writer can write every other day or every third day and still be good at it. I wish someone would have told me that if I didn't feel like writing one day, I could skip it. I always did those chain letters, too, because I felt so guilty if I didn't. I remember getting up early before school so I could hand-copy one chain letter five times and deliver it to five of my friends so that nothing bad would happen to me or my family. Now I don't do them at all! In college, I kept journals, especially when I was traveling. I went to Venezuela and Spain as part of my Spanish studies. Before I became a published picture-book author, I was a teacher in three different states. I taught in Ashland, Nebraska, Council Bluffs, Iowa, and Ramona, California.
I have also been a U.S. Post Office letter carrier, a bartender, a racetrack ticket seller, a door-to-door salesperson, a telemarketer, and a Sunday school teacher. Somewhere between salesperson and letter carrier, I earned a degree in Spanish. Why would a white girl from Iowa study a foreign language? Because my dad could speak a little, and he and my older sister could carry on a limited conversation at supper. I wanted to know what they were saying. So did everyone else, but they had to wait until they were old enough to take Spanish in ninth grade. My mom never did learn any Spanish. She always wondered if we were talking about her. :)  
The summer after high school I went to Mexico City with my high school Spanish teacher and 30 students. I was amazed by the new culture and the language I had been studying for four years. I went to Iowa State University, planning to major in elementary education, which I did. But I kept taking Spanish classes and eventually had so many credits that it only made sense to get a dual degree with a double major in elementary education and Spanish. I also picked up a minor in secondary education. I must have known that I would end up teaching high school Spanish.  
I went to Caracas, Venezuela, to do my student teaching with another ISU student. I taught Spanish to six-year-old first graders in an American school. They were trilingual -- speaking English, Spanish, and the language of their native country. They were mostly children of oil company executives who had come there from all over the world. After we left Venezuela, I did my secondary student-teaching (Spanish) in a Catholic high school in Des Moines, Iowa. That was my first experience teaching teenagers. Then I went to Spain to study for two months. My Venezuelan accent was all wrong. I began to realize that Spanish is not the same from country to country.  
I came back from Spain and graduated from ISU. I had applied to teach third grade in Nebraska. Instead, they hired me to teach high school Spanish. My Iowa roommate from Caracas got the third grade job so that we could come out to Nebraska together. Two years later, I decided to move to Omaha to get a job in a bigger school. I taught junior high English, reading, and writing across the river in Council Bluffs, Iowa. I asked the principal at Lewis Central Middle School if I could teach Spanish during the lunch hour. Forty kids showed up the first day. By the time I left L.C. six years later, I was teaching Spanish all day long. I'll never forget a parent who came to teacher conferences and said to me, 'Why does my son have to learn another language anyway? He's never going to leave here.' I often wonder if that boy ever did leave Iowa, even for vacation.  
I married and moved to San Diego, California. A town nearby, Ramona, needed a Spanish teacher. Little did I know that the kids had had substitutes for three months. They told me on the first day, "You are our 12th substitute." I had my work cut out for me there. I taught high school Spanish, middle school Spanish and English as a Second Language. I had to interview for the job in Spanish. I don't think I could do that today! The middle school ESL class proved to be the most rewarding. Those students could speak little or no English . The bilingual director of curriculum had been teaching the class entirely in Spanish. The 23 Hispanic students were grateful, but they weren't learning any English that way. I ended that tradition, and two girls dropped out school to clean motel rooms. That broke my heart, but I knew I wasn't helping anybody learn English by speaking to them for two hours each day in Spanish. No one else dropped out, and they started to learn their second language.
My husband, new daughter, and I moved to northern California a year and a half later. By then, my ESL students had made much progress. I am so proud that I taught them English. I still think about them and use many of their names in my books.
Every now and then I go to bookstores and conferences to talk about my newest books. In a way, I guess I am still teaching, but now I don't have all those papers to grade!  
"My career in art had a humble beginning. I was in kindergarten. We had just finished a study on Native Americans. I was inspired. Our teacher gave us an unprecedented one whole week to create something of our own choice. At the end of the week we were to show her our creations. I immediately set out with an ambitious plan. A life sized three dimensional teepee. It didn't matter that I had never attempted 3-D before, I thought. I was wrong. I labored and sweated for the entire week over something I was unable to do and was too... something, afraid, proud?, to ask for help. At the end of the week, surrounded by truly awesome projects my classmates had constructed, when I had nothing to show for my week's worth of work, I hastily drew a three inch teepee on white paper and cut it out. Maybe she wouldn't notice its modest size I hoped. She did, and pointed out to the entire class how some people can manage to waste a great amount of time when others work so hard. I was crushed. Great intentions sometimes have sad endings.
"I resurrected my stature as a serious artist in the first grade. I drew caricatures. Mostly of my teacher who found them, and found them most unflattering. My classmates, however, thought they were brilliant. I had gained their respect. I had become 'the class artist'. Through my school years my projects began to improve in merit. I moved onto stage sets, snowflakes for holiday windows, and posters for the walls. I remember being very impressed with the artwork of Charles Schulz. I thought of the Peanuts characters as close friends, I liked their subtle humor. I managed to do a very good rendition of Schulz's work. And I enjoyed that more than anything I had done before. I also read a great deal and had an interest in writing. At one point I was selected to be part of a creative writing class in a different school system, an experience that freed my creativity in a way I hadn't known before.
"At home, sadly, I was not encouraged to pursue art as a profession. So I didn't take seriously the notion of being an artist until late into my senior year in high school. When it became clear that I had no clear direction to go in, I felt like I was adrift. I couldn't find anyplace where I fit. It was at that time I found a person who changed the course of my life, my art teacher. I enrolled in her art class. She took a special interest in me and my work. I think she saw that I had the talent but lacked the confidence and drive, and support, to apply to art schools. She encouraged me to apply to the school she had once taught in, and began to help me pull together a portfolio.
"I knew from the first day of art school that there was no other choice for me. This was it, a place where I fit. I had the good fortune of having many fine teachers, some of whom were working in the field of children's book publishing. In a way, there was never a question in my mind of what to do in the field of art. There was never a defining moment when I said, I want to be a children's book artist. I just was.I've illustrated over fifty books for children at the time of this writing, two of which I also wrote. I can still say that there is never a question of what I should do. This is what I do, and it comes very naturally to me. Not that I don't struggle with it or that it doesn't present a challenge, or that I can't continue to grow as an artist. Because I do, and it does, and I can. But what doesn't exist is a question of my purpose. Aside from watching my children grow, creating books for children is the most gratifying and worthwhile thing I can do."
G. Brian Karas was born in Milford, Connecticut. After graduating from Paier School of Art with highest honors, he worked s a greeting card artist at Hallmark Cards in Kansas City, Missouri. After three years he moved to New York and began freelancing as a commercial illustrator. His first illustrated book was published in 1983 (Home On The Bayou which won the Boston Globe-Horn Book Honor) and he has since illustrated more than fifty books for children. His first book as author-illustrator received a Boston Globe-Horn Book Honor in 1997. Saving Sweetness by Diane Stanley was a Capitol Choices Noteworthy Book for Children in 1996, received a Bulletin of the Center for Children's Books Blue Ribbon in 1996, and was a School Library Journal Best Book of 1996. Like Butter On Pancakes by Jonathan London was a School Library Journal Best Book of 1995. On The Trail With Miss Pace by Sharon Phillips Denslow was a Smithsonian Magazine Notable Children's Book of 1995. In 1995, I Know An Old Lady received a Parent's Choice Honor and was a 1996 Booklist Editors' Choice.
copyright © 2000 by Penguin Putnam Books for Young Readers. All rights reserved.
or
Not Currently Available for Direct Purchase