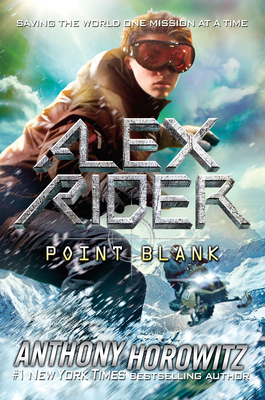 Point Blank (Hardcover)
Philomel Books, 9780399236211, 224pp.
Publication Date: April 15, 2002
Description
They look like they're supposed to. They talk like they're supposed to. But they sure don't act like they're supposed to. Sixteen boys in a remote boarding school, children of some of the wealthiest and most powerful families in the world. Juvenile delinquents, all: drugs, shoplifting, vandalism. Yet suddenly they're perfect, well-behaved and studious. Identical in every way-or almost every way. Something is wrong. Very wrong. And only fourteen-year-old secret agent Alex Rider can save these boys from themselves. Should he fail, one man's sinister plan to conquer the world will become reality. Full of heart-pounding adventure, technological wizardry, tongue-in-cheek humor, and a James Bond-like spirit, this sequel to Stormbreaker is a thrill ride you won't want to let up.
About the Author
Anthony Horowitz's life might have been copied from the pages of Charles Dickens or the Brothers Grimm. Born in 1956 in Stanmore, Middlesex, to a family of wealth and status, Anthony was raised by nannies, surrounded by servants and chauffeurs. His father, a wealthy businessman, was, says Mr. Horowitz, "a fixer for Harold Wilson." What that means exactly is unclear -- "My father was a very secretive man," he says-- so an aura of suspicion and mystery surrounds both the word and the man. As unlikely as it might seem, Anthony's father, threatened with bankruptcy, withdrew all of his money from Swiss bank accounts in Zurich and deposited it in another account under a false name and then promptly died. His mother searched unsuccessfully for years in attempt to find the money, but it was never found. That too shaped Anthony's view of things. Today he says, "I think the only thing to do with money is spend it." His mother, whom he adored, eccentrically gave him a human skull for his 13th birthday. His grandmother, another Dickensian character, was mean-spirited and malevolent, a destructive force in his life. She was, he says, "a truly evil person," his first and worst arch villain. "My sister and I danced on her grave when she died," he now recalls.A miserably unhappy and overweight child, Anthony had nowhere to turn for solace. "Family meals," he recalls, "had calories running into the thousands.... I was an astoundingly large, round child...." At the age of eight he was sent off to boarding school, a standard practice of the times and class in which he was raised. While being away from home came as an enormous relief, the school itself, Orley Farm, was a grand guignol horror with a headmaster who flogged the boys till they bled. "Once the headmaster told me to stand up in assembly and in front of the whole school said, 'This boy is so stupid he will not be coming to Christmas games tomorrow.' I have never totally recovered." To relieve his misery and that of the other boys, he not unsurprisingly made up tales of astounding revenge and retribution.So how did an unhappy boy, from a privileged background, metamorphose into the creator of Alex Rider, fourteen-year-old spy for Britain's MI6? Although his childhood permanently damaged him, it also gave him a gift -- it provided him with rich source material for his writing career. He found solace in boyhood in the escapism of the James Bond films, he says. He claims that his two sons now watch the James Bond films with the same tremendous enjoyment he did at their age. Bond's glamour translates perfectly to the 14-year-old psyche, the author says. "Bond had his cocktails, the car and the clothes. Kids are just as picky. It's got to be the right Nike trainers (sneakers), the right skateboard. And I genuinely think that 14-year-olds are the coolest people on the planet. It's this wonderful, golden age, just on the cusp of manhood when everything seems possible."Alex Rider is unwillingly recruited at the age of fourteen to spy for the British secret service, MI6. Forced into situations that most average adults would find terrifying and probably fatal, young Alex rarely loses his cool although at times he doubts his own courage. Using his intelligence and creativity, and aided by non-lethal gadgets dreamed up by MI6's delightfully eccentric, overweight and disheveled Smithers, Alex is able to extricate himself from situations when all seems completely lost. What is perhaps more terrifying than the deeply dangerous missions he finds himself engaged in, is the attitude of his handlers at MI6, who view the boy as nothing more than an expendable asset.The highly successful Alex Rider novels include Stormbreaker, Point Blank, Skeleton Key, and the recent Eagle Strike.Anthony Horowitz is perhaps the busiest writer in England. He has been writing since the age of eight, and professionally since the age of twenty. He writes in a comfortable shed in his garden for up to ten hours per day. In addition to the highly successful Alex Rider books, he has also written episodes of several popular TV crime series, including Poirot, Murder in Mind, Midsomer Murders and Murder Most Horrid. He has written a television series Foyle's War, which recently aired in the United States, and he has written the libretto of a Broadway musical adapted from Dr. Seuss's book, The 5,000 Fingers of Dr. T. His film script The Gathering has just finished production. And...oh yes...there are more Alex Rider novels in the works. Anthony has also written the Diamond Brothers series.
Advertisement