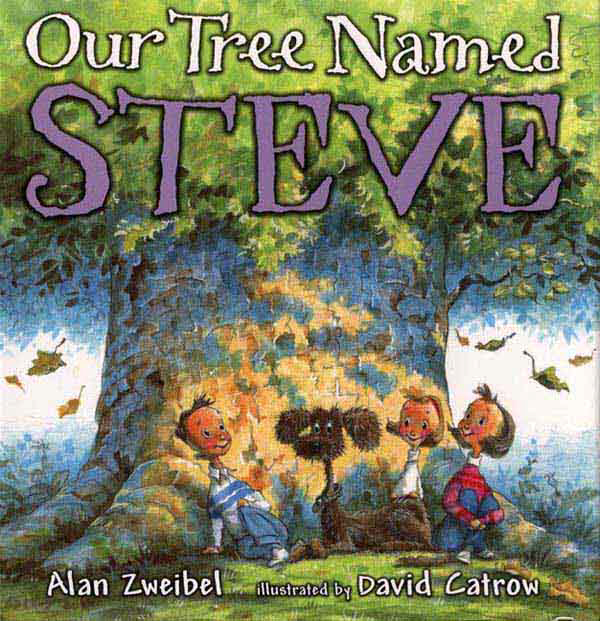 Our Tree Named Steve (Hardcover)
G. P. Putnam's Sons, 9780399237225, 32pp.
Publication Date: April 1, 2005
* Individual store prices may vary.
or
Not Currently Available for Direct Purchase
Description
"Dear Kids,
A long time ago, when you were little, Mom and I took you to where we wanted to build a house . . . . I remember there was one tree, however, that the three of you couldn't stop staring at . . . ."
After the family spares him from the builders, Steve the tree quickly works his way into their lives. He holds their underwear when the dryer breaks down, he's there when Adam and Lindsay get their first crushes, he's the centerpiece at their outdoor family parties. With a surprising lack of anthropomorphizing, this is a uniquely poignant celebration of fatherhood, families, love, and change.
About the Author
Alan Zweibel was one of the original writers for "Saturday Night Live" and co-creator of "The Larry Sanders Show."
Praise For Our Tree Named Steve…
In a letter to his three children who are visiting their grandparents, a father recalls all the wonderful things Steve the tree has been to their family. When they visited the empty lot where they would build their house, Sari, the youngest, couldn't say tree, so she said "Steve." Thus, a family friend was dubbed. He was perfect for shade and hanging laundry when the dryer broke. He even held a hammock for fat Uncle Chester and drank all the sewer water when the sump backed up. Being a tree has its dangers, and a storm knocked Steve down. Friend to the last, Steve didn't fall on the house, doghouse, swing set or garden. Dad's writing to warn the kids that Steve won't greet them when they return, but his lumber has made a wonderful new playhouse. Zweibel and Catrow have created a faultless piece of bibliotherapy for children working through loss. Catrow's usual bright, wide-eyed, exuberant watercolors bring individuality and immediacy to Zweibel's simple text. Steve's almost-face shines in each illustration of this sentimental tribute.

Kirkus Reviews, starred review
Advertisement