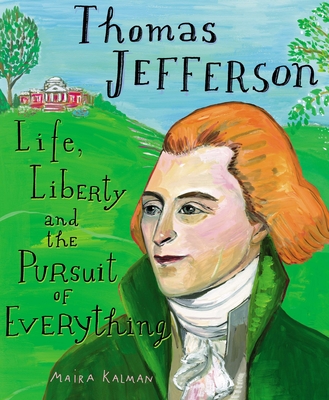 Thomas Jefferson (Hardcover)
Life, Liberty and the Pursuit of Everything
Nancy Paulsen Books, 9780399240409, 40pp.
Publication Date: January 7, 2014
Other Editions of This Title:
Compact Disc (1/20/2015)
* Individual store prices may vary.
Description
Renowned artist Maira Kalman sheds light on the fascinating life and interests of the Renaissance man who was our third president.

Thomas Jefferson is perhaps best known for writing the Declaration of Independence—but there's so much more to discover. This energetic man was interested in everything. He played violin, spoke seven languages and was a scientist, naturalist, botanist, mathematician and architect. He designed his magnificent home, Monticello, which is full of objects he collected from around the world. Our first foodie, he grew over fifteen kinds of peas and advocated a mostly vegetarian diet. And oh yes, as our third president, he doubled the size of the United States and sent Lewis and Clark to explore it. He also started the Library of Congress and said, "I cannot live without books." But monumental figures can have monumental flaws, and Jefferson was no exception. Although he called slavery an "abomination," he owned about 150 slaves.

As she did in Looking at Lincoln, Maira Kalman shares a president's remarkable, complicated life with young readers, making history come alive with her captivating text and stunning illustrations.
About the Author
Maira Kalman (www.mairakalman.com) is the author-illustrator of numerous picture books, including Looking at Lincoln, Fireboat, Next Stop Grand Central, and What Pete Ate from A–Z, as well as adult hits such as And the Pursuit of Happiness and The Elements of Style Illustrated. She is also the illustrator of the Printz Honor Winning Book Why We Broke Up by Daniel Handler. Her artwork has appeared on a dozen New Yorker covers, and her watches, clocks, accessories and paperweights have been featured at the Museum of Modern Art store. She lives in New York City.
Praise For Thomas Jefferson: Life, Liberty and the Pursuit of Everything…
* "Beautiful and a little sad: the complex, brilliant, flawed nature of the third U.S. president. . . . Rich, impressionist colors and lively lines. . . . Poetic presentation. . . . Conveys clearly [Jefferson's] contribution to the growing nation as founding father and president. . . . Kalman's intimate address to listeners and readers works well. . . . Impressive complexity put artfully and respectfully within the grasps of young readers." — Kirkus Reviews, STARRED REVIEW

* "The inimitable Kalman brings her wit, wisdom, and beautifully unique artwork to one of America's most complex founding fathers: Thomas Jefferson. . . . Kalman's distinctive, bold-stroked gouache paintings keep the tone light and fresh, providing plenty of details that garner a closer look. Share this along with the author's picture-book biography of Abraham Lincoln, Looking at Lincoln (Penguin, 2012) to inspire young historians and artists alike." — School Library Journal, STARRED REVIEW

* "Vibrant gouache paintings. . . . The voice is that of a curious child reporting fascinating research findings . . . allows Kalman to supply a wealth of information. . . . Playful but informative, as quick witted as Jefferson himself, this will inspire young readers to learn more." — Booklist, STARRED REVIEW

"Kalman dwells in conflict and raises questions to the end, pronouncing Monticello a symbol of all that is 'optimistic and complex and tragic and wrong and courageous' about America." — Publishers Weekly

"Striking picture book biography. . . . A colloquial, occasionally arch, and whimsical narrative, heavy with historical import and dotted with trivia. The vibrant imagery, frank content, and disarming language combine in a nuanced portrait that respects its subject and its audience in equal measure. At a time when the Founding Fathers are invoked frequently as heroes of lost, black-and-white propriety, a biography of such candor is welcome indeed. Direct, objective author's notes about the people and places involved round out this substantial offering." — The Horn Book

"Arranged to pique children's interest even as it covers salient textbook facts. Kalman reprises some elements of her marvelously innovative picture-book biography Looking at Lincoln, including an accessibly informal tone, a fruit bowl of vibrant colors, a frequent focus on a single telling artifact, and plenty of holes punched through the fourth wall to invite readers into the conversation. . . . Her candid discussion of Jefferson's contradictory views on slavery is particularly well handled, and a closing observation gives kids permission to be perplexed by this complicated guy." — The Bulletin of the Center for Children's Books

"A beautiful look inside the makings of a great American, with all of his achievements, quirks, and mistakes laid out for the reader. . . . Infused with interesting details. . . . The watercolor illustrations are striking, with bright colors and playfulness that appeals to younger readers. . . . A sensitive, thought-provoking book about one of our country's greatest leaders that uniquely talks about his strengths and weaknesses." — Library Media Connection