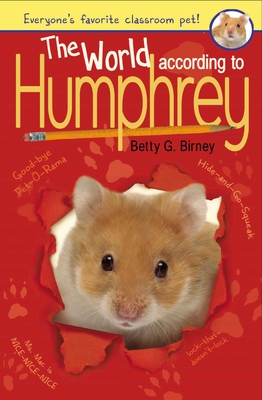 The World According to Humphrey (Hardcover)
G.P. Putnam's Sons Books for Young Readers, 9780399241987, 160pp.
Publication Date: February 2, 2004
Description
The first in the series about everyone's favorite classroom pet You can learn a lot about life by observing another species. That's what Humphrey was told when he was first brought to Room 26. And boy is it true There are always adventures in the classroom and each weekend he gets to sleep over with different students. Humphrey learns to read, write, shoot rubber bands (only in self-defense, of course), turn off TVs, teach English as a second language, and more. With a lock-that-doesn't-lock and an adventurous spirit, what more could a mischievous hamster want?
With a fresh voice and an engaging, hamster's-eye view of school, families, and treats to hide in a cheek pouch, Betty G. Birney's Humphrey will elicit laughter and demands for hamsters in every elementary classroom.
About the Author
Betty G. Birney has won many awards for writing for television, including an Emmy, three Humanitas Prizes, and a Writers Guild of America Award, and she won the Christopher Award for Friendship According to Humphrey. In addition to the Humphrey series, she is the author of The Seven Wonders of Sassafrass Springs and The Princess and the Peabody's. She grew up in St. Louis, Missouri, where her parents grew up as neighbors on Humphrey Street. Her website, bettybirney.com, is full of fun Humphrey activities and information.
Praise For The World According to Humphrey…
"A likable hamster narrates this novel for newly independent readers….Birney succeeds in developing the animal's character without the narrative becoming too cute or contrived. Humphrey's views underscore the importance of knowing the full story before making judgments, and his presence makes a positive difference in the lives of the people he meets. All in all, a winning book that will appeal to children who like tales about animals, school life, and friendship."—School Library Journal

"The story deftly avoids triteness while still feeling breezy and acknowledging deeply felt troubles, such as Mrs. Brisbane's husband's depression. The pet-care tips punctuating each chapter would benefit any youngster thinking about getting a hamster, but for everyone else, this read is simply good-good-good."—Kirkus Reviews
Advertisement