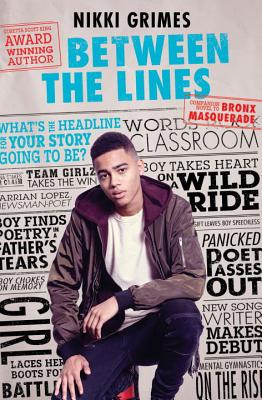 Between the Lines
Hardcover

* Individual store prices may vary.
Other Editions of This Title:
Digital Audiobook (2/12/2018)
Paperback (3/19/2019)
Description
This thought-provoking companion to Nikki Grimes' Coretta Scott King Award-winning Bronx Masquerade shows the capacity poetry has to express ideas and feelings, and connect us with ourselves and others.
 
Darrian dreams of writing for the New York Times. To hone his skills and learn more about the power of words, he enrolls in Mr. Ward's class, known for its open-mic poetry readings and boys vs. girls poetry slam. Everyone in class has something important to say, and in sharing their poetry, they learn that they all face challenges and have a story to tell—whether it's about health problems, aging out of foster care, being bullied for religious beliefs, or having to take on too much responsibility because of an addicted parent. As Darrian and his classmates get to know one another through poetry, they bond over the shared experiences and truth that emerge from their writing, despite their private struggles and outward differences.
Praise For Between the Lines…
"Told in nine voices and interspersed with poetry, Grimes stuns in this companion novel to Bronx Masquerade. The next iteration of teens in Mr. Ward's class are learning how to write poetry, rhyme, and flow, all the while opening up to each other about their various struggles. . . . Aptly describes inner-city problems, from police discrimination to gangs, but the teens are the focal point of the novel. . . . Grimes excels at making the students multidimensional and complex. This diverse cast's strong inner conflict will enhance any bookshelf."—Booklist

"Grimes adroitly orchestrates a chorus of emotional teenage voices in this thought-provoking companion to the Coretta Scott King Award–winning Bronx Masquerade. . . . While underscoring the difficulties these teens face, Grimes's economical writing provides glimmers of hope, showing how forming bonds of trust and finding the courage to speak one's truth can help ease emotional pain and bring salvation."—Publishers Weekly

"These complex students use poetry to find their truest voices and write their own stories. . . . Each character occupies his or her own space and no one character or voice monopolizes the story. The narratives of immigrants, foster children, families effected by incarceration, and teens taxed with familial burdens are thoroughly explored in a thought-provoking way. The poems and voices are a perfect blend of the many facets of American teens' lives. An excellent companion book that lends itself easily to a teacher's poetry unit, this is great choice for school and public libraries."—School Library Journal

"In this companion to Grimes's Bronx Masquerade, which again mixes students' first-person narratives and their forays into poetry, Mr. Ward's class becomes a cast of many players, each student given a voice among the multiple points of views woven throughout the story. . . . This group of students, all with different life stories, bonds over the power of words and comes together. . . . In her author's note, Grimes highlights her character Jenesis, who has been in the foster care system all her life and is about to age out; Grimes offers help and resources for vulnerable teens in similar situations."—The Horn Book
Nancy Paulsen Books, 9780399246883, 224pp.
Publication Date: February 13, 2018
About the Author
Nikki Grimes (nikkigrimes.com) received the Coretta Scott King Award for Bronx Masquerade, and has also received five Coretta Scott King Honors. She has written more than fifty books, including The Road to Paris, Jazmin's Notebook, the Dyamonde Daniel series, and the New York Times bestseller Barack Obama: Son of Promise, Child of Hope. She lives in Corona, California.