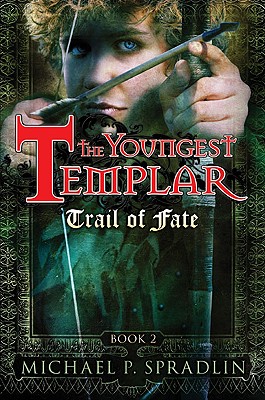 Trail of Fate
Book 2
Hardcover

* Individual store prices may vary.
Other Editions of This Title:
Paperback (10/14/2010)
Compact Disc (10/27/2009)
Prebound (10/14/2010)
Description
Tristan and his friends haveescaped the Holy Land, but theirdangerous journey is far fromover
Picking up right where the breathtaking actionleft off, Tristan and his friends, the archer RobardHode and the assassin Maryam, have escapedthe Holy Land, but they are still a long wayfrom the end of their perilous journey. And whilethey may have eluded the villainous Templar SirHugh, they know he will never be far behind.
Their only hope is to reach safety in England. Butbefore they do that they run straight into a rebelband of Cathars, a heretical sect fighting off the oppressionof France's king. When Tristan falls for thebeautiful leader of the Cathars, though, his loyaltiesare torn between aiding her in her hour of need orfleeing with his sacred charge to protect the HolyGrail.
Putnam Juvenile, 9780399247644, 240pp.
Publication Date: October 29, 2009
About the Author
Michael P. Spradlin is the author of more than a dozen books for children. He grew up in a small town in Michigan not far from the Indiana border. Surrounded by books in his formative years, he grew up loving to read and imagining himself the hero of numerous epic battles.When not writing, he enjoys reading, traveling, spending time with his family and worrying over the fact that he really should be writing instead of doing other stuff. He lives in Michigan with his wife Kelly, son Michael, daughter Rachel and two dogs Willow and Apollo.
or
Not Currently Available for Direct Purchase