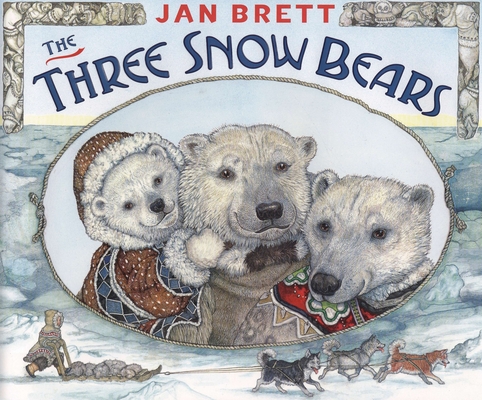 The Three Snow Bears (Hardcover)
G.P. Putnam's Sons Books for Young Readers, 9780399247927, 40pp.
Publication Date: September 13, 2007
Other Editions of This Title:
Digital Audiobook (4/30/2018)
Board book (10/11/2012)
Board book (10/17/2013)
* Individual store prices may vary.
Description
Aloo-ki glances up from fishing and sees her sled dogs floating off on an ice floe. She races after them and comes upon an igloo. Being a curious girl, she goes inside only to find no one home. That's because the polar bear family who lives there is out walking while their breakfast cools off. Aloo-ki eats some soup, tries on their boots, and finally crawls into the smallest bed for a nap. Meanwhile, Papa, Mama, and Baby Bear see her dogs adrift, swim out to rescue them and return home to find Aloo-ki fast asleep in Baby Bear's bed.
Jan traveled to the far North to meet the Inuit people and see the amazing land where they live. Dramatic illustrations capture the shimmering ice, snow and deep blue seas of the Arctic, and when Jan adds a raven-haired Inuit girl and her appealing huskies, an endearing family of polar bears, and playful Arctic animals in the borders, the result is one of her most beautiful picture books.
The decorative Inuit patterns and clothing Jan uses throughout are sure to attract adult fans and collectors while children will want to listen to and look at this exciting version of a well-loved story over and over again.
About the Author
With over thirty four million books in print, Jan Brett is one of the nation's foremost author illustrators of children's books. Jan lives in a seacoast town in Massachusetts, close to where she grew up. During the summer her family moves to a home in the Berkshire Hills of Massachusetts.
As a child, Jan Brett decided to be an illustrator and spent many hours reading and drawing. She says, "I remember the special quiet of rainy days when I felt that I could enter the pages of my beautiful picture books. Now I try to recreate that feeling of believing that the imaginary place I'm drawing really exists. The detail in my work helps to convince me, and I hope others as well, that such places might be real."
As a student at the Boston Museum School, she spent hours in the Museum of Fine Arts. "It was overwhelming to see the room-size landscapes and towering stone sculptures, and then moments later to refocus on delicately embroidered kimonos and ancient porcelain," she says. "I'm delighted and surprised when fragments of these beautiful images come back to me in my painting."
Travel is also a constant inspiration. Together with her husband, Joe Hearne, who is a member of the Boston Symphony Orchestra, Jan visits many different countries where she researches the architecture and costumes that appear in her work. "From cave paintings to Norwegian sleighs, to Japanese gardens, I study the traditions of the many countries I visit and use them as a starting point for my children's books."