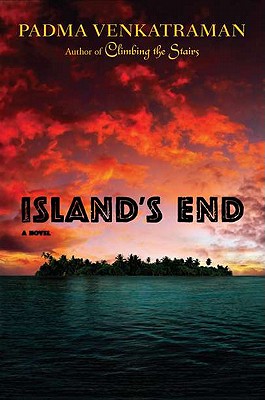 Island's End (Hardcover)
G. P. Putnam's Sons, 9780399250996, 228pp.
Publication Date: August 4, 2011
* Individual store prices may vary.
Description
From the acclaimed author of Climbing the Stairs comes a fascinating story set on a remote island untouched by time. Uido is ecstatic about becoming her tribe's spiritual leader, but her new position brings her older brother's jealousy and her best friend's mistrust. And looming above these troubles are the recent visits of strangers from the mainland who have little regard for nature or the spirits, and tempt the tribe members with gifts, making them curious about modern life. When Uido's little brother falls deathly ill, she must cross the ocean and seek their help. Having now seen so many new things, will Uido have the strength to believe in herself and the old ways? And will her people trust her to lead them to safety when a catastrophic tsunami threatens? Uido must overcome everyone's doubts, including her own, if she is to keep her people safe and preserve the spirituality that has defined them.
Drawing on firsthand experience from her travels to the Andaman Islands, Padma Venkatraman was inspired to write this story after meeting natives who survived the 2004 tsunami and have been able to preserve their unique way of life. Uido's transformation from a young girl to tribal leader will touch both your heart and mind.
About the Author
Padma Venkatraman lives in North Kingstown, Rhode Island. An oceanographer by training, she is the author of twenty books for young readers, published in India, on a variety of subjects. To learn more, about her book Climbing the Stairs, visit the web site, www.climbingthestairsbook.com. You can also read her blog, padmasbooks.blogspot.com.
Praise For Island's End…
"Succeeds spectacularly. . . . Uido is a remarkable heroine. . . . Heart-stopping action . . . the larger issues of modernity versus tradition offer much to think about. An intricate yet wholly accessible story."
-Booklist, starred review

"Readers will immediately connect with Uido. The doubt she feels in her own abilities will resonate with teens, as will her conviction to protect the ways of her people. . . . Vividly written and expertly paced . . . a moving story that will stay with readers long after the end."
-School Library Journal, starred review

"Uido's clear, intelligent, present-tense voice consistently engrosses as she pushes through doubt and loss to find the right path. The beach, jungle and cliff settings are palpable. . . . Refreshingly hopeful and beautifully written."
-Kirkus Reviews, starred review

"Offering an enticing blend of mystic traditions and imaginative speculation, Venkatraman beautifully expresses a primitive tribe's connection to nature and their struggle to find safety in the 21st century."
-Publishers Weekly, starred review

"Uido, all fire and passion and easy strength, is a strong, personable element. . . . Fans of survival novels . . . and informed readers curious to know more about how modern society would impact an isolated tribe will both feel they've found the right book."
-The Bulletin of the Center for Children�s Books

"The research Venkatraman incorporated into this novel is apparent. . . . A fantastic cultural story with identifiable characters and a plot in which the reader will want to believe."
-Voice of Youth Advocates
or
Not Currently Available for Direct Purchase