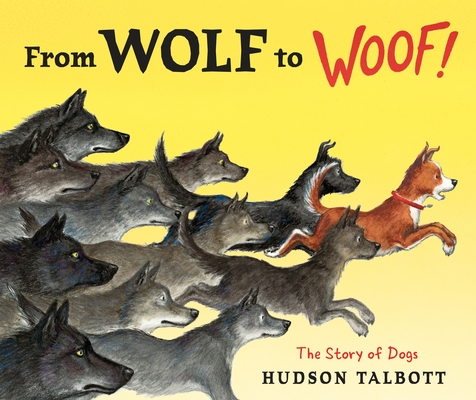 From Wolf to Woof
The Story of Dogs
Hardcover

* Individual store prices may vary.
Description
"It's hard to imagine the child—story-lover or fact-lover, dog-lover or not—who would not be drawn in by this book."—The New York Times Book Review

How did dog become man's best friend? Dogs come in such a variety of shapes, sizes, and breeds, that it is hard to believe that they all have a common ancestor--the wolf! Hudson Talbott takes readers on a fascinating journey through history to see how wolves' relationships with humans sparked their development into the dogs we know and love today.
 
Striking paintings, from an adorable wolf pup to a wide range of modern-day dog breeds, illustrate this insightful story of teamwork and friendship. Through the eyes of a prehistoric boy and a lone wolf pup, we see how the bond between our ancestors and these wild animals may have developed. Starting as enemies competing for food, the wolf and the boy realize that they'll eat better and be safer if they team up. Over time, others catch on, and as many of the wolves become more domesticated, the humans breed them for skills like hunting, herding, pulling, and rescuing. And today, there are more breeds of dog than of any other animal, all thanks to this relationship that started so long ago.
Praise For From Wolf to Woof: The Story of Dogs…
"Hudson Talbott writes nonfiction picture books with narrative flair. . . . He toggles gracefully between the real and the fictional as he explains how modern dogs evolved from wolves and why dogs, more than any other type of animal, are so closely integrated into day-to-day human life. . . . Concicely delivered information. . . . Talbott's nimble, sweet art pulls everything together so beautifully, it's hard to imagine the child—story-lover or fact-lover, dog-lover or not—who would not be drawn in by this book. What Talbott is giving his young readers is not just the facts about where dogs came from. . . . He has provided a marvelous demonstration of that most ancient of techniques that blends the factual and the fictional to arrive at a kind of deep knowledge."—The New York Times Book Review

"Talbott presents an imaginative origin for the early human-wolf bond and explores how that bond changed both species. . . . Appealing story. . . . Lively. . . . The concise narrative, cohesive design, and well-executed illustrations make this story easy to understand and appreciate."—Kirkus Reviews

"An engaging, fact-based myth explaining the evolution of dogs and how interwoven our history is with theirs. A charming mutt narrates the tale. . . . Evocative pencil-and-watercolor art. . . . Seamlessly describes how his subspecies continues to provide important services to people. . . . The wolves, however, are never forgotten, and their endangerment is mentioned, too. . . . Young  readers will likely learn a lot about humans' best friend."—Booklist

"The mixed-media art is tender and playful. . . . Talbott explores a broad concept within a cozy narrative framework, celebrating modern dogs while reminding readers that today's wolves 'need our help if they are to survive.'"—Publishers Weekly

"Charming. . . . Young readers will love the nonverbal clarity of the image[s]. . . . This big story in a small package hews close to current scientific understanding and is likely to be popular."—School Library Journal

"Lively, child-friendly illustrations make this an accessible introduction to the topic for 4- to 8-year-olds."—The Wall Street Journal

"Did you ever wonder how humans and dogs came to depend upon one another? Talbott weaves the answers to these questions into a unique myth of origin tale. . . . Dog and wolf lovers, as well as fans of 'myth of origin' stories will enjoy this book. . . . Can be enjoyed as a read aloud to inspire young writers to fashion their own stories of origin or how something has come to be."—School Library Connection


Nancy Paulsen Books, 9780399254048, 40pp.
Publication Date: April 12, 2016
About the Author
Hudson Talbott (www.hudsontalbott.com) wrote and illustrated United Tweets of America, River of Dreams, and It's All About Me-ow, and he has illustrated numerous picture books, including Newbery Honor winner Show Way (by Jacqueline Woodson) and Leonardo's Horse (by Jean Fritz), an ALA Notable Book and a VOYA Honor Book. He lives in the Hudson Valley of New York and New York City.
or
Not Currently Available for Direct Purchase